Thursday, October 22, 2015
Women's Hockey East Weekend Preview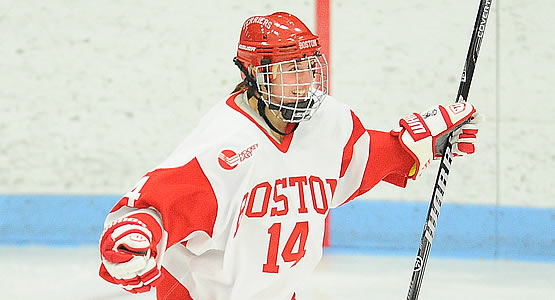 Boston University battles Northeastern and Vermont in Women's Hockey East action this weekend
No. 3/2 Boston College vs. Cornell - Fri. 10/23, Sat. 10/24 at Cornell
- The Eagles won their first two Hockey East league games last weekend, as sophomore goaltender Katie Burt (Lynn, Mass.) earned Hockey East Defensive Player of the Week after recording two shut outs on 43 saves. Burt leads her BC squad to Cornell in the first road games of the year.
- Senior forward Haley Skarupa scored five points (2g, 3a) in last weekend's league contests against UNH and Maine and contributed to both game-winning goals. Ranked second and third on the Hockey East scoring leaders list are Kristyn Capizzano (Oakville, Ont.) (2g, 2a) and captain Alex Carpenter, (N. Reading, Mass.) (1g, 3a) who is sitting on 99 career goals and is just two points away from the BC career scoring record (209pts, Kelli Stack).

No. 9/10 Northeastern vs. No. 10/RV Boston University/vs. Providence - Sat. 10/24, Sun. 10/25 at NU
- Kendall Coyne (Palos Heights, Ill.) who recorded her 100th career goal this past weekend, scored seven points (3g, 4a), and earned Warrior Player of the Week. Coyne led Northeastern to two victories over Mercyhurst, including sparking a rally of five unanswered goals to topple the Lakers, 5-4, Friday with a highlight-reel goal that was the No. 5 top play on SportsCenter.
- Sophomore forward Denisa Krížová (Horni Cerekev, Czech Republic) recorded her first career hat trick and finished the weekend with six points (3g, 3a).
- Three Huskies had three-point weekends against Mercyhurst: McKenna Brand (Nevis, Minn.) (1g, 2a); Jordan Krause (Kelowna, B.C.) (2g, 1a), and Hayley Scamurra (Williamsville, N.Y.) (2g, 1a).

No. 10/RV Boston University vs. No. 9/10 NU/vs. Vermont - Sat. 10/24 at NU, Sun. 10/25 at BU
- Boston University takes on two Hockey East opponents this weekend. The Terriers look for offensive performances from top scorers Rebecca Russo (Westport, Conn.) (2g, 6a), Rebecca Leslie (Ottawa, Ont.) (3g, 3a), and 2015 Hockey East Rookie of the Year Victoria Bach (Milton, Ont.) (1g, 5a).
- Netminders Victoria Hanson (Stoughton, Mass.) and Erin O'Neill (Minnetonka, Minn.) carry .904 and .919 overall save percentages, respectively, ranking Hanson second in the league.

Maine vs. Brown - Fri. 10/23 at Auburn, ME, Sat. 10/24 at Maine
- Senior goaltender Meghann Treacy (Lake Peekskill, N.Y.) remains strong between the pipes for the Maine Black Bears. Treacy was named ARMY ROTC second star against BC and ARMY ROTC first star against Merrimack last weekend. In the 2-1 victory over Merrimack, Treacy stopped 32 of 33 shots.
- Last weekend, points came from five different Maine players including senior forward Abbey Cook (Fairport, N.Y.), who netted the game-winning goal for the Black Blears.
- Since 2011, Maine has a record of 2-4-2 against Brown.

Merrimack vs. Colgate - Fri. 10/23, Sat.10/24 at Merrimack
- Merrimack enters the weekend after earning the first win in program history Saturday over UNH. Freshman goaltender Samantha Ridgewell (Outlook, Sask.) earned Pro Ambitions Rookie of the Week, stopping 34 of 35 shots in the win. Ridgewell carries a .947 conference save percentage.
- Sophomore forward and captain Jackie Pieper (Edina, Minn.) and freshman defenseman Meghan Martin (Newport, Vt.) led the Warriors in scoring last weekend. Martin recorded two assists for the Warrior squad, one of which was on Pieper's game-winning goal against UNH. Pieper had a two-point weekend (1g, 1a) and earned ARMY ROTC second star of the game against UNH.

New Hampshire vs. No. 4 Clarkson - Fri. 10/23, Sat. 10/24 at Clarkson
- Head coach Hilary Witt and the New Hampshire Wildcats search for their first win of the season on the road against No. 4 Clarkson University in a two-game set. UNH is 6-2-0 all time against the Gold Knights, including 2-2-0 on the road.
- Five UNH skaters enter this weekend's action with multiple points. Three of them are defensemen Amy Schlagel (Blaine, Minn.) (1g, 3a), Julia Fedeski (Algonquin Highlands, Ont.) (1g, 1a) and Sara Carlson (Hutchinson, Minn.) (2a). The others are forwards Jonna Curtis (Elk River, Minn.) (2g, 1a) and Taylor Wenczkowski (Rochester, N.H.) (2a).

Vermont vs. Providence/vs. No. 10/RV Boston University - Sat. 10/24 at PC, Sun. 10/25 at BU
- Vermont received increased scoring last weekend from sophomore defenseman Taylor Willard (Naperville, Ill.) and senior forward Dayna Colang (Fairbanks, Alaska).
- In 2014-2015 regular-season play, the Catamounts were 3-0-0 vs. Providence and 1-2-0 vs. BU.

UConn vs. Penn State - Sat. 10/24, Sun. 10/25 at Penn State
- UConn hits the road after a strong weekend, taking a 4-3 win over Syracuse and a 3-3 draw with Colgate. The Huskies will meet Penn State for the first time in program history.
- Senior forwards Brittany Berisoff (Kelowna, B.C.), Leah Buress (Windsor, Ont.), and Margaret Zimmer (St. Charles, Ill.) led the Huskies last weekend with a goal and an assist apiece. Also recording two-point weekends were sophomores Madison Badeau (Courtice, Ont.) (1g, 1a), Justine Fredette (1g, 1a) and Leah Lum (2a).

Providence vs. Vermont/vs. No. 9/10 Northeastern - Sat. 10/24 at PC, Sun. 10/25 at NU
- Friar freshman goaltender Madison Meyers (Colchester, Vt.) made her collegiate debut last weekend, stopping 20 saves on Oct. 17. She appeared in her first start Oct. 18, making 34 saves.
- Last weekend, sophomore forward Brooke Boquist (Thunder Bay, Ont.) recorded a two-point game for the Friars (1g, 1a). Boquist leads the Friars with two points and 9 SOG.