Weekly Release: Merrimack College Collects First Win in Program History
Kendall Coyne Records 100th Career Goal For NU Huskies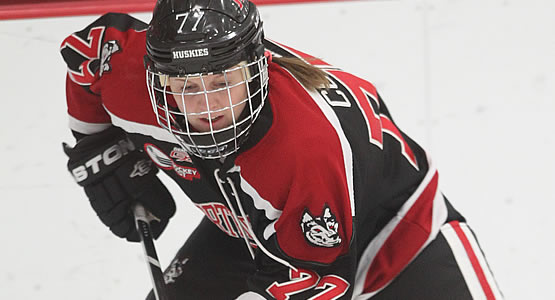 Warrior Hockey Player of the Week Kendall Coyne of Northeastern
AROUND HOCKEY EAST: The Merrimack College Warriors claimed the first win in program history as they downed league foe New Hampshire Saturday afternoon, 2-1. Pro Ambitions Rookie of the Week Samantha Ridgewell backstopped MC to the victory, kicking out 34 shots. Jackie Piper netted the short-handed, game-winning goal for the Warriors ... Northeastern senior Kendall Coyne netted the 100th goal of her Husky career, joining Hilary Witt as the only two players to reach the milestone in school history. The goal came as part of a seven-point (3g, 4a) weekend, one that saw Northeastern capture a 5-4 victory over Mercyhurst after trailing, 4-0 ... No. 2 Boston College remained undefeated thanks in part to a pair of shutouts against Maine and New Hampshire by sophomore goaltender Katie Burt. The two blank sheets gave the Eagles a 6-0-0 record and their first two victories in league play ... Maine split a weekend series in Boston, falling to No. 2 BC before clipping Hockey East rival Merrimack. Senior forward Abbey Cook scored the game-winner for the Black Bears on Sunday ... UConn took three points over the weekend, downing Syracuse, 4-3, thanks to a late goal from sophomore forward Theresa Knutson Saturday. The Huskies followed up with a 3-3 draw with Colgate behind a 40-save performance from senior goaltender Elaine Chuli.
---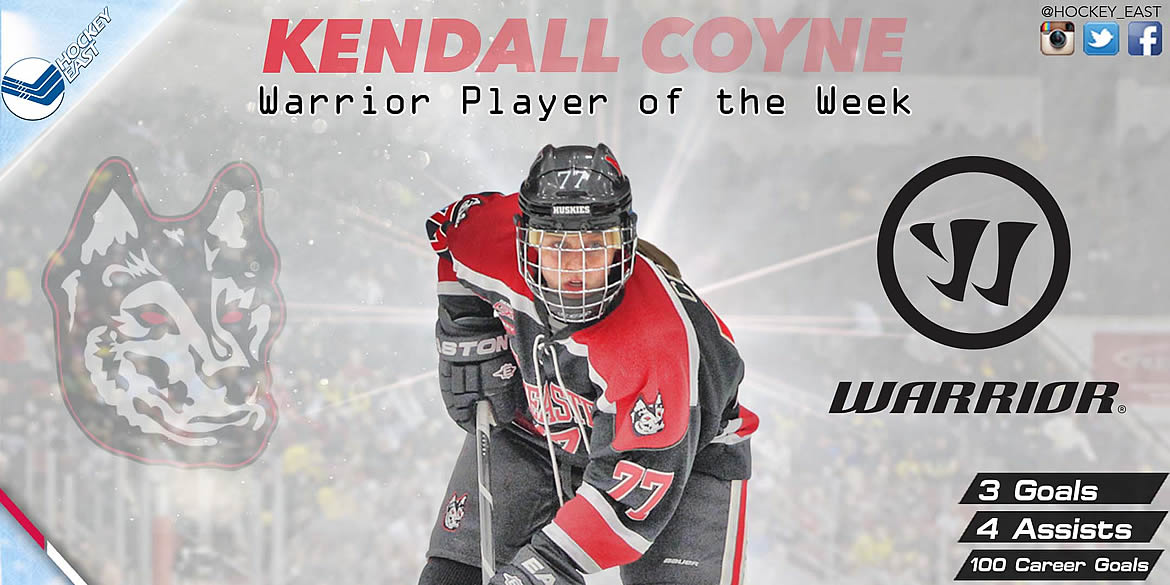 Kendall Coyne - Northeastern: Coyne turned in a seven-point (3g, 4a) weekend in two wins, powering the Huskies past Mercyhurst. She scored her 100th career goal Saturday as part of a four-point game (2g, 2a). Friday, her highlight-reel tally was named the No. 5 play of the night on SportsCenter, helping to lead NU to a 5-4 win after trailing 4-0.
---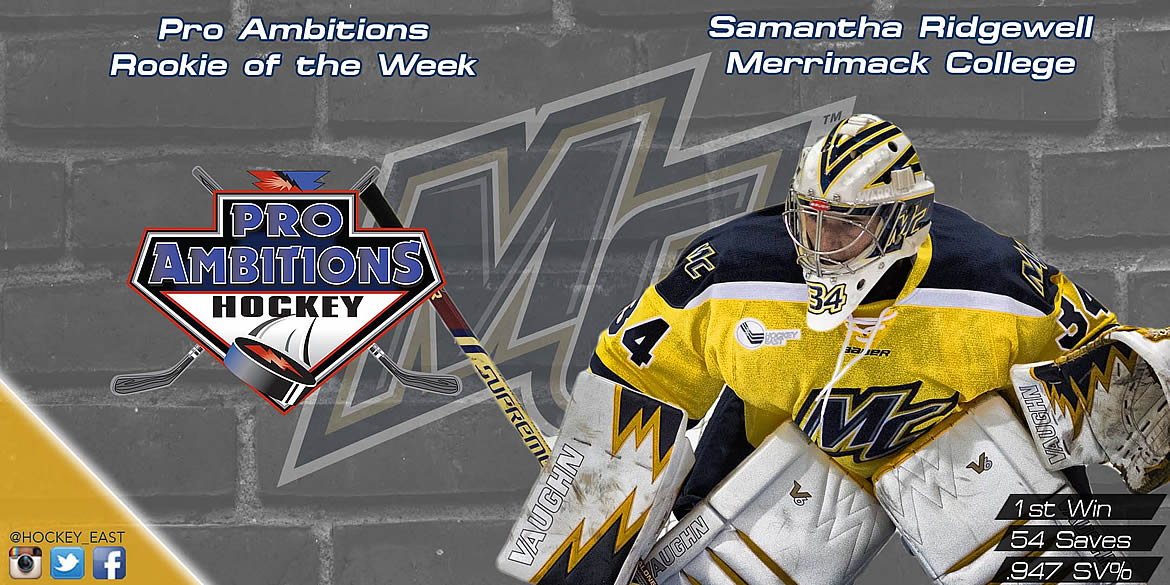 Samantha Ridgewell - Merrimack College: Ridgewell made 54 saves on 57 shots she faced in two league contests against New Hampshire and Maine. She recorded the win Saturday in Merrimack's first win in program history, a 2-1 final against league foe New Hampshire.
---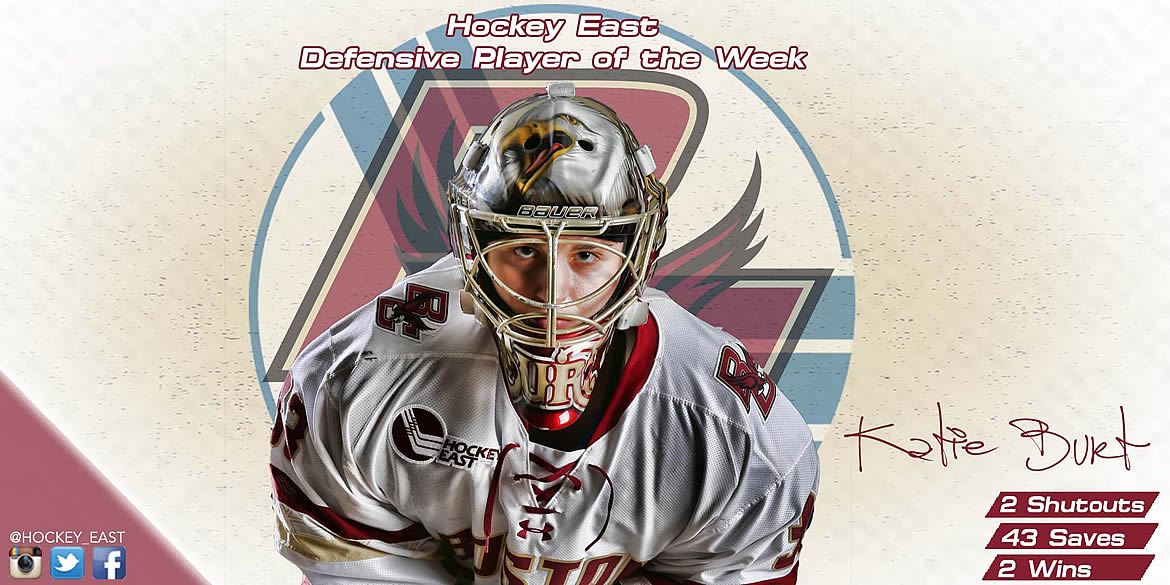 Katie Burt - Boston College: Burt recorded two shutouts to open the Eagles' Hockey East schedule over the weekend against Maine and New Hampshire, turning aside 43 total shots. The back-to-back shutouts were the first two of the season for the sophomore netminder and the 11th and 12th of her career.
---
HOCKEY EAST WEEKLY TOP PERFORMERS
Haley Skarupa, BC (Sr., F; Rockville, MD) Posted a five-point (2g, 3a) weekend and factored in on the game-winning goal in both games.
Grace Bizal, BC (Fr., D; Minnetonka, MN) Finished with a plus-three rating in two games, helping the Eagles go 8-for-8 on the penalty kill.
Sarah Lefort, BU (Sr., F; Ormstown, QC) Picked up two assists Friday night against No. 4 Clarkson, her 150th and 151st career point.
Sammy Davis, BU (Fr., F; Pembroke, MA) Notched her team-leading fifth goal Saturday against No. 4 Clarkson.
Brittany Bugalski, NU (Fr., G; Boynton Beach, FL) Stopped 55 of 59 shots in two games against Mercyhurst for 2.74/.932 numbers.
Jordan Krause, NU (Sr., D: Kelowna, B.C.) Scored two power-play goals and an assist to power NU to a weekend sweep.
Jackie Pieper, MC (So., F; Edina, MN) Her two points (1g, 1a) in two games, including the short-handed, game-winning goal Saturday. The marker helped the Warriors earn the first win in program history.
Brooke Boquist, PC (So., F; Thunder Bay, ON) Scored her first goal of the year and added an assist Saturday against Colgate.
Madison Myers, PC (Fr., G; Colchester, VT) Made 20 saves in net for the Friars on Saturday, then stopped 34 shots Sunday in her first start.
---