Thursday, October 15, 2015
Women's Hockey East Weekend Preview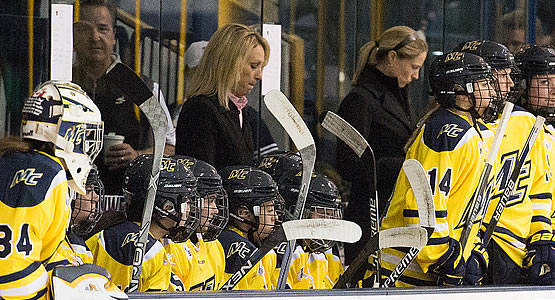 This weekend marks Merrimack's first Hockey East contests in program history
No. 3 Boston College vs. Maine/vs. New Hampshire - Sat. 10/17, Sun. 10/18 at BC
- BC will play its first two league games of the season, and the Eagles will fight to add two more victories to their overall 4-0-0 record. Senior standout Alex Carpenter earned 9 points, including her fifth career hat trick, in her last two games against St. Lawrence (7-4 and 7-3 victories). Carpenter was named Warrior Player of the Week for the second week in a row.
- In addition to Carpenter, Megan Keller and Makenna Newkirk had stand out performances against St. Lawrence. Sophomore defenseman Keller earned Hockey East Defensive Player of the Week with four points in two games (3g, 1a). Pro Ambitions Rookie of the Week accolades went to freshman forward Newkirk, who scored her first collegiate goal for the Eagles Sunday afternoon. She finished the St. Lawrence sweep with four points (2g, 2a).

No. 9 Boston University vs. No. Clarkson - Fri. 10/16, Sat. 10/17 at BU
- Exactly one year ago, Boston University defeated Clarkson twice with scores of 3-1 and 5-2. The BU Terriers have an overall record of 3-1-0 this season after they split games with Penn State this past weekend.
- Rebecca Leslie, tied for fifth in the nation in points per game (2.00), will look to lift the Terriers past fifthranked Clarkson.
- Senior captain Sarah Lefort is on pace for her 150th career point this weekend.

Vermont vs. St. Lawrence - Thu.10/15 at Vermont, Fri. 10/16 at SLU
- Head coach Jim Plumer seeks the 200th win in his coaching career. Of those victories, 41 have come during his three years at Vermont, setting a three-season wins record with the Catamounts. The previous record of 25 wins.
- The Catamounts have not faced St. Lawrence since January 10, 2012.
- Sophomore Amanda Drobot has adapted well as she switched from defense to center, winning 57.1% of her faceoffs.
- Kourtney Menches and Katherine Pate lead the Catamounts with seven blocked shots and the team averages 10.2 blocked shots per game.

Northeastern vs. Mercyhurst - Fri. 10/16, Sat. 10/17 at Northeastern
- Kendall Coyne is just two scores away from the 100 career goal milestone. The Huskies will look to Coyne and sophomore Shelby Herrington to continue their scoring ways. Herrington and Coyne both scored two goals in last weekend's 5-4 victory over Syracuse. Herrington earned ARMY ROTC first star of the game for her performance.
- The Huskies have an overall record of 4-1-0 against Mercyhurst. Last season, the Huskies split games with Mercyhurst winning 4-0 before falling in the next game, 4-2. Maine vs. No. 3 Boston College/vs. Merrimack - Sat. 10/17 at BC, Sun. 10/18 at Merrimack
- Maine looks for its first Hockey East victory and will need the scoring touch of team leader Audra Richards (4g), who scored a hat trick in the team's season opener.
- Meghann Treacy also looks to be strong between the pipes, facing a potent Eagles offense. Treacy has a .958 save percentage in Hockey East, good to tie for second, and claims the only shutout in conference play in 2015-16, turning in a 29 save, 4-0 victory over New Hampshire.

Merrimack vs. New Hampshire/vs. Maine - Sat. 10/17, Sun. 10/18 at Merrimack
- This weekend marks Merrimack's first Hockey East contests in program history, facing off with New Hampshire and Maine at Lawler Rink this weekend.
- Paige Voight leads the Warrior offense with 5 points (1g, 4a) and 17 SOG.
- In two games against Robert Morris, Beatrice Dufour, Madison Morey, and Emily Volpe each scored goals.

New Hampshire vs. Merrimack/vs. No. 3 BC - Sat. 10/17 at Merrimack, Sun. 10/18 at BC
- New Hampshire hits the road for its first away games of the season. The Wildcats and Merrimack Saturday, with each program seeking its first conference win of 2015-16.
- New Hampshire has out-shot all three opponents this season: 17 SOG vs Syracuse, 38 SOG vs. Lindenwood, and 29 SOG vs. Maine.

UConn vs. Syracuse/vs. Colgate - Sat. 10/17, Sun. 10/18 at UConn
- After a weekend off, UConn gets back into game action with two big home tilts against non-conference opponents. Netminder Elaine Chuli is a steady support for the UConn Huskies leading Hockey East goaltenders with an overall .958 save percentage.
- UConn's Brittany Berisoff will be an offensive threat for the two non-league foes. Berisoff scored the game-tying goal against Union two weeks ago. Berisoff and senior defenseman Caitlin Hewes lead the team with two goals a piece.

Providence vs. Colgate/vs. Syracuse - Sat. 10/17, Sun. 10/18 at Providence
- The Providence Friars began their season against a challenging No. 2 Wisconsin in San Jose, California.
- This week, the Friars look for their first victory of the season. Last season, Providence faced both Syracuse and Colgate last season, as they tied Syracuse 3-3 and dropped a one-goal game to Colgate, 2-1.