Tuesday, October 13, 2015
Weekly Release: No. 2 BC Takes Two; No. 9 BU, No. 10 NU Split Weekend
Alex Carpenter Scores 200th Point for Eagles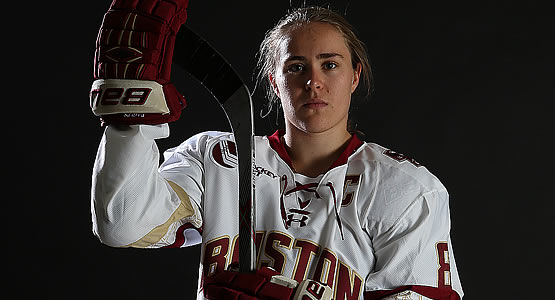 Warrior Hockey Player of the Week Alex Carpenter of Boston College
AROUND HOCKEY EAST: The No. 2 ranked Boston College Eagles continued their winnings ways with two victories over St. Lawrence at home, pouring in 14 goals behind nine points (4g, 5a) from 2015 Patty Kazmaier winner Alex Carpenter. Included in her scoring barrage, the senior captain recorded her 200th career point as an Eagle. Carpenter's production was supplemented by four-point outings from rookie forward Makenna Newkirk, who scored a goal and added an assist in each game for her first collegiate points, and sophomore defenseman Megan Keller, who netted three goals and added a tally Monday ... No. 9 Boston University split a weekend series at Walter Brown with Penn State thanks in part to five points (1g, 4a) from sophomore forward Rebecca Leslie. Leslie potted the game-winner in Saturday's 3-1 triumph, while freshman forward Sammy Davis added the insurance goal. Terrier goaltender Erin O'Neil kicked out 27 of 28 shots in the win ... Maine senior goaltender Meghann Treacy remained sharp, stopping 69 saves in two games on the weekend ... New Hampshire sophomore defenseman Amy Schlagel picked up three points (1g, 2a) on nine shots on net in two games ... Northeastern split the weekend with Syracuse and Lindenwood, propelled by sophomore forward Shelby Herrington. Herrington scored three goals in the two contests, including her first collegiate two-goal game against Syracuse ... The Merrimack Warriors met Robert Morris in the first road series in program history at the Island Sports Center.
---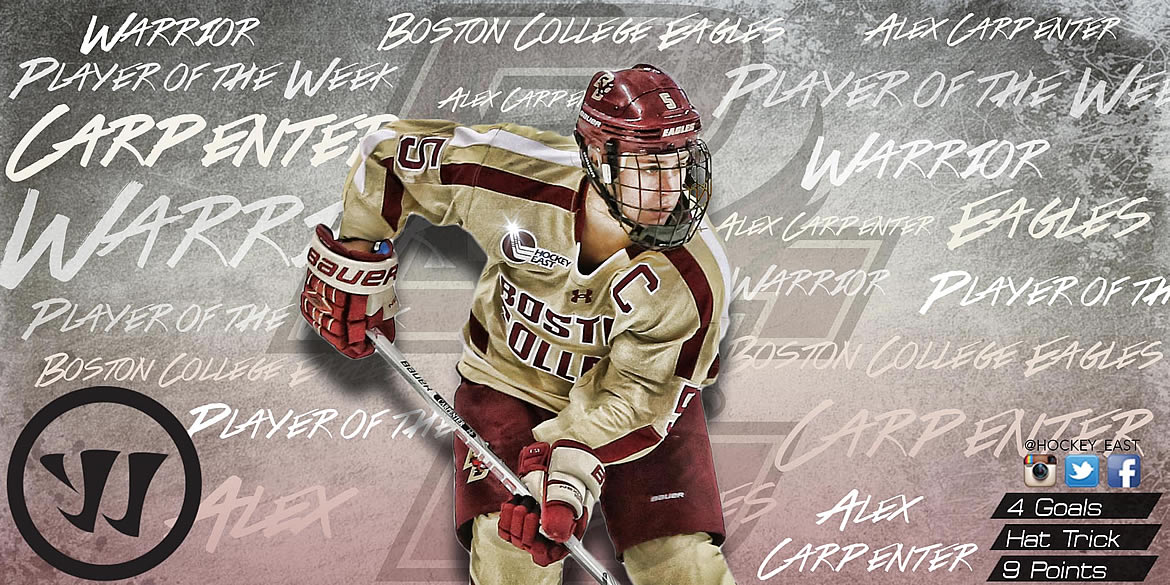 Alex Carpenter - Boston College: Had nine points (4g, 5a) in the Eagles' two wins, including the 200th point of her career on Monday in BC's 7-3 win. Had a 5-point night Sunday (1g, 4a), and a four-point outing Monday, including her second hat trick of the season and fifth of her career. She is now just six points back of the BC career scoring record (Kelli Stack, 209 points.)
---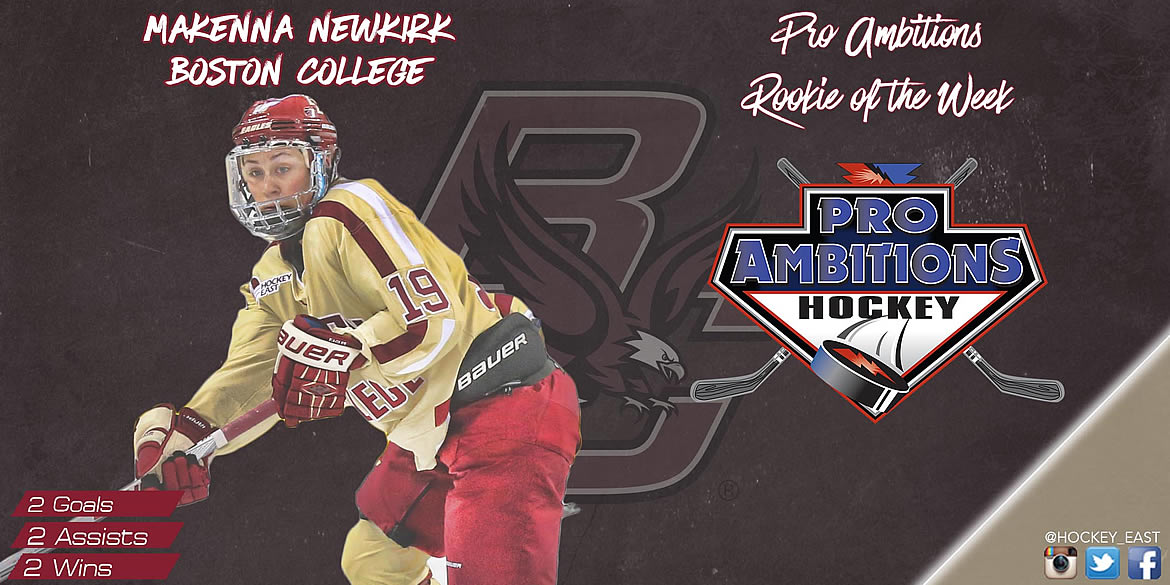 Makenna Newkirk - Boston College: Had four points (2g, 2a) in the Eagles' sweep of St. Lawrence, scoring a goal and assist in each of the two wins. Newkirk scored her first collegiate goal Sunday night before repeating with the Eagles' second goal on Monday afternoon and tallying an assist on Alex Carpenter's first goal of the afternoon.
---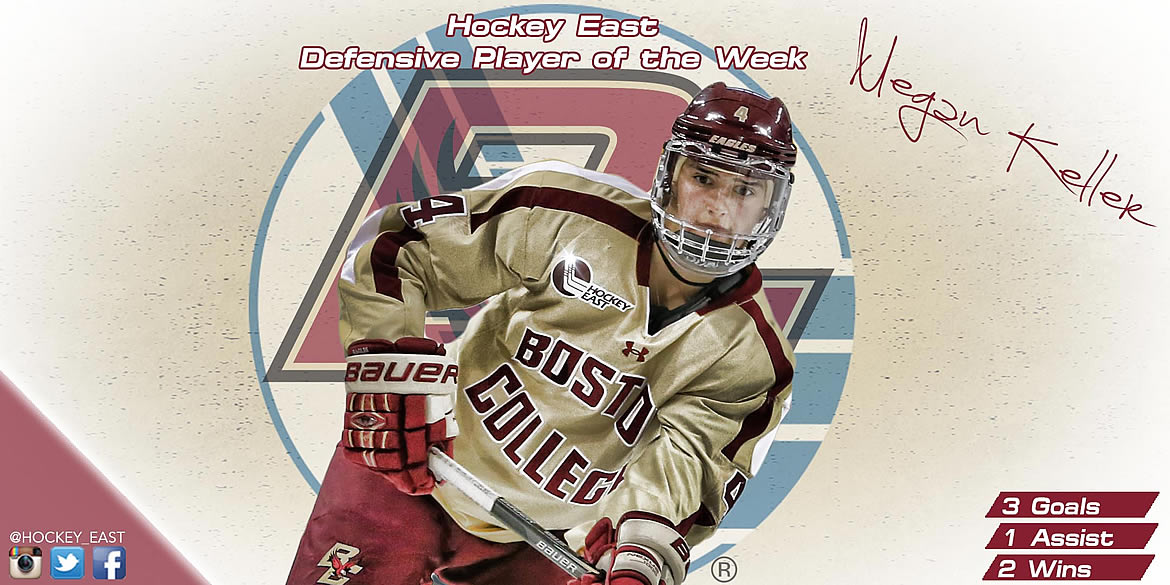 Megan Keller - Boston College: Keller picked up four points in two Boston College wins over St. Lawrence. The sophomore defenseman notched her first career two-goal game in a threepoint outing Sunday afternoon. Keller also potted another marker to secure a 7-3 win by capping the Eagles' scoring Monday afternoon.
---
HOCKEY EAST WEEKLY TOP PERFORMERS
Rebecca Leslie, BU (So., F; Ottawa, Ont.) Logged five points (1g, 4a), including the game-winning goal in a 3-1 win over PSU.
Sammy Davis, BU (Fr., F, Pembroke, MA) Potted the third goal to ensure a 3-1 victory for the Terriers over Penn State Saturday.
Erin O'Neil, BU (So., G; Minnetonka, MN) Saved 27 of 28 shots faced Saturday against PSU, including 11 in the final frame.
Lydia Murray, Maine (Fr., F, Sault Ste. Marie, Ont.) Assisted on the only Black Bears goal of the weekend, finishing plus-one.
Meghann Treacy, Maine (Sr., G, Lake Peekskill, NY) Stopped 69 shots in two games against Quinnipiac.
Amy Schlagel, UNH (So., D, Blaine, MN) Scored a goal and added an assist in two games, including her first career multi-point outing against Syracuse.
Shelby Herrington, NU (So., F; Bow, NH) Netted three goals on the weekend, including two against Syracuse Friday.