Monday, September 28, 2015
Weekly Release: Northeastern Opens 2015-16 Regular Season
Huskies Take Three Points on the Road; Six Others Play Exhibitions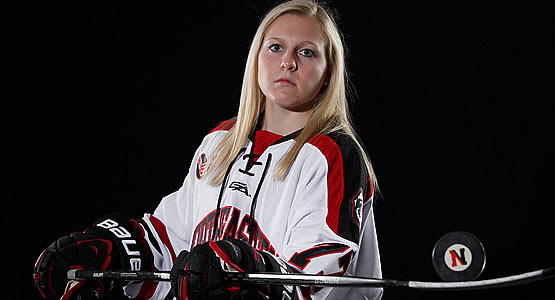 Warrior Hockey Player of the Week Kendall Coyne of Northeastern
AROUND HOCKEY EAST: The Merrimack Warriors won their first contest as a Div. 1 squad in exhibition play against the Whitby Wolves. Junior forward Marie Delarbre notched two points, including the first goal, while freshman forward Emily Volpe registered the first game-winning goal for the Warriors ... UConn and Providence also secured preseason victories against the Wolves ... Northeastern kicked off the 2015-16 regular season with a two-game stint at St. Lawrence, taking three of four points against the Saints ... Senior forward Kendall Coyne scored four goals in the two games, including a hat trick Sunday ... Freshman forward Kasidy Anderson netted a goal and two assists for her first collegiate points for the Huskies while senior defenseman Jordan Krause notched an assist and a plus-five rating on the weekend ... Reigning Patty Kazmaier winner Alex Carpenter registered two goals, including a short-handed marker, in a 5-1 win over Guelph Friday night at Walter Brown Arena ... New Hampshire started the season with an exibition win over Oakville at home while Vermont fell to McGill, 2-1, Sunday afternoon.

---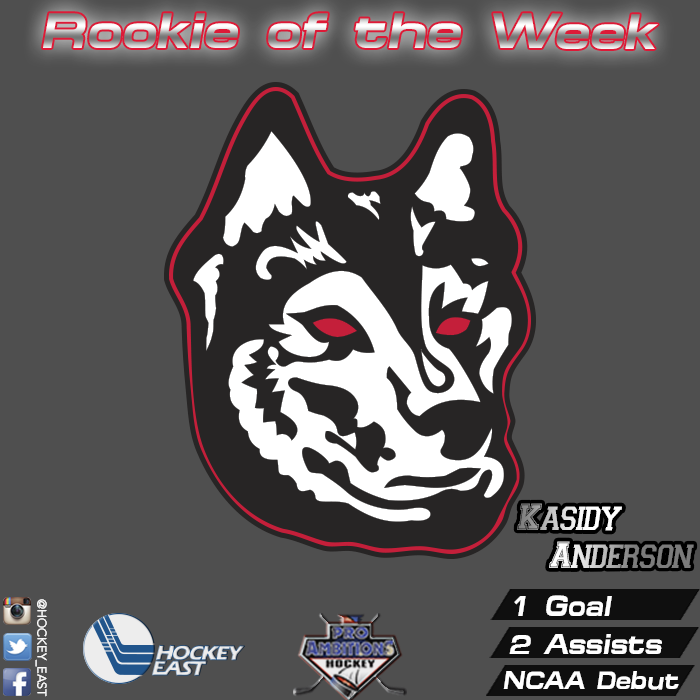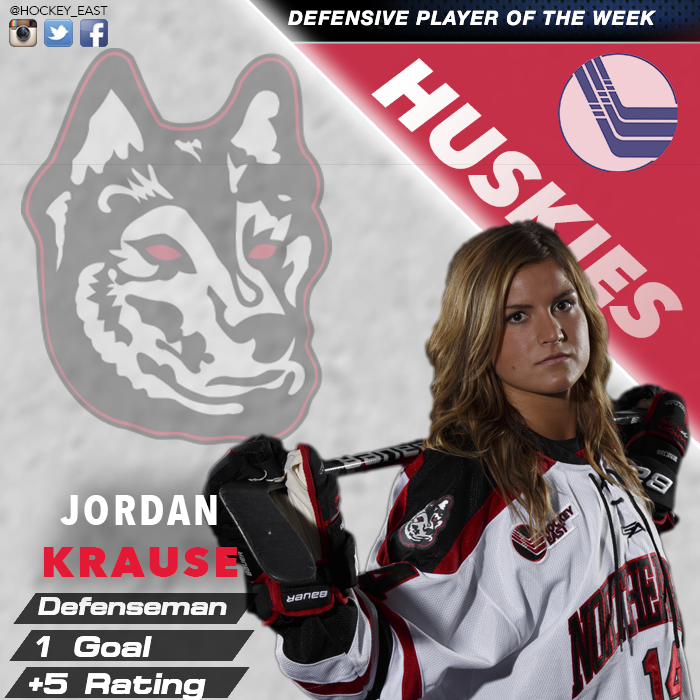 ---
HOCKEY EAST WEEKLY TOP PERFORMERS
Alex Carpenter, BC (Sr., F, N. Reading, Massachusetts) Registered a pair of goals, including a short-handed tally, in a 5-1 preseason victory over Guelph.
Dana Trivigno, BC (Sr., F, Setauket, New York) Picked up a pair of points (1g, 1a) in Friday's exhibition win over Guelph.
Haley Skarupa, BC (Sr., F, Rockville, Maryland) Registered two assists in the Eagles' preseason victory at Walter Brown Arena.
Jordy Zacharias, UConn (Fr., F, Winnipeg, Manitoba) Racked up four points (3g, 1a) in preseason play for the Huskies in a 5-1 win.
Margaret Zimmer, UConn (Sr., F, St. Charles, Illinois) Scored the game-winner and added two assists for UConn over Whitby in exhibition play.
Marie Delarbre, MC (Jr., F, Fussen, Germany) Scored the first goal in Merrimack history and added an assist in Friday's exhibition win.
Emily Volpe, MC (Fr., F, Whitby, Ontario) Netted the first-ever game-winning goal for the Warriors in an exhibition win for the Warriors over her former club, the Whitby Wolves.
Cassandra Vilgrain, UNH (Jr., F, Calgary, Alberta) Potted the puck twice in a 4-3 Wildcats' exhibition win over Oakville.
Amy Boucher, UNH (So., F, Edmonton, Alberta) Recorded two helpers, including assisting on the exhibition game-winning tally, for New Hampshire.
Brooke Boquist, PC (So., F, Thunder Bay, Ontario) Scored two goals for the Friars in PC's preseason win over the Whitby Wolves.
Lexi Romanchuk, PC (Sr., F, San Jose, California) Picked up two points (1g, 1a) to help pace Providence past preseason opponent Whitby.