Monday, September 21, 2015
Women's Hockey East Composite Schedule Released
League Welcomes Merrimack as Ninth Member in 2015-16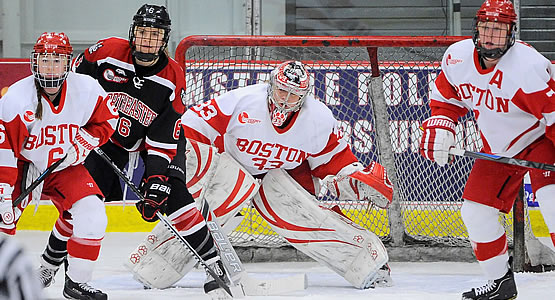 Each of the nine member institutions will play 24 league contests
WAKEFIELD, Mass. - The Hockey East Association unveiled the 2015-16 women's composite schedule today at the league's annual media day at TD Garden. Each of the nine member institutions will play 24 league contests as well as several featured non-conference tilts and tournaments.
A full PDF schedule can be found by clicking here.
Hockey East teams begin play Friday (Sept. 25) when Boston College and newcomer Merrimack College skate in the first exhibition contests of the year. The Warriors host the Whitby Wolves at 7 p.m. while the Eagles welcome Guelph to Conte Forum. The Northeastern Huskies skate in the first regular-season game of 2015-16 the following day (Sept. 26) as they travel to St. Lawrence for a two-game series.
League play opens October 2 with a pair of league contests between UConn and Boston University and Maine and New Hampshire. Merrimack plays its first regular-season home gam e as a member of Hockey East that night as Erin Hamlen's team faces off against St. Cloud State at Lawler Rink. The Warriors first conference tilt comes October 17 when they host New Hampshire on home ice to officially begin the ir quest for the Bertagna Trophy.
The Hockey East season will culminate at with the 14th annual Women's Hockey East Tournament March 5-6. The semifinals and championship game will be hosted by Merrimack aft er their inaugural season. Tickets for the conference championship will go on sale in December.