WAKEFIELD, Mass. - The Hockey East Association today announced the 2019-20 Pro Ambitions All-Rookie Team and five other season-long awards as voted by the women's league's 10 head coaches ahead of the 18th annual Hockey East Championship, March 7 and 8, at Lawler Rink on the campus of Merrimack College. The honorees will be recognized at Friday night's annual awards banquet.
The 2019-20 Pro Ambitions All-Rookie Team consists of eight players and includes defenseman Megan Carter (Milton, Ont./ Northeastern), Lauren DeBlois (Lewiston, Maine/Providence), Alexie Guay (Magog, Que./Boston College), Nadia Mattivi (Balselga di Pine, Trento, Italy/Boston University) and forwards Hannah Bilka (Coppell, Texas/Boston College), Katy Knoll (Amherst, N.Y./Northeastern), Ida Kuoppala (Pedersore, Finland/Maine), and Tamara Thiérus (Saint-Jerome, Que./New Hampshire.)
Also set to be recognized at Friday night's ceremonies will be Northeastern junior Skylar Fontaine (East Greenwich, R.I.), selected as Hockey East's best defenseman. Fontaine is the first Husky to win the award since its inception in 2009-10. Huskies' senior Matti Hartman (Etna, N.H.) will be honored as the best defensive forward during the regular season while her teammate, senior forward Paige Capistran (Manchester, N.H.) is set to be recognized with the conference's sportsmanship award. Two statistical awards will also be handed out, with each going to Alina Mueller (Winterthur, Switzerland) as the league's top scorer and the PNC Bank Three Stars Award winner. Mueller accumulated the highest total of points from first, second, and third star accolades during Hockey East league games over the course of the regular season.
The 18th annual Women's Hockey East Tournament championship will take place this weekend, Saturday, March 7, and Sunday, March 8, at Merrimack College's Lawler Rink. No. 1 Northeastern will square off with No. 7 Maine on Saturday at 12 p.m., while No. 5 UConn and No. 6 New Hampshire take the ice at 3:30 p.m. The winners advance to Sunday's championship tilt at 2 p.m. Fans can purchase tickets by contacting the Merrimack College ticketing office at (978) 837-5324 or by emailing tickets@ merrimack.edu Pro
---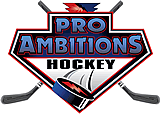 Pro Ambitions All-Rookie Team
D: Megan Carter, Northeastern
D: Lauren DeBlois, Providence
D: Alexie Guay, Boston College
D: Nadia Mattivi, Boston University
F: Hannah Bilka, Boston College *
F: Katy Knoll, Northeastern
F: Ida Kuoppala, Maine *
F: Tamara Thiérus, New Hampshire


---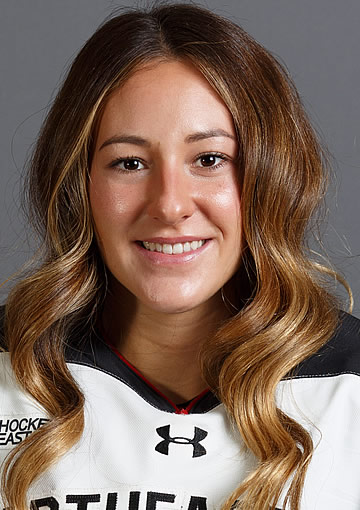 Best Defenseman Award
Skylar Fontaine, Northeastern
(Jr., East Greenwich, R.I.)

Runner-up:
Abby Cook, Boston University
(Sr., Kelowna, B.C.)

---
Best Defensive Forward Award
Matti Hartman, Northeastern
(Sr., Etna, N.H.)

Runner-up:
Ève-Audrey Picard, Vermont
(Sr., Longueuil, Que.)

---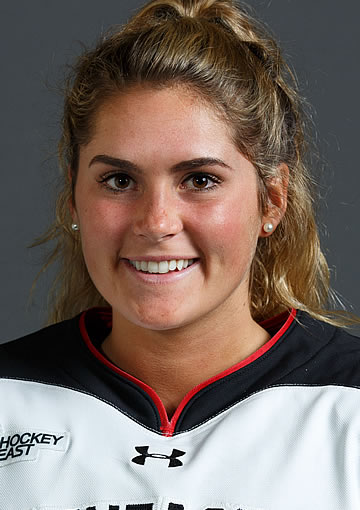 Sportsmanship Award
Paige Capistran, Northeastern
(Sr., D; Manchester, N.H.)

Runner-up:
Catherine Crawley, UConn
(Sr., F; Washingtonville, N.Y.)

---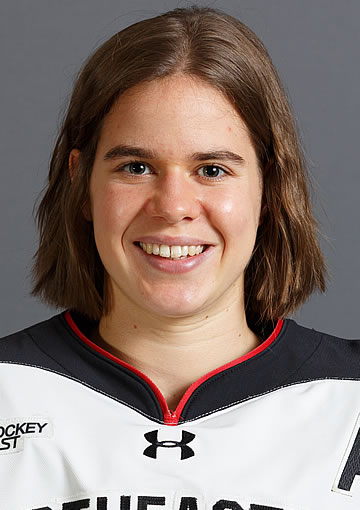 WHEA Scoring Champion
Alina Mueller, Northeastern
(So., F; Winterthur, Switzerland)
20g, 24a, 44p

Runner-up:
Chloé Aurard, Northeastern
(So., F; Villard-de-Lans, France)
15g, 19a, 34p

---

PNC Bank Three Stars Award
Alina Mueller, Northeastern
(So., F; Winterthur, Switzerland)
Runner-up:
Sammy Davis, Boston University
(Sr., F; Pembroke, Mass.)

---
* denotes unanimous selection