WHEA HEADLINES
Hockey East regular-season champion and No. 1 Northeastern (25-5-5/21-3-3 WHEA) will take on the host school No. 4 Providence (24-10-2/16-9-2 WHEA) in the first semifinal on Saturday at 1:30 p.m. Northeastern looks to return to the WHEA championship game for the third time in as many years, after skating in the 2017 title game and winning the first-ever Bertagna Trophy in program history in 2018. The Huskies have been in four championship contests in program history (2011, 2013, 2017, 2018.) The Friars have advanced to the semifinals for the first time since 2013. Providence won the first three tournament titles in WHEA history, but has not risen the Bertagna Trophy since 2005.
This is the ninth straight season Boston College (25-10-1/19-7-1 WHEA) has moved onto the semifinals and the Eagles have advanced to the championship game in four of the last five years, including winning the 2016 and 2017 WHEA Tournament titles. Boston College and Boston University (21-7-8/15-6-6 WHEA) have clashed six times in the WHEA Tournament all-time, including meeting in the title game three years in a row from 2014-16. The Terriers hold a 4-2 record against the Eagles in the postseason, including a 1-1 mark in the semifinals.
The 17th annual Women's Hockey East Tournament championship will take place this weekend, Saturday, March 9, and Sunday, March 10, at Providence College's Schneider Arena. No. 1 Northeastern will square off with No. 4 Providence Saturday at 1:30 p.m., while No. 2 Boston College and No. 3 Boston University take the ice at 4:30 p.m. The winners advance to Sunday's championship tilt at 1:30 p.m.
Tickets to the 2019 Women's Hockey East Championship hosted by Providence College are now on sale. Fans can purchase adult tickets online at Friars.com/tickets for the semifinals on Saturday, March 9, and for the championship on Sunday, March 10 or by calling 401-865-4672.

---
WOMEN'S HOCKEY EAST CO-PLAYERS OF THE WEEK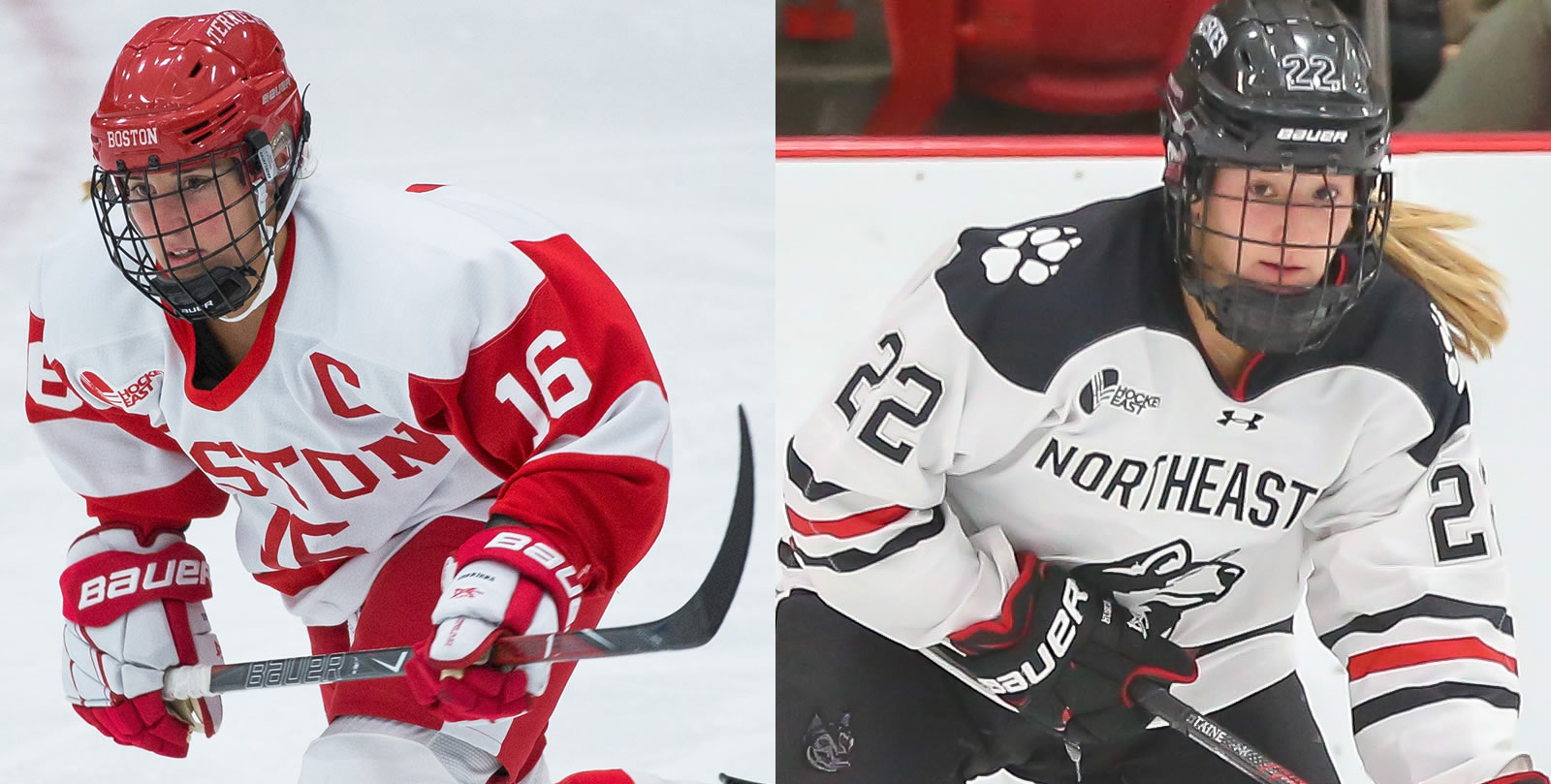 Sammy Davis - Boston University
Sammy Davis (Pembroke, Mass.) led all of WHEA in points with five on two goals and three assists during a quarterfinal sweep of New Hampshire. She picked up her 100th career point in game two's 3-1 victory, dished out three helpers in game one, and finished the weekend with a WHEA-best 12 shots on net.
Skylar Fontaine - Northeastern
Skylar Fontaine (East Greenwich, R.I.) tied for second in the league scoring over the weekend with four points, including a game-winning goal and three helpers to help the Huskies sweep Vermont. She posted her first collegiate four-point effort on Friday, scoring the game-winning goal on the power play and adding two of her three assists with the man advantage.

---
PRO AMBITIONS ROOKIE OF THE WEEK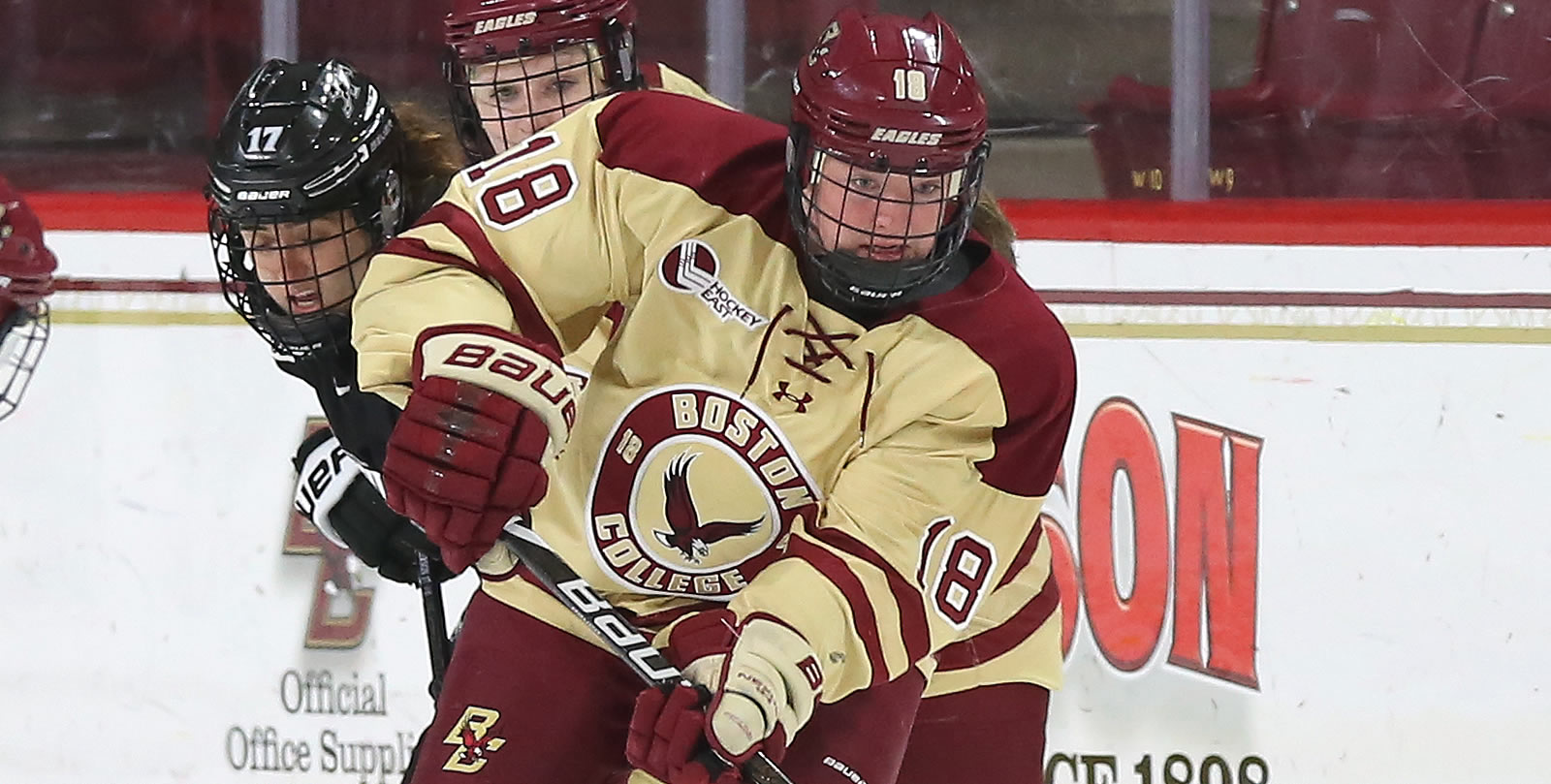 Kelly Browne - Boston College
Kelly Browne (Fr., F; Burlington, Mass.) dished out a pair of helpers in the WHEA quarterfinals, including one on the overtime, series-clinching goal on Saturday. She won 18 faceoffs, the most of any league rookie and posted five shots on net.

---
WOMEN'S HOCKEY EAST DEFENSIVE PLAYER OF THE WEEK
Madison Myers - Providence
Madison Myers (Sr., G; Colchester, Vt.) made 40 saves and allowed just one goal in a two-game quarterfinal sweep of Merrimack, helping the Friars advance by scores of 2-1 and 2-0. She pitched a 17- save shutout in Friday's 2-0 win and is the only active goaltender with more than one perfect sheet in the WHEA Tournament.

---
WOMEN'S HOCKEY EAST TOP PERFORMERS
Makenna Newkirk, BC (Sr., F: Scottsdale, Ariz.) Finished the weekend with four points on two goals and two assists to help Boston College advance to the WHEA semifinals. Her on-ice rating was a league-best plus-five, while winning 22 face offs and blocking two shots.
Kali Flanagan, BC (Sr., D; Burlington, Mass.) Potted the game-winning goal in the Eagles' win on Friday night, a 4-1 victory against UConn. She finished the two-game series sweep with four shots on net, two blocked shots, and a plus-one rating.
Mackenna Parker, BU (Fr., F; Clavet, Sask.) Tied her career-best with two tallies in Friday's 5-1 quarterfinal win over New Hampshire. She tied or led all league rookies in goals and points over the weekend.
Corinne Schroeder, BU (So., G; Elm Creek, Man.) Backboned the Terriers to quarterfinal sweep of New Hampshire with a .963 save percentage, allowing just two goals in the series and just one at even strength. She stopped 52 shots on the weekend, most among any goaltender who advanced to the semifinals.
Jesse Compher, BU (So., F; Northbrook, Ill.) Led the conference with five assists and tied for the league lead with five points. She became just the second Terrier to record 60 points (17g, 43a) in a single season in the process.
Kasidy Anderson, NU (Sr., F; Shaker Heights, Ohio) Netted the series-winning goal in Saturday's 1-0 win over Vermont, recording her 100th career point in the process. She is the 30th player in Northeastern history to reach that mark.
Maureen Murphy, PC (So., F: Buffalo, N.Y.) Recorded a goal and an assist in the Friars' series sweep of Merrimack, helping Providence advance to the WHEA semifinals for the first time since 2013.