UMass Lowell Upended By Omaha, 4-2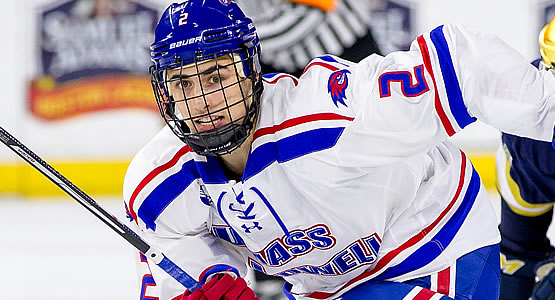 Senior defenseman Tommy Panico scored a goal for the River Hawks
| | | | | | | |
| --- | --- | --- | --- | --- | --- | --- |
| Prd | Time | Team | Score | Type | Scored By | Assists |
| 1st | 11:52 | UNO | 1-0 | EV | Tyler Vesel (1) | - |
| 1st | 19:59 | UNO | 2-0 | PP | Joel Messner (1) | Tyler Vesel/1 |
| 2nd | 7:02 | UNO | 3-0 | EV GW | Joel Messner (2) | Jordan Klehr/1, Riley Alferd/1 |
| 2nd | 10:51 | UNO | 4-0 | EV | Fredrik Olofsson (1) | Steven Spinner/1, Joel Messner/1 |
| 2nd | 17:03 | UML | 1-4 | PP | Tommy Panico (1) | Mattias Göransson/1, John Edwardh/1 |
| 3rd | 19:45.4 | UML | 2-4 | PP | Tyler Mueller (1) | Chris Forney/1, Charlie Levesque/1 |
| | | | | |
| --- | --- | --- | --- | --- |
| Scoring | 1st | 2nd | 3rd | Final |
| Omaha | 2 | 2 | 0 | 4 |
| UMass Lowell | 0 | 1 | 1 | 2 |
| | | | | |
| --- | --- | --- | --- | --- |
| Shots on Goal | 1st | 2nd | 3rd | SOG |
| Omaha | 6 | 14 | 11 | 31 |
| UMass Lowell | 10 | 8 | 13 | 31 |
| | | | |
| --- | --- | --- | --- |
| Team Stats and Records | PP | PIM | SHGF |
| Omaha (1-0-0) | 1/6 | 6/12 | 0 |
| UMass Lowell (0-3-0) | 2/5 | 7/14 | 0 |
| | | | | | | |
| --- | --- | --- | --- | --- | --- | --- |
| Omaha Goaltending | MIN | GA | 1 | 2 | 3 | Saves |
| Evan Weninger (W, 1-0-0) | 59:57 | 2 | 10 | 7 | 12 | 29 |
| Empty Net | 0:03 | 0 | | | | |
| | | | | | | |
| --- | --- | --- | --- | --- | --- | --- |
| UMass Lowell Goaltending | MIN | GA | 1 | 2 | 3 | Saves |
| Tyler Wall (L, 0-3-0) | 30:51 | 4 | 4 | 5 | 0 | 9 |
| Christoffer Hernberg | 29:09 | 0 | 0 | 7 | 11 | 18 |
LOWELL, Mass. - The No. 12 UMass Lowell Hockey team fell to Omaha, 4-2 on Friday night in the series opener in front of 5,321 fans at the Tsongas Center on Homecoming Weekend.
With the loss, the River Hawks drop to 0-3 overall, while the Mavericks open their season at 1-0.
The Mavericks drew first blood with 8:08 left in the first period with a goal by senior forward Tyler Vesel. With one second left in the opening frame, Joel Messner gave the Mavericks a 2-0 lead on the power play. The River Hawks outshot Omaha, 10-6 in the first period.
Messner got his second tally of the night at 7:02 of the second to extend Omaha's lead to 3-0. Frederik Olofsson made it a 4-0 at the 10:51 mark of the middle stanza.
The River Hawks tacked on two power play goals at the end of the second period by senior blueliner Tommy Panico (Wall, N.J.) and senior captain Tyler Mueller (Regina, Sask.) added an extra-man goal with 15 seconds left in the final frame.
Sophomore goaltender Tyler Wall (Leamington, Ont.) got the start for the River Hawks, making nine saves in the first 30 minutes of the game. Junior netminder Chris Hernberg (Espoo, Finland) came in relief of Wall and tallied 18 saves in the final 29:09 of play with 11 third-period saves. Omaha's Evan Weninger made 29 stops in the win, which included 12 saves in the third period.
Sophomore defenseman Mattias Goransson (Slottsbron, Sweden) totaled a game-high five shots on goal for the River Hawks on the night. Sophomore forward Ryan Lohin (Chadds Ford, Pa.) won 13 of 20 faceoffs (65%) for UMass Lowell.
UMass Lowell returns to action on Saturday, October 14th in the series finale against the Mavericks. Game time from the Tsongas Center is 7 p.m. on Homecoming Weekend. Join the university community from 3 p.m. to 6 p.m. outside the Tsongas Center, right before the River Hawks face off against Omaha. Admission is free. There will be live music, including a performance by alumni band Bearstronaut, which begins at 5 p.m. Other activities include food and drinks, entertainment, student club activities, novelties and crafts, face painting, games and prizes, carnival rides, sports zone and pony rides.
To purchase season tickets, individual tickets or mini plans, visit www.TsongasCenter.com. To save with a group of 10 or more, contact Jonathan Healy at Jonathan_Healy@uml.edu or by phone at (978) 934-6280.