New Hampshire Skates To 3-3 Tie With St. Francis Xavier
Sophomore forward Brendan van Riemsdyk scores game-tying goal for Wildcats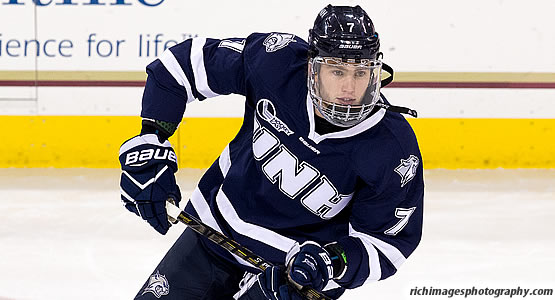 Sophomore forward Brendan van Riemsdyk scored the game-tying goal for the Wildcats
| | | | | | | |
| --- | --- | --- | --- | --- | --- | --- |
| Prd | Time | Team | Score | Type | Scored By | Assists |
| 1st | 5:23 | SFX | 1-0 | EV | Adam Laishram | Mark Tremaine, Brent Turnbull |
| 1st | 11:56 | UNH | 1-1 | PP | Marcus Vela | Max Gildon, Michael McNicholas |
| 1st | 13:05 | SFX | 2-1 | EV | Holden Cook | Matt Needham |
| 3rd | 6:23 | SFX | 3-1 | EV | Regan Spears | Jagger Dirk |
| 3rd | 12:05 | UNH | 2-3 | PP | Max Gildon | Michael McNicholas, Marcus Vela |
| 3rd | 16:38 | UNH | 3-3 | EV GT | Brendan van Riemsdyk | Liam Blackburn |
| | | | | | |
| --- | --- | --- | --- | --- | --- |
| Scoring | 1st | 2nd | 3rd | OT | Final |
| St. Francis Xavier | 2 | 0 | 1 | 0 | 3 |
| New Hampshire | 1 | 0 | 2 | 0 | 3 |
| | | | | | |
| --- | --- | --- | --- | --- | --- |
| Shots on Goal | 1st | 2nd | 3rd | OT | SOG |
| St. Francis Xavier | 11 | 5 | 6 | 1 | 23 |
| New Hampshire | 8 | 11 | 12 | 2 | 33 |
| | | | |
| --- | --- | --- | --- |
| Team Stats and Records | PP | PIM | SHGF |
| St. Francis Xavier | 0/4 | 3/6 | 0 |
| New Hampshire | 2/2 | 5/10 | 0 |
| | | | | | | | |
| --- | --- | --- | --- | --- | --- | --- | --- |
| St. Francis Xavier Goaltending | MIN | GA | 1 | 2 | 3 | OT | Saves |
| Chase Marchand (T) | 65:00 | 3 | 7 | 11 | 10 | 2 | 30 |
| | | | | | | | |
| --- | --- | --- | --- | --- | --- | --- | --- |
| New Hampshire Goaltending | MIN | GA | 1 | 2 | 3 | OT | Saves |
| Daniel Tirone | 39:54 | 2 | 9 | 5 | 0 | 0 | 14 |
| Adam Clark | 9:27 | 1 | 0 | 0 | 2 | 0 | 2 |
| Mike Robinson (T) | 15:33 | 0 | 0 | 0 | 3 | 1 | 4 |
| Empty Net | 0:06 | 0 | | | | | |
THE LEAD: Junior forward Marcus Vela (Burnaby, British Columbia), freshman defenseman Max Gildon (Plano, Texas), sophomore forward Brendan van Riemsdyk (Middletown, N.J.) each scored a goal as the University of New Hampshire men's hockey team tied St. Francis Xavier, 3-3, at the Whittemore Center on Sunday afternoon in an exhibition game.
GAME INFO
Score: New Hampshire 3, St. Francis Xavier 3 (OT)- Exhibition game
Location: Durham, N.H. (Whittemore Center)
Date: Sunday, October 1, 2017
Time: 4:00 p.m.
ALL HOME GAMES ON ESPN3
Beginning on Opening Night (Oct. 7, 7:00 p.m.) every home UNH men's hockey game will be streamed live on ESPN3 allowing fans to follow the Wildcats on any device through WatchESPN.
HOW IT HAPPENED
- The Wildcats fell behind early after a goal from St. Francis Xavier's Adam Laishram on a backhander at 5:23 in the first period.
- Vela redirected a slap shot from Gildon to notch the 'Cats' first goal of the game on a power play at 11:56. Senior forward Michael McNicholas (Manhattan Beach, Calif.) also posted an assist on the goal.
- STFX responded quickly when Holden Cook sent a wrist shot from the left face off circle to the lower stick-side corner of the net to regain the lead at 13:05.
- The second period went scoreless as the 'Cats outshot STFX 11-5.
- STFX's Regan Spears found the back of the net with a wrist shot at 6:23 in the third period.
- Gildon notched a one-timer slap shot from the slot off of a pass from McNicholas at 12:05 in the third period. Vela also added an assist on the goal.
- van Riemsdyk tied the game off of a wrap around from behind the net at 16:38 in the third period. Classmate Liam Blackburn (Prince George, British Columbia) added an assist on the goal.
- The game then went into overtime, but neither team could find the back of the net for the 3-3 final.
INSIDE THE NUMBERS
- UNH outshot the X-Men, 33-23.
- Senior netminder Danny Tirone (Trumbull, Conn.) made 14 saves in the first two periods.
- Senior goaltender Adam Clark (Sherwood Park, Alberta) recorded two saves during his 9:27 of play.
- Freshman goaltender Mike Robinson (Bedford, N.H.) recorded four saves during the end of the third period and overtime.
- The Wildcats went a perfect 2-2 on the power play while the X-Men went 0-4.
- STFX won 33 faceoffs against UNH's 30.