McPhee, Grando Lead Boston College Past New Hampshire, 5-2
Sophomore Graham McPhee scores two goals and freshman Christopher Grando posts three assists for Eagles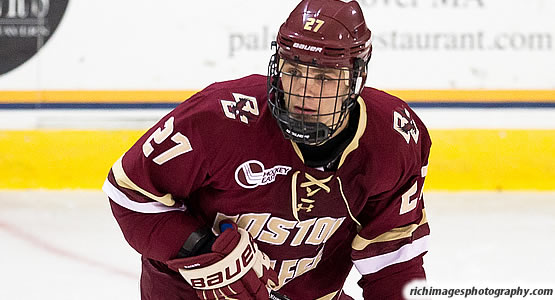 Sophomore forward Graham McPhee scored two goals for the Eagles
| | | | | | | |
| --- | --- | --- | --- | --- | --- | --- |
| Prd | Time | Team | Score | Type | Scored By | Assists |
| 1st | 14:08 | BC | 1-0 | SH | Graham McPhee (7) | Christopher Grando/7 |
| 1st | 18:27 | UNH | 1-1 | PP | Benton Maass (3) | Michael McNicholas/17, Max Gildon/9 |
| 2nd | 1:11 | BC | 2-1 | PP | David Cotton (6) | Logan Hutsko/10, Michael Kim/4 |
| 2nd | 5:16 | BC | 3-1 | EV GW | JD Dudek (3) | Casey Carreau/3, Connor Moore/6 |
| 2nd | 14:24 | BC | 4-1 | EV | Graham McPhee (8) | Ron Greco/1, Christopher Brown/6 |
| 2nd | 17:13 | UNH | 2-4 | EV | Ara Nazarian (6) | Marcus Vela/3, Anthony Wyse/2 |
| 3rd | 14:06 | BC | 5-2 | EV | Jacob Tortora (4) | Christopher Grando/8, JD Dudek/9 |
| | | | | |
| --- | --- | --- | --- | --- |
| Scoring | 1st | 2nd | 3rd | Final |
| New Hampshire | 1 | 1 | 0 | 2 |
| Boston College | 1 | 3 | 1 | 5 |
| | | | | |
| --- | --- | --- | --- | --- |
| Shots on Goal | 1st | 2nd | 3rd | SOG |
| New Hampshire | 9 | 7 | 6 | 22 |
| Boston College | 9 | 9 | 11 | 29 |
| | | | |
| --- | --- | --- | --- |
| Team Stats and Records | PP | PIM | SHGF |
| New Hampshire (9-11-2) | 1/5 | 6/12 | 0 |
| Boston College (11-9-3) | 1/5 | 6/12 | 1 |
| | | | | | | |
| --- | --- | --- | --- | --- | --- | --- |
| New Hampshire Goaltending | MIN | GA | 1 | 2 | 3 | Saves |
| Daniel Tirone (L, 9-10-2) | 59:55 | 5 | 8 | 6 | 10 | 24 |
| Empty Net | 0:05 | 0 | | | | |
| | | | | | | |
| --- | --- | --- | --- | --- | --- | --- |
| Boston College Goaltending | MIN | GA | 1 | 2 | 3 | Saves |
| Joseph Woll (W, 8-7-2) | 60:00 | 2 | 8 | 6 | 6 | 20 |
CHESTNUT HILL, Mass. - No. 16 Boston College got back in the win column with a dominant 5-2 triumph over New Hampshire on Sunday afternoon at Kelley Rink. Sophomore forward Graham McPhee turned in his first-career two-goal game while rookie forward Christopher Grando helped out on three BC tallies to boost the Eagles' offense.
BC has won its last seven games against New Hampshire and regained first place in Hockey East with Sunday's victory.
Sophomore goaltender Joseph Woll stopped 20-of-22 UNH attempts in his first victory of the second half to move his record back over the .500-mark, 8-7-2.
SCORE
New Hampshire - 2 / No. 16 Boston College - 5
LOCATION
Kelley Rink / Chestnut Hill, Mass.
RECORDS
New Hampshire (9-11-2 / 4-7-1 HEA) / No. 13 Boston College - (11-9-3 / 11-4-0 HEA)
BC HIGHLIGHTS & GAME NOTES
- Boston College continued its recent dominance over New Hampshire with its seventh-straight victory over the Wildcats on Sunday afternoon. The Eagles are unbeaten in their last 11 contests against UNH, amazing a 9-0-2 mark in that run. In the last 18 meetings against New Hampshire, Boston College is 15-1-2.
- Sophomore Graham McPhee scored his first short-handed goal of the season and second of his career late in the first period. The second-year forward followed that up with his first-career multi-goal game with his second goal of the game at 14:24 of the second period. With the two tallies, the Las Vegas native assumed the team lead in goals scored (8) and put Boston College in a tie for second, nationally, with four short-handed goals on the season. Christopher Grando, Christopher Brown and Julius Mattila have also scored short-handed goals this season.
- Sophomore David Cotton extended his point streak to a career-high seven games after tallying his second power play goal of the season and sixth of his career. The Parker, Texas has accounted for at least one point in 10 of his last 11 outings, including four multi-point performances in that run. The second-year winger is now tied for the team lead in scoring with 18 points (6-13-18) through 23 outings.
- First-year forward Jacob Tortora scored his fourth goal of the season and first since Nov. 18 at Northeastern. The Victor, N.Y. native has nine points (4-5-9) on the season.
- Junior forward JD Dudek secured his second multi-point performance of the season with his third goal and ninth assist of the year. Dudek's tally stood as the game-winning goal, marking his second of the season and fifth of his career.
- Rookie Christopher Grando turned in his second-career multi-assist performance and third-career multi-point performance with a pair of assists on Sunday afternoon against New Hampshire.
- Freshman Casey Carreau notched his third assist of the season and first since one at Boston University on Dec. 2. Sophomore Ron Greco picked up his first assist of the season and sixth point of the year with the help on McPhee's second goal of the game. Sophomore Connor Moore also assisted on Dudek's game-winning goal for his sixth assist of the season and first since Dec. 1.
GOAL DESCRIPTIONS
FIRST GOAL (1-0 - Boston College) - FIRST PERIOD - Graham McPhee - 14:08 - SHORT-HANDED
• A penalty-filled first period yielded Boston College's first goal of the day down a man. The Eagles forecheck applied heavy pressure deep in UNH's zone and Christopher Grando made a nice play along the near boards to jostle the puck loose. Graham McPhee was flying in from the other direction and absorbed the puck with momentum. McPhee flew towards the net, deked to his backhand and roofed it past New Hampshire's Danny Tirone at 14:08 of the first period for a 1-0 BC lead.
SECOND GOAL (1-1 - New Hampshire) - FIRST PERIOD - Benton Maass - 18:27 - POWER PLAY
• A late boarding call to Jacob Tortora at 17:57 yielded the Wildcats' first strike of the day on the power play at 18:27. Max Gildon ripped a shot at BC's Joseph Woll from the point and the puck careened into the corner where Michael McNicholas reestablished possession. Benton Maass slipped behind the play and McNicholas threaded the needle with a pass through the Eagles' zone for the successful one-timer blast from Maass to tie it up before the end of the first, 1-1.
THIRD GOAL (2-1 - Boston College) - SECOND PERIOD - David Cotton - 1:11 - POWER PLAY
• New Hampshire's Anthony Wyse took a hooking call to close out the first and Boston College pounced out of the gate to start the second period. Michael Kim quarterbacked the play at the top of the left circle, passing down to Logan Hutsko on the near side along the goal line. David Cotton scooted in between the circles and popped Hutsko's quick pass to the back of the net to polish off the tic-tac-toe tally at 1:11 of the second period to reclaim the lead on the power play goal, 2-1.
FOURTH GOAL (3-1 - Boston College) - SECOND PERIOD - JD Dudek - 5:16 - EVEN STRENGTH
• The Eagles doubled up their lead in transition at 5:16 of the second period. Grando executed another strong play in the neutral zone and gained UNH territory. Grando handed it off to Casey Carreau who skated it down to the far corner and separated the defense from the play. JD Dudek back pedaled to the left dot and buried Carreau's one-timer through the zone to make it a 3-1 affair.
FIFTH GOAL (4-1 - Boston College) - SECOND PERIOD - Graham McPhee - 14:24 - EVEN STRENGTH
• Boston College pushed ahead by three after McPhee potted his second of the day at 14:24 of the second period. Christopher Brown chased down a puck behind the net and found off a Wildcat defender and tossed the disc to the front of the net. Ron Greco was there and tried to get a shot off but was in too tight on Tirone but his carom pinballed right to McPhee streaking in from between the circle. McPhee gathered the puck, shifted to his left and snapped it past Tirone to make it a 4-1 contest.
SIXTH GOAL (4-2 - New Hampshire) - SECOND PERIOD - Ara Narazian - 17:13 - EVEN STRENGTH
• The Wildcats got one back with 2:47 to play in the second period off of a faceoff play. McNicholas won a draw back to Anthony Wise just within the blue line. Wyse rifled the puck off of Marcus Vela in the slot and Vela was able to redirect out to Ara Nazarian before Woll could get back to the near post. Nazarian calmly gathered it and beat Woll to his spot to make it a two-goal game at 17:13 of the second period.
SEVENTH GOAL (5-2 - New Hampshire) - THIRD PERIOD - Jacob Tortora - 14:06 - EVEN STRENGTH
• Boston College put the game out of reach after Jacob Tortora polished off a goal in transition around the six-minute mark. Dudek generated the scoring play by skating it out of BC's zone and connected with Grando on the Wildcats' blue line. Grando gained UNH's end, extended the play by skating it down to the far corner and whizzed it through UNH's circles to Tortora on the doorstep. Tirone was still guarding the right side of the net before he could readjust to Tortora's one-timer blast at 14:06 to make it a 5-2 count.
BOSTON COLLEGE GAME LEADERS
Points: Christopher Grando (0 - 3 - 3) / Graham McPhee (2 - 0 - 2) / JD Dudek (1 - 1 - 2)
Goals: Graham McPhee (2 - 0 - 2)
Assists: Christopher Grando (0 - 3 - 3)
Shots: Jacob Tortora ( 6 )
SPECIAL TEAMS
New Hampshire: 1 - for - 5
Boston College: 1 - for - 5
PENALTIES
New Hampshire: 6 - for - 12
Boston College: 6 - for - 12
BOSTON COLLEGE LINES
Cotton - Jul. Mattila - Hutsko
McPhee - Greco - Brown
Grando - Dudek - Tortora
Carreau - Booth - Walker
McInnis Fitzgerald
Jes. Mattila - Moore
Kim - Lohan
Woll
Edquist
Milosz
UP NEXT
Boston College will go on a nine-day hiatus and have the following weekend off before returning to Kelley Rink for a Tuesday night showdown with Massachusetts at 7 p.m.