Saturday, December 30, 2017
Edquist, Boston College Shut Out UConn, 2-0
Sophomore goaltender Ryan Edquist makes 23 saves to earn first career shutout for Eagles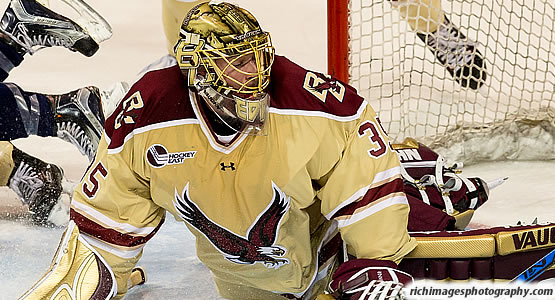 Sophomore goaltender Ryan Edquist made 23 saves for the Eagles
| | | | | | | |
| --- | --- | --- | --- | --- | --- | --- |
| Prd | Time | Team | Score | Type | Scored By | Assists |
| 1st | 12:43 | BC | 1-0 | PP GW | David Cotton (4) | Julius Mattila/10, Casey Fitzgerald/7 |
| 3rd | 10:52 | BC | 2-0 | EV | Ron Greco (5) | Zach Walker/2, Michael Karow/3 |
| | | | | |
| --- | --- | --- | --- | --- |
| Scoring | 1st | 2nd | 3rd | Final |
| UConn | 0 | 0 | 0 | 0 |
| Boston College | 1 | 0 | 1 | 2 |
| | | | | |
| --- | --- | --- | --- | --- |
| Shots on Goal | 1st | 2nd | 3rd | SOG |
| UConn | 6 | 9 | 8 | 23 |
| Boston College | 10 | 10 | 9 | 29 |
| | | | |
| --- | --- | --- | --- |
| Team Stats and Records | PP | PIM | SHGF |
| UConn (8-12-2) | 0/4 | 5/10 | 0 |
| Boston College (10-7-2) | 1/4 | 5/10 | 0 |
| | | | | | | |
| --- | --- | --- | --- | --- | --- | --- |
| UConn Goaltending | MIN | GA | 1 | 2 | 3 | Saves |
| Adam Huska (L, 8-11-2) | 59:03 | 2 | 9 | 10 | 8 | 27 |
| Empty Net | 0:57 | 0 | | | | |
| | | | | | | |
| --- | --- | --- | --- | --- | --- | --- |
| Boston College Goaltending | MIN | GA | 1 | 2 | 3 | Saves |
| Ryan Edquist (W, 3-1-0) | 60:00 | 0 | 6 | 9 | 8 | 23 |
CHESTNUT HILL, Mass. - No. 14 Boston College started off the second half with a strong defensive effort, blanking Connecticut, 2-0, on Saturday afternoon at Kelley Rink.
Sophomore Ryan Edquist picked up his first-career shutout after stopping all 23 Huskies' attempts in his tenth-career start in the maroon and gold.
Sophomores David Cotton and Ron Greco found the back of the night in the victorious effort. Cotton's game-winner marked his first power play goal of the season, fifth of his career, while Greco scored his fifth marker of the year.
The Eagles' penalty kill turned in a huge effort midway through the second period when it killed off UConn's 52-second two-man advantage.
SCORE
Connecticut - 0 / No. 14 Boston College - 2
LOCATION
Kelley Rink / Chestnut Hill, Mass.
RECORDS
Connecticut (8-12-2 / 5-8-1 HEA) / No. 15 Boston College - (10-7-2 / 10-3-0 HEA)
BC HIGHLIGHTS & GAME NOTES
- Sophomore goaltender Ryan Edquist secured his first-career shutout on Saturday afternoon via 23 saves against UConn in his fourth start of the season, tenth of his career. The Lakeville, Minn. native's shutout marks Boston College's first shutout of the season and first shutout for the Eagles since Joseph Woll blanked Vermont on March 10, 2017.
- David Cotton tallied his first power play goal of the season, fifth of his career, to tally at least one point in six of his last seven outings. Cotton is now second on the team in scoring, having posted four goals and nine assists in 19 outings. Cotton's goal also stood as the game-winning tally, marking his second of the season and team-best sixth-career game-winning goal.
- Julius Mattila extended his point streak to seven games with the primary assist on Cotton's power play goal. Over the course of Mattila's seven-game tear, the Finnish product has accounted for four goals and seven assists and leads the Eagles overall with 15 points (5-10-15).
- Casey Fitzgerald recorded a pair of assists for the first time this season, marking his second multi-point performance of the year. The junior captain's career high is three helpers against Notre Dame on Jan. 28, 2017.
- Ron Greco tallied his fifth goal of the season, seventh of his career, midway through the third period. The Philadelphia native has accounted for four goals in his last six appearances.
- Zach Walker tallied his second assists of the season on Greco's goal midway through the third period. The Boise, Idaho native has nine points for his career (2-7-9) in 47 outings.
GOAL DESCRIPTIONS
FIRST GOAL (1-0 - Boston College) FIRST PERIOD - David Cotton - 12:43 - POWER PLAY
• Boston College attacked on its first power play opportunity of the night, taking advantage of a Brian Rigali boarding call. Casey Fitzgerald triggered the play by dumping it into the corner from the slot. Julius Mattila chased it down, skated it to the right dot and deferred back to David Cotton on the near side. Cotton took his chance by skating hard to the goalmouth and slipped it past UConn goaltender Adam Huska on the doorstep at 12:43 of the first period for a 1-0 Eagle advantage.
SECOND GOAL (2-0 - Boston College) THIRD PERIOD - Ron Greco - 10:52 -EVEN STRENGTH
• Ron Greco extended the Eagles' lead midway through the third period on a gritty play up front. Fitzgerald earned his second assist of the night by firing a shot from the point off the backboards where Zach Walker was in position to immediately relay the puck to the front. With heavy pressure on the crease, Greco stood his ground and quickly swatted Walker's pass to the back of the net at 10:52 to put BC up, 2-0.
BOSTON COLLEGE GAME LEADERS
Points: Casey Fitzgerald (0 - 2 - 2)
Goals: David Cotton (1 - 0 - 1) / Ron Greco (1 - 0 - 1)
Assists: Casey Fitzgerald (0 - 2 - 2)
Shots: David Cotton ( 5 )
SPECIAL TEAMS
Connecticut: 0 - for - 4
Boston College: 1 - for - 4
PENALTIES
Connecticut: 5 - for - 10
Boston College: 5 - for - 10
BOSTON COLLEGE LINES
Cotton - Jul. Mattila - Dudek
Grando - Hutsko - Tortora
McInnis - McPhee - Brown
Carreau - Greco - Walker
Jes. Mattila - Moore
Kim - Lohan
Karow - Fitzgerald
Edquist
Milosz
UP NEXT
The Eagles head off to the desert to compete in the first-ever Ice Vegas Invitational at T-Mobile Arena in Las Vegas, Nevada. The Eagles will square off against Michigan Tech on Friday, Jan. 5 at 5 p.m. (8 p.m. on the East Coast) and play either Arizona State or Northern Michigan the following evening.