Saturday, November 12, 2016
Vermont Catamounts Clip Massachusetts Minutemen, 2-1
Junior forward Rob Darrar and freshman forward Matt Alvaro score goals for Catamounts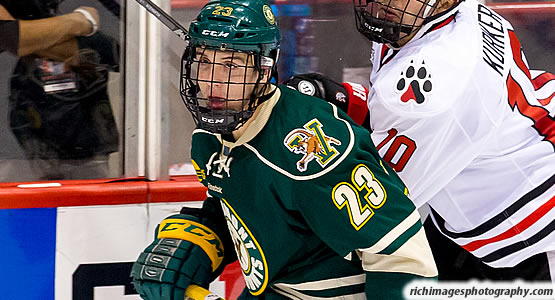 Junior forward Rob Darrar scored a goal for the Catamounts
| | | | | | | |
| --- | --- | --- | --- | --- | --- | --- |
| Prd | Time | Team | Score | Type | Scored By | Assists |
| 1st | 6:22 | VER | 1-0 | EV | Rob Darrar (3) | Brian Bowen/2 |
| 2nd | 2:43 | UMA | 1-1 | EV | Kurt Keats (3) | William Lagesson/3, Shane Bear/3 |
| 3rd | 14:46 | VER | 2-1 | EV GW | Matt Alvaro (3) | Kevin Irwin/4 |
| | | | | |
| --- | --- | --- | --- | --- |
| Scoring | 1st | 2nd | 3rd | Final |
| Vermont | 1 | 0 | 1 | 2 |
| Massachusetts | 0 | 1 | 0 | 1 |
| | | | | |
| --- | --- | --- | --- | --- |
| Shots on Goal | 1st | 2nd | 3rd | SOG |
| Vermont | 10 | 5 | 10 | 25 |
| Massachusetts | 2 | 6 | 6 | 14 |
| | | | |
| --- | --- | --- | --- |
| Team Stats and Records | PP | PIM | SHGF |
| Vermont (5-3-1) | 0/5 | 5/10 | 0 |
| Massachusetts (3-5-1) | 0/5 | 5/10 | 0 |
| | | | | | | |
| --- | --- | --- | --- | --- | --- | --- |
| Vermont Goaltending | MIN | GA | 1 | 2 | 3 | Saves |
| Stefanos Lekkas (W, 4-1-1) | 59:47 | 1 | 2 | 5 | 6 | 13 |
| Empty Net | 0:13 | 0 | | | | |
| | | | | | | |
| --- | --- | --- | --- | --- | --- | --- |
| Massachusetts Goaltending | MIN | GA | 1 | 2 | 3 | Saves |
| Ryan Wischow (L, 2-2-1) | 59:01 | 2 | 9 | 5 | 9 | 23 |
| Empty Net | 0:59 | 0 | | | | |
AMHERST, Mass. - Junior forward Rob Darrar and freshman forward Matt Alvaro scored goals to help Vermont edge past Massachusetts, 2-1, on Saturday night at Mullins Center.
THE BASICS:
RESULT: Vermont 2, Massachusetts 1
LOCATION: Mullins Center (Amherst, Mass.)
RECORDS: Massachusetts (3-5-1, 1-3-1 HEA); Vermont (5-3-1, 2-2-0 HEA)
THE LEAD: University of Massachusetts hockey erased an early 1-0 deficit, but Vermont netted the deciding goal with just over five minutes to play in regulation to defeat the Minutemen 2-1 on Saturday night at the Mullins Center. The contest was a preview of UMass' opening Friendship Four matchup as the teams will meet again in Belfast, Northern Ireland in 13 days.
FIRST PERIOD:
Vermont controlled much of the first period play, outshooting the Minutemen 10-2 in the frame. Rob Darrar gave the Catamounts a 1-0 lead 6:22 into the stanza, firing home a shot from the slot off feed from Brian Bowen below the goal line.
SECOND PERIOD:
Early in the second, UMass managed to tie the score up at 1-1. Streaking across the top of the crease, sophomore Kurt Keats redirected William Lagesson's shot from the point past goaltender Stefanos Lekkas at the 2:43 mark. Freshman Shane Bear earned an assist on the play, as well.
THIRD PERIOD:
In a back-and-forth third period that featured several scoring chances for both sides, Vermont ultimately pulled back in front with the deciding goal 14:46 into the frame. Matt Alvaro knocked in a rebound off a Kevin Irwin shot to give the Catamounts a 2-1 advantage. UMass narrowly missed tying the score up at two when junior Dominic Trento hit the post with around 2:40 to play.
INSIDE THE NUMBERS:
- Vermont finished the night with a 25-14 shot advantage. Both teams went 0-for-5 on the power play.
- UMass had a dominant night over the faceoff dots, winning 64.4% (29-for-45) of the draws, led by senior Steven Iacobellis' 14-for-17 (82.4%) performance.
- Keats netted his third of the season, tying freshman Jonny Lazarus for the team scoring lead on the year.
- Lagesson's assist marked his third in the past four games. Bear's assist was his fourth point in five games (2g, 3a).
- Freshman Ryan Wischow (2-2-1) made his fifth start of the season and totaled 23 saves on the night.
UP NEXT: UMass will next travel to Durham, New Hampshire on Fri., Nov. 18, where the squad will face New Hampshire in a 7 p.m. Hockey East matchup.