New Hampshire Falls To St. Lawrence, 6-2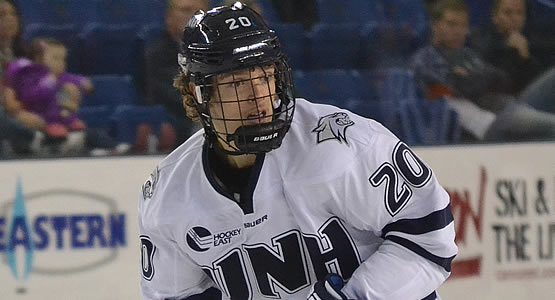 Freshman forward Patrick Grasso had a goal and an assist for the Wildcats
| | | | | | | |
| --- | --- | --- | --- | --- | --- | --- |
| Prd | Time | Team | Score | Type | Scored By | Assists |
| 1st | 3:01 | STL | 1-0 | PP | Jacob Pritchard (2) | Joe Sullivan/2, Drew Smolcynski/2 |
| 1st | 11:50 | STL | 2-0 | EV | Ryan Garvey (2) | Ben Finkelstein/1, Woody Hudson/2 |
| 2nd | 7:47 | STL | 3-0 | EV GW | Woody Hudson (1) | Ryan Garvey/1, Ryan Lough/2 |
| 2nd | 12:44 | UNH | 1-3 | PP | Patrick Grasso (1) | Ara Nazarian/1, Matias Cleland/1 |
| 2nd | 14:37 | STL | 4-1 | PP | Gavin Bayreuther (1) | Nolan Gluchowski/2, Mike Marnell/1 |
| 2nd | 19:59.7 | STL | 5-1 | EV | Joe Sullivan (2) | Michael Laidley/2, Gavin Bayreuther/2 |
| 3rd | 11:49 | STL | 6-1 | EV | Carson Gicewicz (1) | Jacob Pritchard/2 |
| 3rd | 18:27 | UNH | 2-6 | PP | Tyler Kelleher (1) | Ara Nazarian/2, Patrick Grasso/1 |
| | | | | |
| --- | --- | --- | --- | --- |
| Scoring | 1st | 2nd | 3rd | Final |
| New Hampshire | 0 | 1 | 1 | 2 |
| St. Lawrence | 2 | 3 | 1 | 6 |
| | | | | |
| --- | --- | --- | --- | --- |
| Shots on Goal | 1st | 2nd | 3rd | SOG |
| New Hampshire | 4 | 10 | 4 | 18 |
| St. Lawrence | 12 | 14 | 14 | 40 |
| | | | |
| --- | --- | --- | --- |
| Team Stats and Records | PP | PIM | SHGF |
| New Hampshire (0-2-0) | 2/8 | 9/18 | 0 |
| St. Lawrence (2-1-0) | 2/7 | 10/20 | 0 |
| | | | | | | |
| --- | --- | --- | --- | --- | --- | --- |
| New Hampshire Goaltending | MIN | GA | 1 | 2 | 3 | Saves |
| Adam Clark (L, 0-1-0) | 59:44 | 6 | 10 | 11 | 13 | 34 |
| Empty Net | 0:16 | 0 | | | | |
| | | | | | | |
| --- | --- | --- | --- | --- | --- | --- |
| St. Lawrence Goaltending | MIN | GA | 1 | 2 | 3 | Saves |
| Kyle Hayton (W, 2-1-0) | 59:56 | 2 | 4 | 9 | 3 | 16 |
| Empty Net | 0:04 | 0 | | | | |
CANTON, N.Y. - Freshman forward Patrick Grasso had a goal and an assist but New Hampshire was defeated by St. Lawrence, 6-2, on Friday night at Appleton Arena.
Date: October 14, 2016 (7:00 p.m.)
Score: No. 15 St. Lawrence University 6, University of New Hampshire 2
New Records: New Hampshire (0-2-0, 0-0-0 HE) // St. Lawrence (2-1-0, 0-0-0 ECAC)
Location: Appleton Arena (Canton, N.Y.)
Goal Scorers: New Hampshire - Patrick Grasso (1), Tyler Kelleher (1); St. Lawrence - Jacob Pritchard, Ryan Garvey, Woody Hudson, Gavin Bayreuther, Joe Sullivan, Carson Gicewicz
Goaltenders: UNH - Adam Clark (0-1-0) 34 saves (10 | 11 | 13 - 59:44); St. Lawrence - Kyle Hayton (2-1-0) 16 saves (4 |9 | 3 - 59:56)
Next Game // Next Home Game: Oct. 15 at Clarkson University at Cheel Arena (7 p.m.) // Saturday, Oct. 22, 2016 vs. Colorado College (7:00 p.m.)
WHAT HAPPENED
The Saints got on the board at the 3:01 mark of the first period with a power play goal by Jacob Pritchard. The play was set up by Drew Smolcynski as he sent a pass behind the net over to Joe Sullivan. He slid a pass to Pritchard who from one knee shot a one-timer that went off the post and into the net.
SLU took a 2-0 lead at 11:50 of the first period with a goal by Ben Finkelstein. Ryan Lough won the faceoff to Finkelstein who garnered the pass along the boards. He threw a shot at the UNH net that went through traffic and past netminder Adam Clark (Sherwood Park, Alberta).
At 7:47 of the second period, the Saints took a 3-0 lead on a goal by Woody Hudson. Ryan Lough and Ryan Garvey each tallied assists on the play.
Freshman Patrick Grasso (Ankeny, Iowa), notched his first-career goal to cut the deficit to two goals while on a power play. Sophomore forward Ara Nazarian (Boxford, Mass.) cued up the play with a pass from the corner of the boards to Matias Cleland (Longmont, Colo.) at the point. Cleland fed the puck to Grasso who was to the right of Saints' netminder Kyle Hayton and ripped a shot into the net.
St. Lawrence tallied two more goals in the second period to bring the score to 5-1 through two. Gavin Bayreuther scored at 14:37 with assists from Michael Laidley and Carson Gicewicz. Joe Sullivan scored the fifth goal with .3 seconds left in the second period with assists to Laidley and Bayreuther.
At 11:29 of the third, SLU took a 6-1 lead on a goal by Gicewicz and was assisted by Jacob Pritchard.
Senior Tyler Kelleher (Longmeadow, Mass.) lit the lamp on a power play goal at 18:27 of the third period for his first of the season. Nazarian and Grasso recorded helpers on the play.
PENALTIES
New Hampshire: 9 penalties - 18 minutes
St. Lawrence: 10 penalties - 20 minutes
SPECIAL TEAMS
New Hampshire: 2-for-8
St. Lawrence: 2-for-7
NEW HAMPSHIRE LEADERS
Points: Patrick Grasso (2), Ara Nazarian (2)
Goals: Patrick Grasso (1), Tyler Kelleher (1)
Assists: Ara Nazarian (2)
Shots: Brendan van Riemsdyk (Middletown, N.J.) (5)
ST. LAWRECE LEADERS
Points: Seven players with two points.
Goals: Jacob Pritchard, Ryan Garvey, Woody Hudson, Gavin Bayreuther, Joe Sullivan, Carson Gicewicz
Assists: Michael Laidley (2)
Shots: Gavin Bayreuther (6)