Saturday, October 22, 2016
Providence College Downs St. Lawrence, 6-3
Senior defenseman Anthony Florentino records goal and two assists for Friars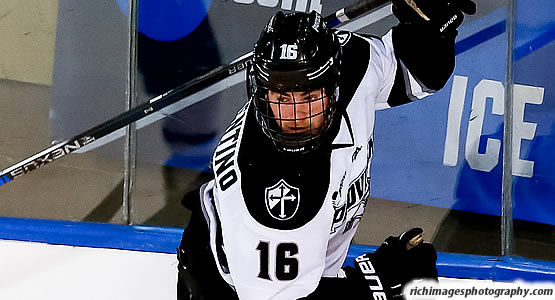 Senior defenseman Anthony Florentino had a goal and two assists for the Friars
| | | | | | | |
| --- | --- | --- | --- | --- | --- | --- |
| Prd | Time | Team | Score | Type | Scored By | Assists |
| 1st | 10:47 | STL | 1-0 | EV | Drew Smolcynski (2) | Jacob Pritchard/5, Gavin Bayreuther/4 |
| 1st | 13:05 | PRV | 1-1 | PP | Scott Conway (2) | Josh Monk/3, Jake Walman/4 |
| 1st | 16:29 | PRV | 2-1 | EV | Shane Kavanagh (1) | Josh Monk/4, Vimal Sukumaran/1 |
| 2nd | 0:32 | PRV | 3-1 | PP | Jacob Bryson (1) | Bryan Lemos/2, Anthony Florentino/1 |
| 2nd | 2:53 | PRV | 4-1 | PP GW | Erik Foley (3) | Jake Walman/5, Brian Pinho/2 |
| 2nd | 16:27 | STL | 2-4 | SH | Alexander Dahl (1) | Ryan Lough/3, Gavin Bayreuther/5 |
| 2nd | 19:19 | STL | 3-4 | EV | Joe Sullivan (3) | Ben Masella/2, Mike Marnell/6 |
| 3rd | 0:51 | PRV | 5-3 | PP | Josh Wilkins (2) | Brandon Duhaime/1, Anthony Florentino/2 |
| 3rd | 6:51 | PRV | 6-3 | EV | Anthony Florentino (1) | Erik Foley/2, Brian Pinho/3 |
| | | | | |
| --- | --- | --- | --- | --- |
| Scoring | 1st | 2nd | 3rd | Final |
| St. Lawrence | 1 | 2 | 0 | 3 |
| Providence | 2 | 2 | 2 | 6 |
| | | | | |
| --- | --- | --- | --- | --- |
| Shots on Goal | 1st | 2nd | 3rd | SOG |
| St. Lawrence | 8 | 8 | 4 | 20 |
| Providence | 13 | 12 | 14 | 39 |
| | | | |
| --- | --- | --- | --- |
| Team Stats and Records | PP | PIM | SHGF |
| St. Lawrence (3-3-0) | 0/7 | 17/42 | 1 |
| Providence (2-2-1) | 4/14 | 11/41 | 0 |
| | | | | | | |
| --- | --- | --- | --- | --- | --- | --- |
| St. Lawrence Goaltending | MIN | GA | 1 | 2 | 3 | Saves |
| Kyle Hayton (L, 3-3-0) | 46:16 | 6 | 11 | 10 | 5 | 26 |
| Daniel Mannella | 13:09 | 0 | 0 | 0 | 7 | 7 |
| Empty Net | 0:35 | 0 | | | | |
| | | | | | | |
| --- | --- | --- | --- | --- | --- | --- |
| Providence Goaltending | MIN | GA | 1 | 2 | 3 | Saves |
| Hayden Hawkey (W, 2-2-1) | 59:23 | 3 | 7 | 6 | 4 | 17 |
| Empty Net | 0:37 | 0 | | | | |
PROVIDENCE, R.I. - The 15th-ranked Providence College men's hockey team got goals from six different players en route to a resounding 6-3 win over No. 12/13 St. Lawrence on Saturday at Schneider Arena.
After a three-goal output from the newcomers on Friday night against Clarkson, they responded once again to combined for four goals and two assists on the night. Senior Anthony Florentino led the way with his first career three-point effort as he added a goal and two assists. Erik Foley, Jake Walman, Josh Monk, and Brian Pinho each recorded two-point games for the Friars.
Hayden Hawkey made 17 saves to earn his second win of the season, while Saints netminder Kyle Hayton surrendered all six goals before being relieved by Daniel Mannella.
The Friars carried a 2-1 lead after 20 minutes on goals by Scott Conway and Shane Kavanagh. Kavanagh, the East Providence native, notched his first collegiate goal on a breakaway deke at 16:29 of the first period.
Providence extended its lead to 4-1 early in the middle frame with a pair of strikes on the power play. Freshman Jacob Bryson hammered home a one-time shot from the point off a feed from Bryan Lemos to put the Friars up 3-1 before Erik Foley's work down low led to a re-direct of a Walman shot to make it a three goal game. A shorthanded goal by St. Lawrence's Alexander Dahl and a goal by Joe Sullivan brought the visiting Saints back to within one at 4-3 entering the third.
Josh Wilkins restored the two-goal lead for the Friars just 51 seconds into the third after he wired a wrister over the glove of Hayton the power play to make it a 5-3 game. Florentino concluded the scoring at 6:51 when he fired a shot from the top of the circles past Hayton for his first tally of the season.
A penalty-plagued game saw the teams combine for 71 penalty minutes over the final two periods.
The Friars are back in action next Friday (Oct. 28) for a nationally televised contest (ASN) at Boston College beginning at 6 p.m.
HOW THEY SCORED
1-0 (SLU) Drew Smolcynski (Pritchard, Bayreuther): Centering feed from Pritchard that was one-timed from the slot.
1-1 (PC) Scott Conway (PPG) (Monk, Walman): Curled from the half-wall and fired a wrist shot over the glove of Hayton.
2-1 (PC) Shane Kavanagh (Monk, Sukumaran): Stretch pass from Monk to Kavanagh for a breakaway and he dekes and beats Hayton to the right post.
3-1 (PC) Jacob Bryson (PPG) (Lemos, Florentino): One-timer from just inside the blue line over the glove of Hayton.
4-1 (PC) Erik Foley (PPG) (Walman, Pinho): Re-direct off a Walman slap shot from the point.
4-2 (SLU) Alexander Dahl (SHG) (Lough, Bayreuther): Deke on a breakaway shorthanded.
4-3 (SLU) Joe Sullivan (Masella, Marnell): Re-direct off a point shot by Masella.
5-3 (PC) Josh Wilkins (PPG) (Duhaime, Florentino) Wrister from the circles over the glove of Hayton.
6-3 (PC) Anthony Florentino (Foley, Pinho): Shot from the top of the circles through traffic.
Notes: Power Plays - St. Lawrence (0/6), Providence (4/11). Final shots on goal: 39-20 in favor of the Friars ... shot attempts: Providence 62, Clarkson 36 ... Kavanagh and Bryson recorded their first goals in a Friar uniform ... the Friars went 7/21 on the power play over the weekend ... Providence is 9-0-2 in their last 11 games versus ranked opponents on home ice ... Florentino had a game-high eight shots on goal ... the Friars earned their first win over St. Lawrence since Oct. 14, 2006.