Saturday, February 4, 2017
Florentino Hat Trick Leads Providence Past Maine, 5-3
Senior defenseman Anthony Florentino scores hat trick for Friars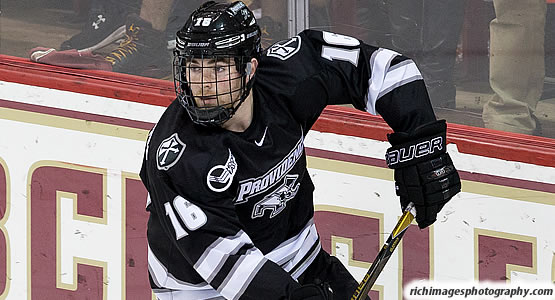 Senior defenseman Anthony Florentino scored a hat trick for the Friars
| | | | | | | |
| --- | --- | --- | --- | --- | --- | --- |
| Prd | Time | Team | Score | Type | Scored By | Assists |
| 1st | 13:08 | PRV | 1-0 | EV | Anthony Florentino (6) | Robbie Hennessey/4 |
| 2nd | 8:41 | PRV | 2-0 | PP | Brandon Duhaime (4) | Jacob Bryson/13, Spenser Young/6 |
| 2nd | 14:43 | MNE | 1-2 | EV | Blaine Byron (13) | Cam Brown/26, Mark Hamilton/9 |
| 2nd | 19:30 | PRV | 3-1 | PP | Anthony Florentino (7) | Bryan Lemos/7, Spenser Young/7 |
| 3rd | 0:07 | MNE | 2-3 | PS | Brendan Robbins (3) | - |
| 3rd | 5:47 | PRV | 4-2 | EV GW | Anthony Florentino (8) | Brandon Duhaime/8, Jacob Bryson/14 |
| 3rd | 15:43 | MNE | 3-4 | EV | Chase Pearson (12) | Nolan Vesey/10, Patrick Shea/10 |
| 3rd | 19:45 | PRV | 5-3 | EV EN | Erik Foley (10) | Brian Pinho/19 |
| | | | | |
| --- | --- | --- | --- | --- |
| Scoring | 1st | 2nd | 3rd | Final |
| Maine | 0 | 1 | 2 | 3 |
| Providence | 1 | 2 | 2 | 5 |
| | | | | |
| --- | --- | --- | --- | --- |
| Shots on Goal | 1st | 2nd | 3rd | SOG |
| Maine | 3 | 10 | 13 | 26 |
| Providence | 15 | 10 | 8 | 33 |
| | | | |
| --- | --- | --- | --- |
| Team Stats and Records | PP | PIM | SHGF |
| Maine (10-15-3) | 0/7 | 5/10 | 0 |
| Providence (16-8-4) | 2/5 | 8/16 | 0 |
| | | | | | | |
| --- | --- | --- | --- | --- | --- | --- |
| Maine Goaltending | MIN | GA | 1 | 2 | 3 | Saves |
| Rob McGovern (L, 9-11-3) | 59:10 | 4 | 14 | 8 | 6 | 28 |
| Empty Net | 0:50 | 1 | | | | |
| | | | | | | |
| --- | --- | --- | --- | --- | --- | --- |
| Providence Goaltending | MIN | GA | 1 | 2 | 3 | Saves |
| Hayden Hawkey (W, 16-8-4) | 60:00 | 3 | 3 | 9 | 11 | 23 |
PROVIDENCE, R.I. - Senior defenseman Anthony Florentino's first career hat trick lifted the 15th-ranked Providence College men's hockey team to a 5-3 win over Maine on Saturday night at Schneider Arena. Providence runs its season-high winning streak to seven games with the victory on Saturday.
SCORE
No. 15 Providence - 5 | Maine - 3
NEW RECORDS
Providence - 16-8-4 (8-6-2 HEA) | Maine - 10-15-3 (4-11-1 HEA)
VENUE
Schneider Arena - Providence, R.I. (3,033)​
GAME FLOW & NOTES
- The Friars' penalty kill was highlighted in the opening 10 minutes of the game as they killed off three Maine power play opportunities, only surrendering two shots.
- Providence outshot the Black Bears by a 15-3 margin in the first period.
- Anthony Florentino notched his first point since Dec. 9 and his 6th goal of the season at 13:08 of the first off a face-off win by Robbie Hennessey.
- Providence is 11-4-4 when scoring first this season and is 9-1-2 when leading after 20 minutes.
- Brandon Duhaime gave the Friars a 2-0 lead at 8:41 of the second period on the power play for his 4th tally of the season.
- The Black Bears cut the deficit in half on Blaine Byron's 13th of the season at 13:43.
- Providence cashed in for the second time on the power with just 29.9 seconds to go in the period as Florentino wired a wrist shot over the blocker of McGovern for his second goal of the evening.
- Maine answered just seven seconds in the third after Brendan Robbins converted on a penalty shot to make it a 3-2 game.
- Florentino struck for his first career hat trick with a shot through traffic at 5:47 to put Providence up 4-2.
- Chase Pearson responded to make it a one-goal deficit for Maine with 4:17 remaining in regulation.
- Erik Foley's 10th goal of the season salted the game away into an empty net with 14.9 seconds to play.
- Hayden Hawkey made 23 saves for the Friars for his 16th win of the season, while Rob McGovern stopped 28 for the Black Bears.
- The Friars are now 3-for-6 on the power play dating back to Walman's game-winning goal on Friday night.
- Brandon Duhaime has three points over his last three games (2-1-3), while Brian Pinho extended his point streak to four games (1-3-4)
- The last two hat tricks by Providence have been scored by defensemen (last by Jake Walman on Oct. 30, 2015 at Colgate). Florentino is just the second NCAA defenseman this season to record a hat trick.
- Shots on goal: Providence 33, Maine 26. Shot attempts: Providence 51, UNH 49.
- Shot blocks: Providence 14, Maine 7.
- Providence extended its unbeaten streak against Maine to 14 games (13-0-1) and have won 10 consecutive games dating back to 2014 against the Black Bears.
HOW THEY SCORED
1-0 (PC) - 13:08/1st - EV - Anthony Florentino (Hennessey) - Offensive zone faceoff win by Hennessey back to Florentino for a snapshot through traffic and past Rob McGovern
2-0 (PC) - 8:41/2nd - PP - Brandon Duhaime (Young, Bryson) - Young and Bryson worked the puck at the blue line on the power play. Young slid the puck to Duhaime for a one-timer at the tops of the circles that beat McGovern's glove.
2-1 (Maine) - 14:43/2nd - EV - Blaine Byron (Brown, Hamilton) - With a scrum in front of the Friars' net, Byron skated past traffic to the left faceoff dot to wrist it past Hawkey.
3-1 (PC) 19:30/2nd - PP - Anthony Florentino (Lemos, Young) - Lemos moved the puck from a battle on the half wall to an alone Florentino to walk the puck in and take a point shot that cleanly beat McGovern on the top left corner of the net.
3-2 (Maine) - 00:07/3rd - PS - Brendan Robbins - Five-hole shot to beat Hawkey.
4-2 (PC) - 5:47/3rd - EV - Anthony Florentino (Duhaime, Bryson) - Right point shot through traffic, beat McGovern five-hole.
4-3 (Maine) - 15:17/3rd - EV - Chase Pearson (Vesey, Shea) - Rebound to Pearson in the slot for an open net shot.
5-3 (PC) 19:45/3rd - EN - Erik Foley (Pinho) - Empty netter from the half wall.
PC GAME HIGHS
Points: Florentino (3-0-3)
Goals: Florentino (3)
Assists: Bryson (2); Young (2)
Shots: Desharnais (4); Foley (4); Gamez (4); Florentino (4); Walman (4)
Face-offs: Pinho (8/17)
POWER PLAYS
Providence -2/5
Maine - 0/7
LOOKING AHEAD
The Friars will begin a home-and-home series with UConn beginning on Wednesday night at the XL Center in Hartford, Conn.