Saturday, October 8, 2016
Vermont Clipped By Clarkson, 3-2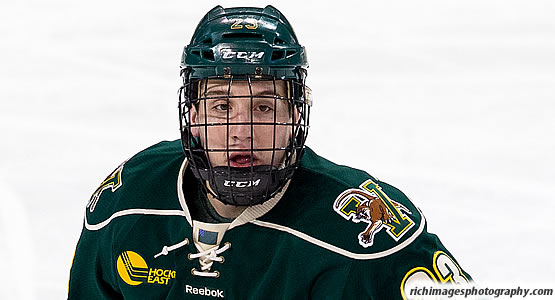 Junior forward Rob Darrar scored a goal for the Catamounts
| | | | | | | |
| --- | --- | --- | --- | --- | --- | --- |
| Prd | Time | Team | Score | Type | Scored By | Assists |
| 1st | 14:02 | CLK | 1-0 | PP | Nic Pierog (1) | James de Haas/2, Sheldon Rempal/1 |
| 1st | 18:18 | VER | 1-1 | PP | Rob Darrar (1) | Brady Shaw/1, Mike Lee/1 |
| 2nd | 2:55 | CLK | 2-1 | EV | Sam Vigneault (1) | - |
| 2nd | 7:19 | VER | 2-2 | EV | Ross Colton (1) | Liam Coughlin/1, Matt O'Donnell/1 |
| 3rd | 6:08 | CLK | 3-2 | SH GW | Ben Dalpe (1) | Perry D'Arrisso/1, James de Haas/3 |
| | | | | |
| --- | --- | --- | --- | --- |
| Scoring | 1st | 2nd | 3rd | Final |
| Clarkson | 1 | 1 | 1 | 3 |
| Vermont | 1 | 1 | 0 | 2 |
| | | | | |
| --- | --- | --- | --- | --- |
| Shots on Goal | 1st | 2nd | 3rd | SOG |
| Clarkson | 9 | 4 | 17 | 30 |
| Vermont | 8 | 11 | 6 | 25 |
| | | | |
| --- | --- | --- | --- |
| Team Stats and Records | PP | PIM | SHGF |
| Clarkson (1-1-0) | 1/5 | 12/27 | 1 |
| Vermont (1-1-0) | 1/10 | 7/17 | 0 |
| | | | | | | |
| --- | --- | --- | --- | --- | --- | --- |
| Clarkson Goaltending | MIN | GA | 1 | 2 | 3 | Saves |
| Jake Kielly (W, 1-1-0) | 60:00 | 2 | 7 | 10 | 6 | 23 |
| | | | | | | |
| --- | --- | --- | --- | --- | --- | --- |
| Vermont Goaltending | MIN | GA | 1 | 2 | 3 | Saves |
| Mike Santaguida (L, 1-1-0) | 58:04 | 3 | 8 | 3 | 16 | 27 |
| Empty Net | 1:56 | 0 | | | | |
BURLINGTON, Vt. - Ben Dalpe snapped a 2-2 tie with a shorthanded goal in the third period and Clarkson held on for a 3-2 win on Saturday night in Vermont's home opener at Gutterson Fieldhouse. The teams split the weekend home-and-home series, each moving to 1-1-0 in the early season.
Clarkson broke the deadlock on the power play at 14:02 of the opening period. Captain James de Haas collected a feed at the center point, faked a pass, and wristed a shot toward the net. Nic Pierog tipped the puck to beat Mike Santaguida (27 saves) low inside the left post for his first goal of the season. Sheldon Rempal recorded the trailing assist on the play.
The Catamounts tied the game with 1:42 remaining in the first, 1:29 after Clarkson was whistled for a double minor. On a long clearing pass, senior Brady Shaw collected the puck at the offensive blue line and dished low to linemate Rob Darrar. The junior was able to control the puck and send a backhanded shot off the right post, which deflected into the net off the back of Jake Kielly's skate.
Clarkson regained the lead just under three minutes into the second frame. Sam Vigneault located the puck at the top of the crease after a defensive miscue and finished an easy tap-in for a 2-1 cushion.
Shortly after, Shaw had a chance to tie the game seconds into a Vermont power play, but the right post saved the Golden Knights and the Cats were unable to find the rebound.
At 7:19 of the second period, Liam Coughlin streaked in the low slot and found freshman Ross Colton at the top of the crease for his first career goal. With Kielly (23 saves) diving back into position, Colton fired a low snapshot into the left side of the net. Classmate Matt O'Donnell picked up his first career point on the secondary assist.
Clarkson found the eventual game-winner just over six minutes into the final period. In transition on a shorthanded break, Perry D'Arrisso skated along the right wing and flipped a saucer pass to Dalpe. The forward took the puck in stride and knocked a first-time shot off the left post to beat Santaguida blocker side.
The Catamounts pulled the senior netminder for an extra attacker with 1:40 remaining in regulation, but the Golden Knights held on for the non-league win.
UVM is idle next weekend before flying to play Nebraska Omaha from the NCHC in a two-game non-league series on Friday, Oct. 21 and Saturday, Oct. 22. Both games are scheduled to begin at 8 p.m. (ET), and Friday's series opener will be televised on ASN.