Saturday, October 22, 2016
New Hampshire Defeated By Colorado College, 4-3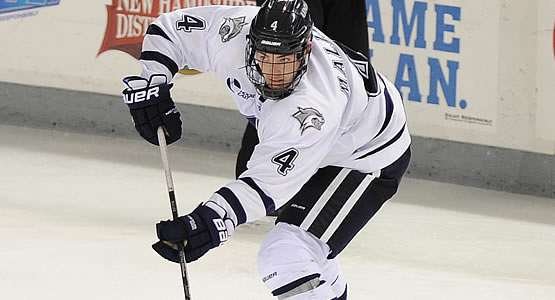 Senior defenseman Dylan Maller had two assists for the Wildcats
| | | | | | | |
| --- | --- | --- | --- | --- | --- | --- |
| Prd | Time | Team | Score | Type | Scored By | Assists |
| 1st | 2:03 | CC | 1-0 | SH | Gregg Burmaster (1) | Tanner Ockey/2 |
| 1st | 5:21 | CC | 2-0 | SH | Sam Rothstein (1) | Alex Berardinelli/2 |
| 1st | 15:59 | UNH | 1-2 | EV | Patrick Grasso (4) | Dylan Maller/1, Brendan van Riemsdyk/1 |
| 2nd | 4:32 | CC | 3-1 | PP | Nick Halloran (3) | Trey Bradley/4, Teemu Kivihalme/2 |
| 2nd | 7:51 | UNH | 2-3 | SH | Jason Salvaggio (1) | - |
| 2nd | 9:20 | UNH | 3-3 | EV | Michael McNicholas (1) | Dylan Maller/2, Shane Eiserman/1 |
| 3rd | 4:33 | CC | 4-3 | PP GW | Nick Halloran (4) | Teemu Kivihalme/3, Trey Bradley/5 |
| | | | | |
| --- | --- | --- | --- | --- |
| Scoring | 1st | 2nd | 3rd | Final |
| Colorado College | 2 | 1 | 1 | 4 |
| New Hampshire | 1 | 2 | 0 | 3 |
| | | | | |
| --- | --- | --- | --- | --- |
| Shots on Goal | 1st | 2nd | 3rd | SOG |
| Colorado College | 10 | 12 | 15 | 37 |
| New Hampshire | 21 | 12 | 9 | 42 |
| | | | |
| --- | --- | --- | --- |
| Team Stats and Records | PP | PIM | SHGF |
| Colorado College (2-4-0) | 2/6 | 7/14 | 2 |
| New Hampshire (1-3-0) | 0/7 | 6/12 | 1 |
| | | | | | | |
| --- | --- | --- | --- | --- | --- | --- |
| Colorado College Goaltending | MIN | GA | 1 | 2 | 3 | Saves |
| Derek Shatzer (W, 1-0-0) | 60:00 | 3 | 20 | 10 | 9 | 39 |
| | | | | | | |
| --- | --- | --- | --- | --- | --- | --- |
| New Hampshire Goaltending | MIN | GA | 1 | 2 | 3 | Saves |
| Daniel Tirone (L, 1-2-0) | 59:07 | 4 | 8 | 11 | 14 | 33 |
| Empty Net | 0:53 | 0 | | | | |
DURHAM, N.H. - Freshman forward Patrick Grasso (Ankeny, Iowa) scored his team-leading fourth goal of the season and senior defenseman Dylan Maller (Parkland, Fla.) had a pair of assists, but the UNH hockey team dropped a 4-3 decision to Colorado College on Saturday night at the Whittemore Center.
UNH fell to 1-3-0 for the season. The Wildcats open Hockey East play with a game at Massachusetts on Friday night. The Wildcats return to the Whittemore Center for their league home opener against Merrimack College on Saturday night at 7.
GAME INFORMATION
Date: October, 22, 2016
Score: Colorado College 4, New Hampshire 3
Records: New Hampshire (1-3-0), Colorado College (2-4-0)
Location: Whittemore Center, Durham, N.H.
Attendance: 3,815 (6,501 capacity)
Goal Scorers: New Hampshire - Patrick Grasso, Jason Salvaggio, Michael McNicholas; Colorado College - Nick Halloran (2), Gregg Burmaster, Sam Rothstein
Goaltenders: UNH - Danny Tirone (8-11-14 - 33); Colorado College - Derek Shatzer (20-10-9 -- 39)
Next Game: Friday, Oct. 28, at Massachusetts
Next home game: Saturday, Oct. 29, vs. Merrimack at Whittemore Center (7 p.m.) // Tickets at www.unhwildcats.com
WHAT HAPPENED
Colorado took a 2-0 lead on shorthanded goals by Gregg Burmaster and Sam Rothstein in the first 5:21 of the opening period.
Freshman forward Patrick Grasso (Ankeny, Iowa) got one back with a goal with 4:01 left in the opening period. The goal was his fourth in four games. Senior defenseman Dylan Maller (Parkland, Fla.) and freshman forward Brendan van Riemsdyk (Middletown, N.J.) had assists.
CC's Patrick Halloran pushed the lead to 3-1 with a power play goal 4:32 into the second period.
The Wildcats tied it with a pair of goals within a span of 1:29 later in the period.
Junior Jason Salvaggio (Hanson, Mass.) scored the first, shorthanded and unassisted, at the 7:51 mark.
Michael McNicholas got the next with assists to Maller and Shane Eiserman (Newburyport, Mass.) at 9:20. It was the first goal of the season for both Salvaggio and McNicholas.
Halloran scored the game-winner for Colorado College with his second goal of the game, again on the power play, 4:33 into the third period.
PENALTIES
New Hampshire: 6 penalties - 12 minutes
CC: 7 penalties - 14 minutes
SPECIAL TEAMS
New Hampshire: 0-7
CC: 2-6
NEW HAMPSHIRE LEADERS
Points: Maller (2)
Goals: Grasso, Salvaggio, McNicholas (1)
Assists: - Maller (2)
Shots: Salvaggio (6)
COLORADO COLLEGE LEADERS
Points: Halloran, Trey Bradley, Teemu Kivihalme (2)
Goals: Halloran (2)
Assists: Bradley, Kivihalme (2)
Shots: Halloran (8)