Northeastern Skates to 1-1 Tie At Bentley
Junior forward Nolan Stevens scores goal for Huskies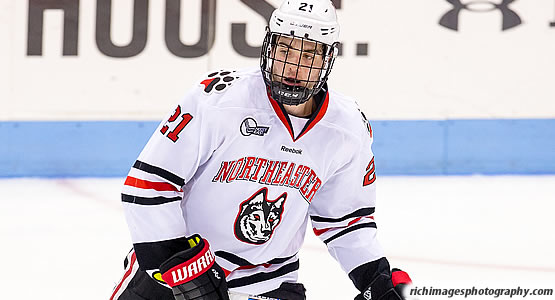 Junior forward Nolan Stevens scored a goal for the Huskies
| | | | | | | |
| --- | --- | --- | --- | --- | --- | --- |
| Prd | Time | Team | Score | Type | Scored By | Assists |
| 1st | 13:56 | NOE | 1-0 | PP | Nolan Stevens (2) | Zach Aston-Reese/1, Dylan Sikura/4 |
| 2nd | 2:54 | BEN | 1-1 | SH GT | Alexey Solovyev (2) | Max French/4, Brett Orr/1 |
| | | | | | |
| --- | --- | --- | --- | --- | --- |
| Scoring | 1st | 2nd | 3rd | OT | Final |
| Northeastern | 1 | 0 | 0 | 0 | 1 |
| Bentley | 0 | 1 | 0 | 0 | 1 |
| | | | | | |
| --- | --- | --- | --- | --- | --- |
| Shots on Goal | 1st | 2nd | 3rd | OT | SOG |
| Northeastern | 16 | 6 | 11 | 2 | 35 |
| Bentley | 7 | 9 | 7 | 0 | 23 |
| | | | |
| --- | --- | --- | --- |
| Team Stats and Records | PP | PIM | SHGF |
| Northeastern (0-1-2) | 1/13 | 11/22 | 0 |
| Bentley (1-0-1) | 0/7 | 19/57 | 1 |
| | | | | | | | |
| --- | --- | --- | --- | --- | --- | --- | --- |
| Northeastern Goaltending | MIN | GA | 1 | 2 | 3 | OT | Saves |
| Ryan Ruck (T, 0-1-2) | 65:00 | 1 | 7 | 8 | 7 | 0 | 22 |
| | | | | | | | |
| --- | --- | --- | --- | --- | --- | --- | --- |
| Bentley Goaltending | MIN | GA | 1 | 2 | 3 | OT | Saves |
| Jayson Argue (T, 1-0-1) | 65:00 | 1 | 15 | 6 | 11 | 2 | 34 |
WATERTOWN, Mass. - The No. 16/14 Northeastern men's ice hockey team (0-1-2) peppered Jayson Argue with 35 shots, but the Bentley (1-0-1) goaltender steered aside all but one as the Huskies and Falcons (1-0-1) fought to a 1-1 tie on Friday night at Ryan Arena.
Nolan Stevens scored the lone goal for Northeastern with a power play tally, his second of the season, to give NU a 1-0 lead 14 minutes into the game before Bentley netted the equalizer on Alexey Solovyev's shorthanded marker early in the second period.
NU tested Argue (34 saves) early and often on Friday, including 16 shots in the first period alone and 17 overall on the power play. Both teams got ample opportunity on the man advantage throughout the evening, with Northeastern going 1-of-12 while the Husky penalty killing unit held the Falcons to an 0-of-7 showing. Ryan Ruck was solid in net for the Huskies, steering aside 22 Bentley shots, including a flurry near the end of regulation to force overtime.
Goal descriptions
- Northeastern struck first on one of its five first period power play opportunities as Nolan Stevens netted his second goal of the year. With the Huskies skating on a five-on-three-power play, Adam Gaudette worked the puck down low to Zach Aston-Reese stationed at the right side of the cage. Aston-Reese then sent the puck in on Argue, who redirected it out in front to Stevens for the tap-in.
- Bentley leveled the score at one less than three minutes into the second period with a shorthanded tally from Kyle Schmidt. After Jake Kauppila was released from his hooking minor, giving the Huskies an abbreviated power play, Solovyev fired a shot from the point through traffic that caught the stick of Schmidt and got past Ruck for his second goal of the year.
Stats of the game
- Northeastern is now 2-4-1 all-time against Bentley
- Nolan Stevens has 26 points (12 goals, 14 assists) in his last 17 games dating back to last season, including points in each of his three games to start 2016-17.
- Sikura has an assist in all three games this season
The road ahead
The teams will meet again tomorrow night in the series finale at Matthews Arena. Puck drop is slated for 7 p.m. Fans are encouraged to arrive early to tomorrow's game as the Huskies will unveil the Hockey East championship banner in a pre-game ceremony.