Thursday, December 29, 2016
Boston College Falls To Quinnipiac, 3-1, At Three Rivers Classic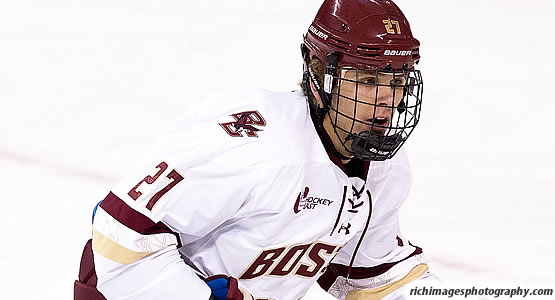 Freshman forward Graham McPhee scored a goal for the Eagles
| | | | | | | |
| --- | --- | --- | --- | --- | --- | --- |
| Prd | Time | Team | Score | Type | Scored By | Assists |
| 2nd | 10:43 | QUI | 1-0 | EV | Tanner MacMaster (5) | Kevin McKernan/8, Bo Pieper/5 |
| 2nd | 19:25.4 | BC | 1-1 | EV | Graham McPhee (1) | Austin Cangelosi/7 |
| 3rd | 8:04 | QUI | 2-1 | PP GW | Craig Martin (6) | K.J. Tiefenwerth/10, Tim Clifton/6 |
| 3rd | 12:31 | QUI | 3-1 | PP | Bo Pieper (7) | Landon Smith/11, Chase Priskie/11 |
| | | | | |
| --- | --- | --- | --- | --- |
| Scoring | 1st | 2nd | 3rd | Final |
| Boston College | 0 | 1 | 0 | 1 |
| Quinnipiac | 0 | 1 | 2 | 3 |
| | | | | |
| --- | --- | --- | --- | --- |
| Shots on Goal | 1st | 2nd | 3rd | SOG |
| Boston College | 5 | 7 | 10 | 22 |
| Quinnipiac | 10 | 13 | 11 | 34 |
| | | | |
| --- | --- | --- | --- |
| Team Stats and Records | PP | PIM | SHGF |
| Boston College (13-7-1) | 0/4 | 6/12 | 0 |
| Quinnipiac (11-7-2) | 2/5 | 6/12 | 0 |
| | | | | | | |
| --- | --- | --- | --- | --- | --- | --- |
| Boston College Goaltending | MIN | GA | 1 | 2 | 3 | Saves |
| Ryan Edquist (L, 3-1-0) | 58:24 | 3 | 10 | 12 | 9 | 31 |
| Empty Net | 1:36 | 0 | | | | |
| | | | | | | |
| --- | --- | --- | --- | --- | --- | --- |
| Quinnipiac Goaltending | MIN | GA | 1 | 2 | 3 | Saves |
| Chris Truehl (W, 9-5-2) | 59:18 | 1 | 5 | 6 | 10 | 21 |
| Empty Net | 0:42 | 0 | | | | |
PITTSBURGH, Pa. - Freshman forward Graham McPhee scored a goal but Boston College was defeated by Quinnipiac, 3-1, on Thursday in the opening game of the Three Rivers Classic at PPG Paints Arena.
SCORE
No. 6 Boston College - 1 / No. 14 Quinnipiac - 3
LOCATION
PPG Paints Arena / Three Rivers Holiday Classic / Pittsburgh
RECORDS
No. 6 Boston College - (13-7-1 / 8-1-1) / No. 14 Quinnipiac (11-7-2 / 6-4-1)
BC HIGHLIGHTS & GAME NOTES
- Graham McPhee scored his first-career goal as an Eagle late in the second period to tie things up, 1-1, at 19:25. The Bethesda, Md. native has logged five points (1-4-5) so far in his rookie campaign.
- Thursday marked Matthew Gaudreau's 100th-career game as an Eagle.
- Boston College is 2-1 all-time in Three Rivers Classic games.
GOAL DESCRIPTIONS
FIRST GOAL (1-0 - QU) SECOND PERIOD - Tanner MacMaster - 10:43 - EVEN STRENGTH
- Quinnipiac broke the scoring draught on a loose carom off the far post at 10:43 of the second period. Thomas Aldworth slid a pass over to Kevin McKernan along the top of the zone and McKernan let a shot loose between the circles. Ryan Edquist made the initial stop, but the puck squirted out to the right and Tanner MacMaster was in position out deep. At an off angle, Edquist was sprawled out and MacMaster maneuvered the shot around him to the back of the net for the 1-0 Bobcat lead.
SECOND GOAL (1-1 - BC) SECOND PERIOD - Graham McPhee - 19:25 - EVEN STRENGTH
- Graham McPhee took a late tripping call in the second period at 17:17, but his escape from the penalty box yielded a 1-1 score after a huge play by Austin Cangelosi. The senior centerman stripped Quinnipiac on its reset and raced it up towards QU's Chris Truehl just as McPhee was making his way back. McPhee and Cangelosi crafted the perfect give-and-go on the 2-0 situation to tie it late in the second frame at 19:25.
THIRD GOAL (2-1 - QU) THIRD PERIOD - Craig Martin - 8:04 - POWER PLAY
- The Bobcats reclaimed the lead 20 seconds into a Mike Booth power play midway through the third. Quinnipiac won a draw in Boston College's end and K.J. Tiefenwerth connected with Craig Martin on the right dot. Martin roofed it at 8:04 with the extra man to regain a one-goal lead, 2-1.
FOURTH GOAL (3-1 - QU) THIRD PERIOD - Bo Pieper - 12:31 - POWER PLAY
- QU capitalized on its second-straight power play opportunity in the third period. After a Michael Campoli interference call at 11:47, the Bobcats worked it around the zone, cycling through Luke Shiplo and Landon Smith. Smith handed it off to Bo Pieper in the slot and he snapped it by Edquist between the circles to move ahead by two, 3-1, at 12:31.
BOSTON COLLEGE GAME LEADERS
Points: Graham McPhee (1 - 0 - 1) / Austin Cangelosi (0 - 1 - 1)
Goals: Graham McPhee (1 - 0 - 1)
Assists: Austin Cangelosi (0 - 1 - 1)
Shots: Scott Savage ( 4 )
Faceoffs Won: Austin Cangelosi (16 - of - 31)
SPECIAL TEAMS
Boston College: 0 - for - 4
Quinnipiac: 2 - for - 5
PENALTIES
Boston College: 6 - of - 12
Quinnipiac: 6 - of - 12
BOSTON COLLEGE LINES
McPhee - Greco - Calnan
Cotton - Cangelosi - Brown
Gaudreau - Booth - Dudek
Shero - Merulla - Walker
McInnis - Savage
Kim - Moore
Campoli
Edquist
Milosz
UP NEXT
Boston College will face the loser of the Ferris State vs. Robert Morris match tomorrow, Dec. 30 at 4:30 p.m. in the consolation match of the Three Rivers Classic at PPG Paints Arena.