Sunday, November 27, 2016
Boston College Defeated By Minnesota, 4-2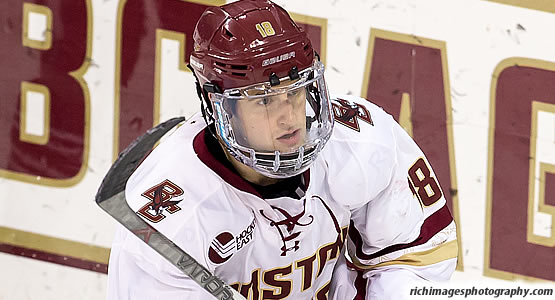 Sophomore forward Colin White had a goal and an assist for the Eagles
| | | | | | | |
| --- | --- | --- | --- | --- | --- | --- |
| Prd | Time | Team | Score | Type | Scored By | Assists |
| 1st | 0:34 | MIN | 1-0 | EV | Brent Gates Jr. (5) | Vinni Lettieri/5 |
| 2nd | 2:10 | BC | 1-1 | EV | Colin White (8) | David Cotton/6, Matthew Gaudreau/12 |
| 2nd | 4:34 | BC | 2-1 | SH | Matthew Gaudreau (5) | Colin White/5, Connor Moore/8 |
| 2nd | 18:08 | MIN | 2-2 | EV | Tyler Sheehy (5) | Justin Kloos/5, Jake Bischoff/9 |
| 3rd | 11:10 | MIN | 3-2 | EV GW | Vinni Lettieri (6) | Brent Gates Jr./1, Mike Szmatula/8 |
| 3rd | 19:50.1 | MIN | 4-2 | EV EN | Mike Szmatula (5) | Vinni Lettieri/6, Jake Bischoff/10 |
| | | | | |
| --- | --- | --- | --- | --- |
| Scoring | 1st | 2nd | 3rd | Final |
| Minnesota | 1 | 1 | 2 | 4 |
| Boston College | 0 | 2 | 0 | 2 |
| | | | | |
| --- | --- | --- | --- | --- |
| Shots on Goal | 1st | 2nd | 3rd | SOG |
| Minnesota | 14 | 14 | 8 | 36 |
| Boston College | 10 | 13 | 10 | 33 |
| | | | |
| --- | --- | --- | --- |
| Team Stats and Records | PP | PIM | SHGF |
| Minnesota (6-4-2) | 0/4 | 3/6 | 0 |
| Boston College (11-4-1) | 0/3 | 4/8 | 1 |
| | | | | | | |
| --- | --- | --- | --- | --- | --- | --- |
| Minnesota Goaltending | MIN | GA | 1 | 2 | 3 | Saves |
| Eric Schierhorn (W, 6-4-2) | 59:53 | 2 | 10 | 11 | 10 | 31 |
| Empty Net | 0:07 | 0 | | | | |
| | | | | | | |
| --- | --- | --- | --- | --- | --- | --- |
| Boston College Goaltending | MIN | GA | 1 | 2 | 3 | Saves |
| Joseph Woll (L, 8-4-1) | 58:55 | 3 | 13 | 13 | 6 | 32 |
| Empty Net | 1:05 | 1 | | | | |
CHESTNUT HILL, Mass. - Sophomore forward Colin White had a goal and an assist but Boston College was topped by Minnesota, 4-2, on Sunday afternoon at Kelley Rink.
SCORE
No. 11 Minnesota - 4 / No. 4 Boston College - 2
LOCATION
Kelley Rink / Chestnut Hill, Mass.
RECORDS
No. 11 Minnesota (6-4-2 • 0-0-0) / No. 4 Boston College - (11-4-1 • 6-0-1 HEA)
BC HIGHLIGHTS & GAME NOTES
- Matthew Gaudreau accounted for his fifth multi-point performance of the season but his first-career short-handed goal at 4:34 of the second period.
- With Gaudreau's short-handed goal, the Eagles now have four on the season; one of 10 teams in college hockey with that mark. (Bentley, BU, Lake State, St. Lawrence have five • Harvard, Maine, Michigan, Omaha, Penn State and now Boston College have accounted for four)
- Colin White scored his eighth goal of the season to tie things up early in the second. The Hanover, Mass. native is tied for the team lead in goals with eight ( 8 ), matching Austin Cangelosi's total.
- Minnesota head coach Don Lucia picked up his 700th-career win with the victory.
GOAL DESCRIPTIONS
FIRST GOAL (1-0 - MINN) FIRST PERIOD - Brent Gates Jr. - 00:34 - EVEN STRENGTH
- Minnesota scored off the jump, capitalizing off an early turnover in BC's end. Justin Kloos dumped the puck in from Minnesota's end and Ryan Fitzgerald was there to pick it off. The Golden Gophers lifted it off of Fitzgerald's stick and Vinni Lettieri carried it into the corner and chipped it out to Brent Gates Jr. on the left dot. Gates Jr. took a one-timer slapshot that beat Joe Woll opposite side 34 seconds into the game for a 1-0 lead.
SECOND GOAL (1-1 - BC) SECOND PERIOD - Colin White - 2:10 - EVEN STRENGTH
- The Eagles started the second frame on the power play, but just as it expired, Colin White got the best of Minnesota goaltender Eric Schierhorn at 2:10. Matthew Gaudreau triggered the play but toss the put into traffic in front. Minnesota blocked it and David Cotton was able to get the puck back on net. Schierhorn made the stop, but Colin White pounced on the loose carom on the near side and roofed it over his glove to tie it up, 1-1.
THIRD GOAL (2-1 - BC) SECOND PERIOD - Matthew Gaudreau - 4:34 - SHORT-HANDED
- R. Fitzgerald was whistled for cross-checking but the BC penalty kill won a draw in its end and streaked up ice and turned it into a 2-1 lead. Colin White won the faceoff back into the near corner where Connor Moore wrestled it away from a pair of Gophers. White accepted it around the boards and turned it into a two-on-one with Matthew Gaudreau to his right. White perfectly timed the pass at the circles and Gaudreau tipped it perfectly past Schierhorn with the soft backhand for the short-handed tally at 4:34 and a 2-1 advantage.
FOURTH GOAL (2-2 - MINN) SECOND PERIOD - Tyler Sheehy - 18:08 - EVEN STRENGTH
- Minnesota closed the gap to shut down the second period on a rifle from Tyler Sheehy at 18:08. Jake Bischoff kept the puck in Boston College's end and sent it to Justin Kloos along the blue line. Kloos carried it towards Woll, dropped it off to Sheehy on the left dot and he ripped it past Woll with the wrist shot to tie it up, 2-2.
FIFTH GOAL (3-2 - MINN) THIRD PERIOD - Vinni Lettieri - 11:10 - EVEN STRENGTH
- The Golden Gophers reclaimed their early lead from the first period midway through the third on a breakaway by Vinni Lettieri at 11:10. Mike Szmatula won a draw in Minnesota's end and Gates Jr. scooted ahead after the puck was dropped to kick it up to Lettieri already in motion. Lettieri opted for the backhand and beat Woll blocker side for the 3-2 lead.
SIXTH GOAL (4-2 - MINN) THIRD PERIOD - Mike Szmatula - 19:51 - EMPTY NETTER
- Jake Bischoff blocked a shot in front of Schierhorn and it pinballed into the corner where Lettieri chased it down. Lettieri connected with Mike Szmatula at the blue line and he sent the empty netter in with 9.9 seconds left to ice the 4-2 win.
BOSTON COLLEGE GAME LEADERS
Points: Colin White (1 - 1 - 2) / Matthew Gaudreau (1 - 1 - 2)
Goals: Colin White (1 - 1 - 2) / Matthew Gaudreau (1 - 1 - 2)
Assists: Colin White (1 - 1 - 2) / Matthew Gaudreau (1 - 1 - 2) / Connor Moore (0 - 1 - 1) / David Cotton (0 - 1 - 1)
Shots: Matthew Gaudreau ( 7 )
Faceoffs Won: Austin Cangelosi (16 - of - 18)
SPECIAL TEAMS
Minnesota: 0 - for - 4
Boston College: 0 - for - 3
PENALTIES
Minnesota: 3 - of - 6
Boston College: 4 - of - 8
BOSTON COLLEGE LINES
R. Fitzgerald - Cangelosi - Brown
Gaudreau - White - Dudek
Cotton - Jul. Mattila - Calnan
McPhee - Greco - Booth
Jes. Mattila - C. Fitzgerald
McInnis - Moore
Kim - Savage
Woll
Edquist
Milosz UP NEXT
Boston College's arduous schedule continues as the Eagles turn right around and head down the street to Matthews Arena to take on Northeastern. BC will play its fourth Tuesday game of the season on Nov. 29 at 7 p.m. It will be the Eagles final game before heading to the Big Apple to take on defending national champion North Dakota at Madison Square Garden on Saturday, Dec. 3 at 7:30 p.m. live on CBS Sports Network.