Boston College Upends Carleton, 4-3, In Exhibition
Senior forward Matthew Gaudreau and freshman defenseman Jesper Mattila each record two assists for Eagles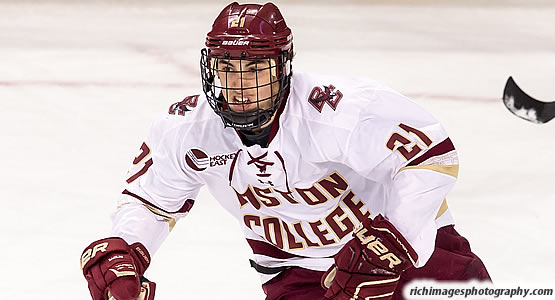 Senior forward Matthew Gaudreau had two assists for the Eagles
| | | | | | | |
| --- | --- | --- | --- | --- | --- | --- |
| Prd | Time | Team | Score | Type | Scored By | Assists |
| 1st | 3:40 | BC | 1-0 | PP | Scott Savage | Matthew Gaudreau, Jesper Mattila |
| 1st | 8:49 | CAR | 1-1 | EV | Sean Bamford | Alexandre Boivin |
| 2nd | 1:43 | BC | 2-1 | EV | JD Dudek | Matthew Gaudreau, Jesper Mattila |
| 2nd | 7:38 | CAR | 2-2 | PP | Brett Welychka | Alexandre Boivin |
| 2nd | 13:19 | BC | 3-2 | EV | Graham McPhee | Austin Cangelosi, Christopher Brown |
| 3rd | 13:32 | CAR | 3-3 | EV | Adam Chapman | Brett Welychka |
| 3rd | 17:32 | BC | 4-3 | EV GW | Ryan Fitzgerald | Colin White |
| | | | | |
| --- | --- | --- | --- | --- |
| Scoring | 1st | 2nd | 3rd | Final |
| Carleton (ON) | 1 | 1 | 1 | 3 |
| Boston College | 1 | 2 | 1 | 4 |
| | | | | |
| --- | --- | --- | --- | --- |
| Shots on Goal | 1st | 2nd | 3rd | SOG |
| Carleton (ON) | 9 | 8 | 4 | 21 |
| Boston College | 14 | 14 | 12 | 40 |
| | | | |
| --- | --- | --- | --- |
| Team Stats and Records | PP | PIM | SHGF |
| Carleton (ON) | 1/6 | 17/64 | 0 |
| Boston College | 1/13 | 10/39 | 0 |
| | | | | | | |
| --- | --- | --- | --- | --- | --- | --- |
| Carleton (ON) Goaltending | MIN | GA | 1 | 2 | 3 | Saves |
| François Brassard (L) | 58:56 | 4 | 13 | 12 | 11 | 36 |
| Empty Net | 1:04 | 0 | | | | |
| | | | | | | |
| --- | --- | --- | --- | --- | --- | --- |
| Boston College Goaltending | MIN | GA | 1 | 2 | 3 | Saves |
| Joseph Woll | 20:00 | 1 | 8 | 0 | 0 | 8 |
| Ryan Edquist | 20:00 | 1 | 0 | 7 | 0 | 7 |
| Ian Milosz (W) | 19:12 | 1 | 0 | 0 | 3 | 3 |
| Empty Net | 0:48 | 0 | | | | |
BOSTON, Mass. - Senior forward Matthew Gaudreau and freshman defenseman Jesper Mattila each had two assists as Boston College skated to a 4-3 exhibition win against Carleton on Sunday at Warrior Ice Arena.
LOCATION
Warrior Ice Arena / Boston
BOSTON COLLEGE LINES
R. Fitzgerald - White - Dudek
McPhee - Cangelosi - Brown
Cotton - Greco - Booth
Merulla

Je. Mattila - C. Fitzgerald
McInnis - Savage
Campoli - Shero
Kim - Moore

Milosz
Woll
Edquist
CARLETON LINES
Van Stralen - McNamee - Welychka
Burnside - Bolvin - Bamford
Durocher - Norris - Chapman
Gustavsen - Meighan - Douglas
Wilson - Hulton - Bouchard

Weckworth - de Hahn
Seed - Fraser
Werthner - Akeson
Brown - Stevens

Jenkins
Brassard
Nichols
GOAL DESCRIPTIONS
(1)Boston College (1st period - 3:40- PP) Scott Savage with a wrist shot from the top of the left circle on a pass from Matthew Gaudreau on the far side.
(2)Carleton (1st period - 8:49- EV) Sean Bamford came out of penalty box, proceeded on a fast break and got a pass on the back door from Alexandre Boivin for a one-timer.
(3) Boston College (2nd period - 1:43 - EV) JD Dudek scored right in front of the net on a corner feed from Matthew Gaudreau just as an Eagle power play expired.
(4)Carleton (2nd period - 7:38 - PP) Brett Welycha converted a 5-on-3 power play with a pass from Alexandre Boivin from the left faceoff dot in front of the net for a tap-in.
(5) Boston College (2nd period - 13:19 - EV) Graham McPhee took a pass from Austin Cangelosi, deked it past a Carleton defender and scored near the left faceoff dot, beating Francois Brassard high glove side.
(6) Carleton (3rd period - 13:32 - EV) Adam Chapman got a backside pass from Brett Welychka at the top of the left faceoff circle.
(7)Boston College (3rd period - 17:32 - EV) Ryan Fitzgerald received a long, home run pass in front of the net from Colin White and finished off the play, winning the 2-on-1 battle.
BOSTON COLLEGE LEADERS
Points: (2) Matthew Gaudreau, Jesper Mattila
Goals: (1) JD Dudek, Ryan Fitzgerald, Graham McPhee, Scott Savage
Assists: (2) Matthew Gaudreau, Jesper Mattila
Shots: (6) Ryan Fitzgerald
Faceoffs Won: (11) Jesper Mattila
SPECIAL TEAMS
Boston College: 1-13
Carleton: 1-6
PENALTIES
Boston College: 17 penalties - 64 minutes
Carleton: 10 penalties - 39 minutes
UP NEXT
No. 5 Boston College will travel West to take on Air Force in the first round of the Ice Breaker Tournament on Friday, Oct. 7 at 8:30 eastern time and will take on either Denver or Ohio State the following evening on Saturday, Oct. 8. Time is TBA for Saturday's contest.