Saturday, December 17, 2016
Massachusetts Downed By Arizona State, 4-1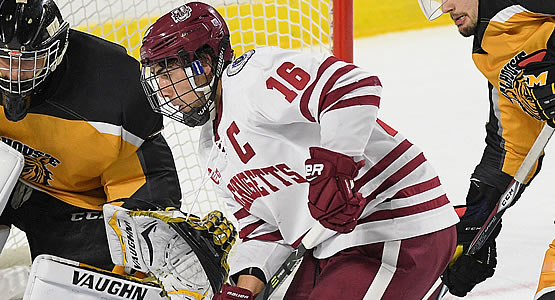 Senior forward Steven Iacobellis scored a goal for the Minutemen
| | | | | | | |
| --- | --- | --- | --- | --- | --- | --- |
| Prd | Time | Team | Score | Type | Scored By | Assists |
| 2nd | 6:00 | UMA | 1-0 | EV | Steven Iacobellis (4) | Austin Plevy/7, Patrick Lee/5 |
| 2nd | 15:06 | ASU | 1-1 | PP | Nicholas Gushue (4) | Wade Murphy/8, Tyler Busch/7 |
| 2nd | 19:26 | ASU | 2-1 | EV GW | Louie Rowe (3) | Jakob Stridsberg/2, David Norris/8 |
| 2nd | 19:38 | ASU | 3-1 | EV | Riley Simpson (1) | Dylan Hollman/8, Liam McGing/2 |
| 3rd | 7:53 | ASU | 4-1 | EV | Brett Gruber (3) | David Norris/9 |
| | | | | |
| --- | --- | --- | --- | --- |
| Scoring | 1st | 2nd | 3rd | Final |
| Arizona State | 0 | 3 | 1 | 4 |
| Massachusetts | 0 | 1 | 0 | 1 |
| | | | | |
| --- | --- | --- | --- | --- |
| Shots on Goal | 1st | 2nd | 3rd | SOG |
| Arizona State | 7 | 13 | 6 | 26 |
| Massachusetts | 7 | 11 | 6 | 24 |
| | | | |
| --- | --- | --- | --- |
| Team Stats and Records | PP | PIM | SHGF |
| Arizona State (7-13-0) | 1/4 | 2/4 | 0 |
| Massachusetts (4-12-2) | 0/2 | 4/8 | 0 |
| | | | | | | |
| --- | --- | --- | --- | --- | --- | --- |
| Arizona State Goaltending | MIN | GA | 1 | 2 | 3 | Saves |
| Robert Levin (W, 3-4-0) | 59:52 | 1 | 7 | 10 | 6 | 23 |
| Empty Net | 0:08 | 0 | | | | |
| | | | | | | |
| --- | --- | --- | --- | --- | --- | --- |
| Massachusetts Goaltending | MIN | GA | 1 | 2 | 3 | Saves |
| Ryan Wischow (L, 3-8-2) | 60:00 | 4 | 7 | 10 | 5 | 22 |
AMHERST, Mass. - Senior forward Steven Iacobellis scored a goal but Massachusetts fell to Arizona State, 4-1, on Saturday night at Mullins Center.
THE BASICS:
RESULT: Arizona State 4, Massachusetts 1
LOCATION: Mullins Center (Amherst, Mass.)
RECORDS: Massachusetts (4-12-2, 2-7-1 HEA); Arizona State (7-13-0)
THE LEAD: Senior captain Steven Iacobellis opened the scoring six minutes into the second period, however Arizona State used four unanswered goals to rally past Massachusetts hockey, 4-1 on Saturday evening at the Mullins Center.
FIRST PERIOD:
For a second straight night, UMass and Arizona State played a scoreless first period. Both teams had a power play opportunity in the frame and finished the stanza even in shots at 7-7.
SECOND PERIOD:
Senior Marc Hetnik hit the crossbar in the opening minutes of the second and shortly after, the Minutemen took a 1-0 lead. Sophomore Austin Plevy fed senior Steven Iacobellis from behind the net and Iacobellis knocked it home at the right post 6:00 into the period. The Sun Devils came up with the equalizer at 15:06 mark, though. Nicholas Gushue fired in a one-timer from the top of the right faceoff circle off a pass from Wade Murphy and Tyler Busch. Then, in the final minute of the frame, ASU struck twice in a span of 12 seconds with goals from Louie Rowe and Riley Simpson to pull in front, 3-1.
THIRD PERIOD:
The Sun Devils added their fourth of the night 7:53 into the third period. Brett Gruber scored on a 2-on-1 with David Norris logging his second assist of the game.
INSIDE THE NUMBERS:
- Arizona ended the contest with a 26-24 edge in shots and went 1-for-4 on the power play, while UMass was 0-for-2. Freshman Ryan Wischow made 22 saves in net for the Minutemen and Robert Levin had 23 stops for the Sun Devils.
- Iacobellis netted his fourth goal of the season, his third in the past six games.
- Plevy's assist was his seventh of the year, tying him for the team lead. He also paces the squad in points with 12 through 18 games. Patrick Lee added an assist, as well, his fifth of the season.
UP NEXT: UMass will break for the holidays for 13 days and will be back in action on Fri., Dec. 30, facing Alabama Huntsville at the Mariucci Classic in Minneapolis, Minnesota.