Saturday, October 31, 2009
NEW HAMPSHIRE TOPPED BY WISCONSIN, 6-1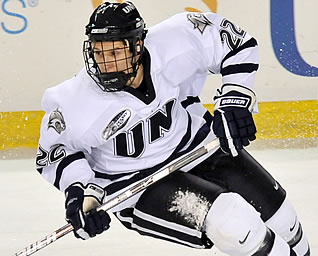 Stevie Moses scored a goal for the Wildcats
MADISON, Wis. - 19th-ranked Wisconsin scored three goals in a three-minute stretch in the second period to power a 6-1 win over the University of New Hampshire men's ice hockey team Saturday night at Kohl Center in Madison Wis.
The Wildcats move to 2-4-1 overall record, while Wisconsin improves to 3-2-1 overall. UNH is now 0-3-0 on the road this season.
The three-goal second period included a pair from Jordy Murray. Murray broke the scoreless deadlock at 2:54 with a power play tally on a redirect of a Ryan McDonagh shot from the left point. Ben Grotting scored his first of the season just under two minutes later scoring an even-strength goal with helpers from Sean Dolan and Brendan Smith. Murray potted his second in three minutes intercepting a pass in the offensive zone and scoring an unassisted goal at 5:54. Wisconsin held a 16-6 shot advantage in the second.
John Ramage and Dolan scored even-strength goals at 7:18 and 12:56, respectively to extend the lead to 5-0. The Wildcats would break into the scoring column as Mike Borisenok (Watervliet, N.Y.) collected a pass from Greg Burke (Lee, N.H.) and drove into the offensive zone. His initial shot was stopped by Badger netminder Scott Gudmandson, but Stevie Moses (Leominster, Mass.) was on the doorstep to knock in the rebound at 15:07 of the second. UW's Michael Davies netted the Badgers' sixth goal closed out scoring at 18:21.
In a scoreless first period, the Badgers held a 13-7 shot advantage. The Wildcats had three power play opportunities, while Wisconsin had one extra-skater attempt.
Wisconsin was 1-2 on the power play, while the Wildcats were 0-5 on the power play. However, the Badgers held a 44-22 shot advantage.
Senior netminder Brian Foster (Pembroke, N.H.) turned away 30 shots and allowed four goals in his 47:16, while Matt DiGirolamo (Ambler, Pa.) allowed a pair of goals and stopped eight shots in his 12:42 in net for New Hampshire. Gudmandson had 21 saves and improves to 1-1-1 on the season for Wisconsin.
UNH returns home on Nov.6 (7 p.m.) against Hockey East foe Boston College. The game will be broadcast live from Whittemore Center on NESN.