NEW HAMPSHIRE NOTCHES 5-2 WIN AT VERMONT
Senior Brian Foster makes 28 saves for the Wildcats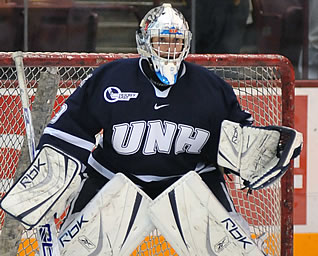 Brian Foster made 28 saves for the Wildcats
BURLINGTON, Vt. - Five different players recorded goals and senior Brian Foster made 28 saves to lead New Hampshire to a 5-2 victory against No. 19 Vermont in front of a sellout at Gutterson Fieldhouse on Sunday afternoon. The Catamounts dropped to 6-6-2 (4-5-2 HEA) with the loss while the Hockey East leading Wildcats (7-6-3, 7-2-2 HEA) extended their unbeaten streak to six games.
Junior Jack Downing (New Canaan, Conn.) and senior Colin Vock (Detroit, Mich.) each had power-play goals for the Catamounts. Junior Justin Milo (Edina, Minn.) added a pair of assists. Senior goalie Mike Spillane (Bow, N.H.) started the game and made nine saves in 27:32 of work before giving way to sophomore Rob Madore (Pittsburgh, Pa.), who stopped 9-of-10 shots in 29:02.
Freshman Greg Burke, sophomores Blake Kessel and Damon Kipp, junior Greg Manz and senior Peter Leblanc each had goals for the Wildcats.
"I don't think we made them earn their goals. Credit to them though, I think they played a great game and good teams find a way to finish their opportunities and expose team weaknesses when they make mistakes," Vermont head coach Kevin Sneddon said. "Again, we're stuck in this can't put it all together. We don't get great goaltending, we don't play great team defense in our zone and yet offensive zone, neutral zone and special teams were probably the best we've played."
UVM out shot UNH 30-23 for the game and 13-8 in the opening period, but trailed 2-1 after 20 minutes.
Vermont struck first when Milo setup Downing for a power-play goal at the bottom of the left circle at 2:21. Vock also assisted on the goal that ended a streak of 14 consecutive power-play opportunities without a goal for the Catamounts.
UNH responded with a pair of goals in the period. First Burke scored in transition at 12:51 on a feed from senior Bobby Butler. Then Kessel scored his fifth goal of the year from the low slot to make it 2-1 with just 1:16 left.
The Wildcats opened up a 3-1 advantage on a goal by Manz at 6:04 of the second period. The Catamounts were unable to clear their zone after a long battle on along the wall and freshman Dalton Speelman found Manz in the slot for the goal.
UNH took advantage of a 2-on-1 at 7:32 to move in front 4-1. LeBlanc swooped in on the left wing faked inside and went wide on Spillane for his fifth goal on the year. Madore replaced Spillane in net following a Vermont timeout after the score.
Vock cut the deficit in half at 15:25 of the second with a power-play goal. Sophomore Drew MacKenzie (New Canaan, Conn.) setup Vock at the bottom of the right circle for his third goal of the season. Milo also assisted on the goal that made it 4-2.
The Catamounts seemed to be gaining momentum but another failed clear led to a Wildcats goal just 54 seconds later. Kipp took advantage from the right circle with a snap shot that beat a screened Madore at 16:19 to make it 5-2.
"Anytime you score a goal you're looking for momentum and when they answered quickly back like that, the goal was on the next shift, it's pretty tough," Vock said. "We didn't finish all of our chances and we made some defensive mistakes and they buried them."
Vock had a breakaway opportunity 2:30 into the final period but his backhanded bid hit the right post. It was one of three pipes that the Catamounts hit in the game.
Vermont held UNH scoreless on a five-minute power play opportunity later in the period. The Catamounts finished 4-for-4 on the kill and 2-for-3 on the power play.
"We've failed to put together 60 minutes of complete hockey to date," Sneddon said. "It's been our power play for almost the entire year, our penalty kill, those two things really took a big positive turn for us tonight. But there were other areas where we need to put it all together. So it's disappointing, I know the guys are feeling bad about it and we're going to try to focus on the real positives that we can pull from this game and try to eliminate those few mistakes."
Vermont hosts St. Lawrence next Saturday at 7:05 p.m. in a non-conference game. New Hampshire visits Providence on Friday at 7 p.m.
NOTES: Check back to www.UVMathletics.com for game highlights and postgame comments from Kevin Sneddon ... Today's game was televised on ESPNU with Clay Matvick and Barry Melrose on the call ... UNH leads the all-time series against Vermont 68-16-3 ... Jack Downing finished with a team-high six shots ... Vermont's next four games are non-league contests and the Catamounts won't return to Hockey East play until Jan. 15.