VERMONT, UMASS LOWELL SKATE TO 3-3 TIE
Justin Milo ties game for Catamounts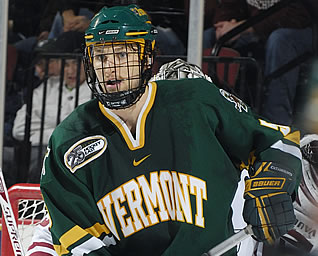 Brayden Irwin had a power-play goal for Vermont
BURLINGTON, Vt. - Junior Justin Milo (Edina, Minn.) scored in his season debut, senior Brayden Irwin (Toronto, Ont.) extended his scoring streak to six games and No. 15 Vermont out shot No. 8 UMass-Lowell 37-22 in a 3-3 tie in front of a sellout crowd at Gutterson Fieldhouse on Friday night.
"We played 65 of the hardest minutes we've played all year," Vermont head coach Kevin Sneddon said. "So, as a coach you know that's what we were trying to get out of our guys; the understanding that we've got to play fearless, we have to make aggressive mistakes and I thought everything we did tonight was on the aggressive side."
Trailing 3-2 in the third period, Milo tied the game for the Catamounts (2-3-1, 1-2-1 HEA) with a wrist shot from the right circle with 11:05 remaining. Freshman Anders Franzon (Plattsburgh, N.Y.) started the play when he chipped the puck out of his own zone to senior Brian Roloff (West Seneca, N.Y.) who found Milo in transition.
"It felt great," Milo said. "I was pretty nervous before the game just coming off an injury and not practicing a lot, but as soon as I got out there I was excited. The fans were great like always, and it just felt good to be a part of the team again."
Milo and Irwin both finished with a goal and an assist. Junior Wahsontiio Stacey (Kahnawake, Que.) also scored for the Catamounts.
Seniors Nick Schaus and Paul Worthington both scored on the power play for the River Hawks (4-2-1, 2-1-1 HEA). Senior Chris Auger added a goal while senior Nevin Hamilton made 34 saves.
Vermont led 1-0 after Stacey scored at 7:09 of the opening period. Junior Jack Downing (New Canaan, Conn.) had his shot from the right circle turned away by Hamilton but the rebound went right to Stacey at the left circle for his third goal of the season.
The River Hawks responded with three unanswered goals. Schaus started the scoring with a power-play goal at 13:32 of the first to make the score 1-1. Directly off a draw in the Catamounts zone, Schaus blasted a shot from the point that deflected off the stick of defenseman Kevan Miller and past Rob Madore (19 saves).
Then Worthington game the River Hawks their first lead at 5:49 of the second period on another power-play goal. Holmstrom and Edwards setup Worthington at the right post for his fourth tally of the season.
Just over two minutes later Auger put Lowell in front 3-1 on a shot that was deflected into the upper left corner of the net at 7:56. The play was reviewed and ruled a goal.
Irwin cut the Vermont deficit to 3-2 with a power-play goal on a low wrister from the slot during a 4 on 3 at 10:44 of the second period. Milo and sophomore Drew MacKenzie (New Canaan, Conn.) each assisted. The goal ended a stretch of 17 straight power play chances without a goal for the Catamounts.
"Aside from the final result I was really impressed with how the team played tonight," Irwin said. "I thought all four lines, six 'd', our goaltender, everyone played real well and worked hard and did their job."
Milo completed the come back with the equalizer at 8:55 of the final period. Vermont out shot UML 14-4 in the third period and overtime.
The Catamounts return to action on Sunday at 4 p.m. against Providence. Approximately 75 tickets remain for the game and are available online at www.UVMathletics.com. UMass-Lowell hosts New Hampshire on Sunday at 5 p.m. on ESPNU.