VERMONT EARNS FINAL PLAYOFF BERTH AFTER 1-1 TIE AT UMASS LOWELL
Vermont's Rob Madore makes 35 saves; Carter Hutton stops 17 for River Hawks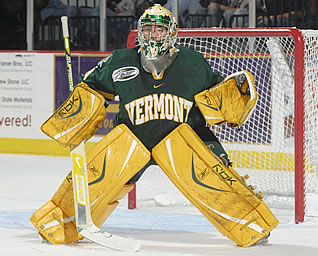 Rob Madore made 35 saves for the Catamounts
LOWELL, Mass. - The UMass Lowell River Hawks (18-14-4, 12-11-4 HE) locked into a 1-1 tie with Vermont (15-12-7, 9-11-7 HE) on Saturday night in the Tsongas Center. UMass Lowell finishes the regular season in a three-way tie with Boston University and Maine, earning the fifth seed due to tie-breakers. The River Hawks will travel to the Alfond Arena to face the Black Bears next weekend in the Hockey East Quarterfinals.
OTHER LINKS: Blaise MacDonald Audio
UMass Lowell had the wind knocked out its sails early as the team captain, Ben Holmstrom (Colorado Springs, CO), was hit with a game misconduct penalty at 5:23 into the contest.
While Vermont failed to capitalize on the five-minute power play, the Catamounts still earned a goal before the first period was over. Kevan Miller (Los Angeles, CA) came around the near boards and hit Sebastian Stalberg (Gothenburg, Sweden) in between the circles. Stalberg settled the puck and put a shot low to the near side, escaping Carter Hutton's (Thunder Bay, Ont.) outstretched leg and hitting the pipe before bouncing in.
The River Hawks entered the second period re-energized with the support of a season-high 6,121 fans. In the midst of outshooting Vermont 16-6 in the period, Scott Campbell (Navan, Ont.) scored his 15th goal of the season. The Catamounts looked to knock the puck out of their zone, but Jeremy Dehner (Madison, WI) cut it off. The senior defenseman sent the puck from the top of the far circle to the weak-side post for Campbell to slam home at 7:27.
The two goaltenders managed to keep the nets clean for the remainder of the game, including overtime, to preserve the 1-1 score. In his final start in the Tsongas Center, Hutton made 17 saves to move his record to 12-10-2 on the season. The Catamounts' Rob Madore (Pittsburgh, PA) was stellar between the pipes, stopping 35-of-36 shots to improve to 11-10-7 on the campaign.
UMass Lowell outshot Vermont 36-18 on the night, but was scoreless on four power play attempts. The Catamounts failed to convert their only man advantage opportunity.