Tuesday, November 24, 2009
WELLMAN, MARCOU PACE MASSACHUSETTS PAST VERMONT, 6-2
UMass' Casey Wellman nets hat trick, adds assist; James Marcou registers five assists for Minutemen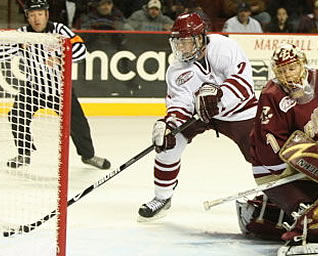 Casey Wellman had three goals and an assist for UMass
BURLINGTON, Vt. - Junior James Marcou had a career high five assists and sophomore Casey Wellman recorded a hat trick as No. 9 Massachusetts defeated No. 18 Vermont 6-2 in front of a sellout crowd at Gutterson Fieldhouse in Hockey East action on Tuesday night. The Catamounts dropped to 4-5-1 (3-4-1 HEA) with the loss while the Minutemen improved to 9-2-0 (5-2-0 HEA).
"I'm very frustrated with this team," Vermont head coach Kevin Sneddon said. "We've got a lot of talent in there and it's just not coming together for whatever reason right now. So, we'll try to make our point, and rebound, and go for the road win on Friday."
Freshman David Pacan (Ottawa, Ont.) scored the first goal of his career and senior co-captain Brian Roloff (West Seneca, N.Y.) notched his third goal of the season for the Catamounts. Senior Mike Spillane (Bow, N.H.) stopped 25 shots in his second straight start.
Wellman scored two of his three goals on the power play and freshman Rocco Carza also scored on the man advantage for the Minutemen. UMass went 3-for-6 man up and now boasts the nation's third best power play unit at 29-percent (19-for-55).
Senior Justin Braun and sophomore Danny Hobbs also scored goals for UMass as they ended a seven game winless streak against the Catamounts. Marcou's five assists extended his Hockey East leading point total to 21 (4g, 17a) in 11 games.
After a scoreless first period, Pacan gave Vermont a 1-0 lead at 2:06 of the second. Pacan took a feed from junior Jack Downing (New Canaan, Conn.) and moved to the right circle where his wrist shot beat Paul Dainton (27 saves). Junior Josh Burrows (Prairie Grove, Ill.) also assisted.
Wellman tied the game for the Minutemen at 8:42 with a power-play goal that was setup by Marcou.
Vermont went back in front 2-1 just over a minute later when Roloff streaked up the right wing past the UMass defense and beat Dainton to the left post. Pacan and Burrows both assisted on the goal at 9:55.
Then the game turned in favor of the Minutemen in a two-and-half minute flurry late in the second. First, Welman tied the game at 2 on a 3-on-1 that was setup by Marcou at 13:27.
Then with UMass on a 5-on-3 power play, Wellman completed the hat trick from the top of the left circle on another assist from Marcou at 15:07. Just 40 seconds later Carzo scored a power-play goal to open up a 4-2 advantage.
"I thought we played great up until that point," Sneddon said. "But we give them a few power plays and they turned the tides on us pretty quick, and they're a great team, we've got to tip our hat to them. They made us pay for every mistake that we made tonight and I'm just disappointed because we worked extremely hard on the kill all week and we get out there and we didn't execute it the way we practiced it."
Down by a pair of goals, Colin Vock (Detroit, Mich.) had a breakaway opportunity early in the third period for the Catamounts. Vock tried to go five-hole on his forehand but Dainton closed up the pads to make the save.
Braun and Hobbs added third period tallies for the Minutemen to complete the victory.
"We're doing everything possible to make things work here and you know there's no real answer for it as to why things aren't clicking," Spillane said. "If we had the answer we wouldn't be looking for it right now, so that's part of the game and that's also part of what makes it fun. We need to talk things out here and figure it out as a collective unit."
Vermont returns to action on Friday at Matthews Arena a 7 p.m.
NOTES: Check back to www.UVMathletics.com for game highlights ... Vermont dropped to 7-5-1 against UMass in the annual Tuesday before Thanksgiving matchup ... The Catamounts are 19-5-1 all-time at home against UMass ... Vermont went 0-for-4 on the power play and UMass is 22-for-23 on the penalty kill in the last seven games ... Justin Milo had a team best four shots for UVM ... Casey Wellman had eight shots for UMass.