Tuesday, November 24, 2009
FAYNE LEADS PROVIDENCE TO 4-2 WIN OVER UMASS LOWELL
Senior defenseman Mark Fayne has goal and three assists for Friars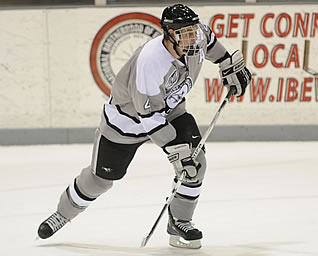 Mark Fayne had a four-point game for the Friars
PROVIDENCE, R.I. - Senior Mark Fayne (Sagamore Beach, Mass.) recorded one goal and three assists to lead the Providence College men's hockey team past No. 3 UMass Lowell, 4-2, on Tuesday, November 24 in a Hockey East game played at Schneider Arena. With the win, the Friars improved to 7-4-1 overall and 2-3-1 in Hockey East. UMass Lowell fell to 8-3-1 overall and 4-2-1 in league play. It marked the highest ranked opponent the Friars have defeated since a 4-2 win at No.2 Boston University on January 13, 2009.
The River Hawks took a 1-0 lead at 14:21 of the first period when Chris Auger tucked in a back hander from in close. Jeremy Dehner assisted on the goal. The Friars scored twice in the second period to take a 2-1 lead. While the Friars were on the power play, Fayne ripped a slap shot from the point that was re-directed into the net by junior Kyle MacKinnon (Walnut, Calif.) at 6:33 to even the score at 1-1. It marked MacKinnon's third goal of the season. At 14:22, Fayne swept a loose puck at his own blue line to sophomore Matt Bergland (Faribault, Minn.) who tapped the puck ahead down the right wing to freshman Aaron Jamnick (Hibbing, Minn.). Jamnick then skated in on a breakaway and netted his fourth goal of the season.
In the third period, the Friars increased their lead to 3-1 as they scored on the power play for the second time. Bergland took a pass from Fayne at the right circle and then zipped a cross-ice pass to freshman Alex Velischek (Kinnelon, N.J.), who ripped a wrist shot into the top left corner of the net for his first collegiate goal. The River Hawks then pulled goaltender Carter Hutton for an extra skater to cut PC's lead to one goal, but Fayne gained possession of the puck at his own end and swept it the length of the ice. The puck trickled down the ice and hit the left post before going into the net at 18:27. It marked Fayne's third goal of the season. Jonathan Maniff scored for UMass Lowell at 18:49 to cut the lead to 4-2, but it was not enough.
The Friars outshot the River Hawks, 41-32. Sophomore goaltender Alex Beaudry (Cumberland, Ont.) finished with 30 saves, while Hutton stopped 37 shots.
The Friars are back in action on Friday, November 27 when they travel to face Dartmouth, while the River Hawks host Maine at Tsongas Arena.