Saturday, October 31, 2009
BEAUDRY LEADS PROVIDENCE PAST MASSACHUSETTS, 2-1
Alex Beaudry makes 47 saves for Friars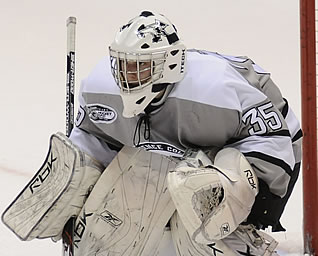 Alex Beaudry made 47 saves for Friars
AMHERST, Mass. - The No. 17 UMass hockey team suffered its first loss of the season on Saturday night at the hands of the Providence Friars, 2-1 at the Mullins Center. Alex Beaudry made a career high 47 saves for Providence (4-2-0, 1-1-0 HEA) while Matt Irwin tallied the lone goal for the Minutemen (4-1-0, 3-1-0 HEA). Paul Dainton got the start in net for Massachusetts, making 26 saves. The Mass Attack will be back in action on November 6 when they will play host to Niagara. Gametime is scheduled for 7 PM.
When Massachusetts started its season 4-0-0 during the 2003-04 campaign, again it was the Friars who gave UMass its first defeat of the season. That year, the Minutemen made it to the Hockey East Championship game.
The Minutemen outshot the Friars 48-28, and were 1-for-5 on the power play. 11 of UMass' 19 goals this season have come on the man-advantage. Providence was 0-for-3 on the power play.
Although UMass outshot the Friars 15-10 during the first period, it was Providence that came out hard early in the period, netting a goal to give them the lead heading into intermission. Kyle McKinnon netted his second goal of the season six minutes into the frame off a pass from Alex Velischek. Once McKinnon received the puck, he let a shot go from the left circle that found its way through Dainton for the early tally.
The Minutemen started to create some chances of their own as the period wore on, but Beaudry was there to turn away all 15 UMass shots. While Massachusetts took five penalties during the entire game Friday, the Minutemen took three in the first period, allowing the Friars to maintain puck possession for a majority of the stanza.
While UMass controlled the play throughout the second period, outshooting Providence 12-11, the Friars made the most of their opportunities by tacking on another goal midway through the frame. Matt Bergland netted his team-leading fifth goal of the season 11 minutes into the stanza off a rebound. After Jordan Kremyr took a shot from the right circle that was initially stopped by Dainton, Bergland picked up the loose rebound and buried it past the junior netminder to give Providence a 2-0 lead.
The Minutemen peppered Beaudry in the third period with 21 shots, but the sophomore netminder only let one past him to secure the victory. Irwin's blast from the point just two minutes into the period gave UMass a chance with tons on time left on the clock. Massachusetts continued to pressure the Providence defense, but had no answer for Beaudry.