Saturday, October 24, 2009
UMASS LOWELL TOPS NORTHEASTERN, 3-1
Carter Hutton stops 24 shots for the River Hawks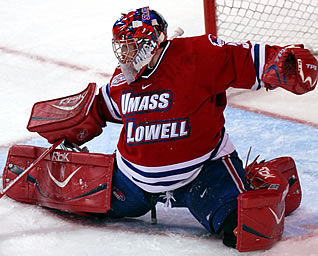 Carter Hutton made 24 saves for the River Hawks
LOWELL, Mass. - UMass Lowell rode a strong game from senior goaltender Carter Hutton (Thunder Bay, Ont.) to a 3-1 win over the Northeastern Huskies in its 2009-10 Hockey East opener. Hutton stopped 24-of-25 shots to pick up his second win of the season.
The River Hawks improve to 3-1-0 on the young season while earning their first conference victory. Northeastern dropped its second-consecutive game to slide to 2-3-0 and (0-2-0) in Hockey East.
Freshman Riley Wetmore (Swanton, VT) broke through a 0-0 tie 4:47 into the second period with his first goal of the season. Maury Edwards (Rocky Rapids, Alta.) slide the puck to Ryan Blair (Ashburn, VA) who ripped a one-timer at the Huskies net. Goaltender Chris Rawlings (North Delta, B.C.) positioned for the save but Wetmore deflected the puck through to give UMass Lowell the 1-0 advantage.
The River Hawks received some breathing room late in the period on a power play goal from David Vallorani (Hamilton, Ont.). With a five-on-three advantage, Chris Auger (Belleville, Ont.) fed the puck to Nick Schaus (Buffalo, NY) who wound up for the one-timer. Schaus audibled to a pass aimed at Vallorani, stationed on the weak side post for the quick strike at 18:56.
The Huskies drew the game within one at 8:03 into the third period. Tyler McNeely (Burnaby, B.C.) took the puck from Jake Newton (San Jacinto, CA) and Garrett Vermeersch (Macomb, MI) and skated up ice. McNeely found himself with the edge on the defender and took an unguarded wrist shot that beat Hutton to bring the game to 2-1.
As the final minutes faded away, Northeastern pulled the goaltender to try and gain an edge. UMass Lowell had different plans as Jeremy Dehner (Madison, WI) and Kory Falite (Billerica, MA) kicked the puck up ice to Paul Worthington (Langhorne, PA) who tossed it into the unattended goal.
Hutton made 24 saves to move to 2-1-0, while Rawlings stopped 30-of-33 shots as he dropped to 2-3-0. The River Hawks finished two-for-seven on the power play and six-for-seven on the penalty kill.
UMass Lowell will now take the week to prepare for a home-and-home series with defending National Champion Boston University next weekend. On Friday, the River Hawks host the Terriers at 7 p.m. before traveling to Boston for Saturday's contest.