Friday, February 12, 2010
RAWLINGS, NORTHEASTERN SHUT OUT MASSACHUSETTS, 2-0
Freshman Chris Rawlings posts shutout with 31 saves for Huskies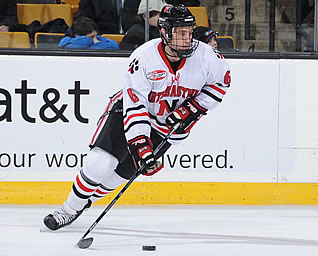 David Strathman had a power-play goal for the Huskies
AMHERST, Mass. - The No. 18 UMass Hockey team was shutout at home for the second time this season, falling to Northeastern 2-0 Friday night at the Mullins Center. The Huskies (14-12-1, 9-10-1 HEA) received goals from David Strathman and Robbie Vrolyk, while freshman goaltender Chris Rawlings made 31 saves for his third shutout of the season. Dan Meyers got the start in goal for UMass (16-12-0, 11-10-0 HEA), making 16 saves. The two teams will square off again tomorrow night in the series finale at Matthews Arena for a 7:15 PM faceoff.
After Friday's loss, the Minutemen are 0-3-0 in their last three games at the Mullins Center, scoring one goal in the process. Massachusetts outshot the Huskies 31-18 for the game, while the Minutemen were 0-for-3 on the power play. Northeastern was 1-for-5 on the man advantage.
The Minutemen opened the first period by controlling the tempo and outshooting Northeastern 11-8, but a power play goal by the Huskies eight minutes into the frame stood as the lone goal of the stanza. With UMass in the box for tripping, Strathman netted his fourth goal of the season after Drew Elleman fed Strathman in the slot for a wrist shot that got over Meyers' glove.
Massachusetts was awarded one power play during the first period, and displayed good puck movement throughout its man advantage, but couldn't seem to get any of its three power play shots past Rawlings.
Neither team could make any headway on the scoreboard during the second period as the Minutemen outshot the Huskies 10-6, although both teams had several significant scoring chances throughout the frame. Meyers was forced to stone Steve Morra in the last few minutes of the stanza when he picked up a loose puck in the neutral zone and went in on a breakaway. UMass had a few shots on the doorstep, but Northeastern kept the Minutemen shots coming from the point and to the sides of Rawlings.
UMass pressured throughout the period to try and solve Rawlings, outshooting the Huskies 10-4, but the freshman netminder continued to stand tall to preserve the shutout. Danny Hobbs rang a shot off the post midway through the period in an attempt to get the Minutemen back in the game, but the puck redirected to the boards.
Northeastern netted an insurance goal from Vrolyk with 14:59 left in the period when he gathered a loose puck and sent a low shot on Meyers just as a Huskie penalty had expired. The Minutemen pulled Meyers with 1:26 remaining in regulation, but could not crack Rawlings.