PROVIDENCE COLLEGE FALLS TO NOTRE DAME, 2-0
Alex Beaudry made 28 saves to lead the Friars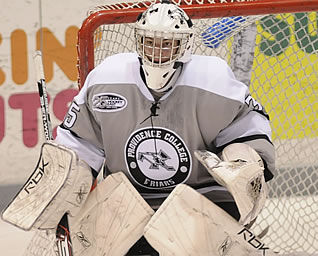 Alex Beaudry made 28 for Providence
NOTRE DAME, Ind. - The Providence College men's hockey team was defeated at No. 7 Notre Dame, 2-0, Friday night at the Joyce Center in Notre Dame, Ind. With loss, the Friars fell to 2-1, while the Fighting Irish improved to 2-2.
The Friars finished the first period with a 12-8 shot advantage and nearly took the lead at the 11:50 mark when senior John Cavanagh (Warwick, R.I.) stole the puck behind the Notre Dame net and played it in front to sophomore Matt Bergland (Faribault, Minn.), but his shot was turned aside by UND goalie Mike Johnson. The Irish responded seconds later and nearly scored when Ryan Guentzel was set up at the slot, but PC sophomore goalie Alex Beaudry (Cumberland, Ont.) made a right pad save on Guentzel's one-timer.
Beaudry continued to stymie the Irish in the second period as he made several point-blank saves, including one on Ryan Thang's shot from the slot on the power play. However, Notre Dame took the lead at the 10:13 mark when Nick Larson scored his first career goal. Larson carried the puck around the Friar net and skated to the bottom of the left circle before rifling a high wrist shot over Beaudry's left shoulder. Ben Ryan and Kyle Lawson assisted on the goal. Shortly after Notre Dame's goal, Providence came close to tying the score when junior Jordan Kremyr (Cloverdale, B.C.) fired a wrist shot from the right circle that glanced off the right post. Late in the period, junior Ian O'Connor (Londonderry, N.H.) rifled a back hander from in close, but Johnson was able to make a glove save.
The Friars were able to kill off a 4-on-3 and a 5-on-4 penalty early in the third period, but Notre Dame capitalized on its next chance to take a 2-0 lead. Calle Ridderwall pounced on a loose puck at the slot and potted his first goal of the season at 5:13.
The Irish finished with a 30-29 shot advantage as Johnson stopped all 29 PC shots to earn his first career shutout in his first career start. Beaudry stopped 28 shots.
The Friars are back in action on Friday, October 23 when they travel to Bowling Green, Ohio to take on the Bowling Green State Falcons.