Saturday, October 3, 2009
MASSACHUSETTS EDGED BY NEW BRUNSWICK, 3-2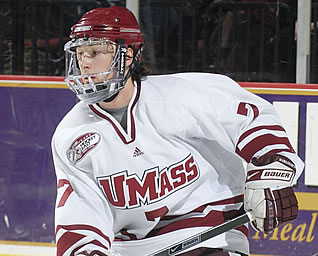 Casey Wellman scored a goal for the Minutemenen
AMHERST, Mass. - A three goal first period for New Brunswick gave the Varsity Reds a 3-2 win over the University of Massachusetts men's hockey team in the exhibition opener for the 2009-10 season. The Minutemen fought back tallying a pair of goals in the third period thanks to Casey Wellman and T.J. Syner, but could not find the equalizer. UMass officially opens the season next Thursday, Oct. 8 against Rensselaer in the Mullins Center (7 PM).
New Brunswick opened the game with a goal from John Scott Dickson just 3:17 into the game. Dickson added a second goal with just over five minutes remaining in the period on the power play.
The Reds closed out the period with Taylor Procyshen's goal at the 17:24 mark.
In the second period, UMass came out firing and finished the frame outshooting New Brunswick 16-to-7.
At the 4:28 mark of the third period, Wellman laced a shot to the high left side of the goal from the slot to put the Minutemen on the board. With 1:14 remaining in the game, Syner jammed home his goal after UMass pulled goalie Paul Dainton for the extra man advantage.
The Minutemen kept Dainton out following the Syner goal, but could not find the equalizer in the final seconds.
UMass finished the game with a 31-to-28 edge in shots, but were 0-for-5 on the power play. New Brunswick finished the game 1-for-4 with the extra man.