PROVIDENCE FALLS TO NEW BRUNSWICK IN EXHIBITION, 6-3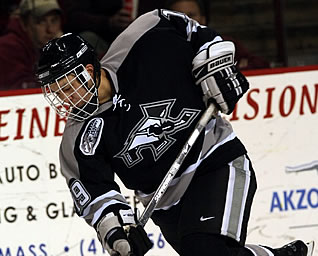 Chris Eppich had a goal and an assist for the Friars
PROVIDENCE, R.I. - The Providence College men's hockey team was defeated by the University of New Brunswick, 6-3, on Friday, October 9 in an exhibition game played at Schneider Arena.
The Varsity Reds took a 1-0 lead at the 5:19 mark if the first period when Joshua Hepditch scored from in close. The Friars evened the score at the 12:25 mark as Chris Eppich (Surrey, B.C.) pounced on a rebound in front after a shot from classmate Jordan Kremyr (Cloverdale, B.C.). New Brunswick regained the lead late in the period as John Scott Dickson scored with 1:32 left in the opening 20 minutes.
In the second period, PC's Matt Bergland (Faribault, Minn.) scored a short-handed breakaway goal at 4:07 to tie the game at 2-2. Just 1:37 later, UNB's Lachlan MacIntosh potted a goal to give his team a 3-2 edge. Kremyr then scored off a rush from the left wing to tie the score again (3-3). However, the Varsity Reds scored late in the third period to regain the lead for good. UNB then added two more goals in the third period to secure the win.
PC sophomore goalie Alex Beaudry (Cumberland, Ont.) made 20 saves in two periods of action, while Justin Gates stopped 13 shots in the third period.
The Friars will play their regular season opener on Saturday, October 10 at Schneider Arena.