MAINE DEFEATED BY UNION, 4-1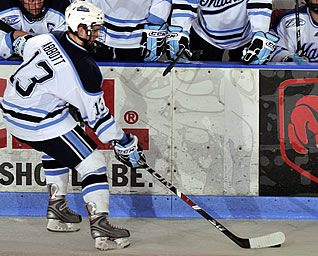 Spencer Abbott assisted on the Maine goal
SCHENECTADY, N.Y. - Adam Shemansky (Robbinsville, N.J.) scored his first collegiate goal, but the University of Maine men's ice hockey team dropped its season-opener 4-1 to Union on Friday night in Schenectady, N.Y. The game was tied 1-1 after two periods of play, but the Dutchmen were able to add three third period goals to earn the victory.
Maine and Union skated through a scoreless first period. The Dutchmen finished the period with a 9-8 edge in shots. Maine was 0-for-2 on the power play, while Union did not have any chances with the man advantage. Maine's Matt Mangene (Manorville, N.Y.) saved goal midway through the first period when he swipped a puck, which had gotten behind Maine goalie Dave Wilson (Caledon East, Ontario), off the goal line with his hand.
Maine took a 1-0 lead at 16:29 of the second period. On the power play, Maine's Brian Flynn (Lynnfield, Mass.) had a shot from the point that was tipped by Spencer Abbott (Hamilton, Ontario) to the right of Union goalie. The puck went right to Shemansky who was able to beat Union goalie Corey Milan for his first collegiate goal.
Union answered just 17 seconds later when John Simpson beat Maine goalie Wilson. Mike Schreiber assisted on the goal which tied the game at 1-1. The Black Bears had an 18-14 edge in shots after two periods of play.
Union took a 2-1 lead 6:20 into the third period. Jeremy Walsh batted in a lose puck that was sitting in the Maine crease. Adam Presizniuk and Shawn Stuart each assisted on the goal which put the Dutchmen ahead. Union took a 3-1 lead at 11:31 when Justin Pallos scored a short-handed goal. The play began with the puck in the Union zone, but was send out of the zone and down the ice towards Wilson. Wilson debated coming out and playing the puck, but opted to stay in his net . Pallos came racing down the ice and beat him glove side.
Union got an empty-net goal with just 3.5 seconds remaining in the game by Stephane Boileau to make it a 4-1 final.
Maine finished with a 28-18 advantage in shots on goal.
Maine goalie Wilson made 14 saves in the game. He falls to 0-1-0 on the season. Corey Milan made 27 saves for Union. He improves to 1-0-0 on the campaign.
The two teams return to action on Saturday, Oct. 10 when they conclude their two-game series. Puck drop is scheduled for 7 pm.