Saturday, November 14, 2009
FOUR-GOAL THIRD LIFTS NORTHEASTERN PAST MAINE, 5-2
Alex Tuckerman scores the game-winner for Huskies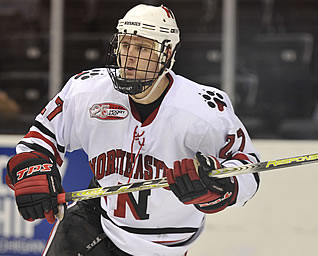 Alex Tuckerman scored the game-winner for the Huskies
Northeastern's powerplay unit erupted for three goals on eight chances in a 5-2 victory against Maine on Saturday night in front of 4,323 at Matthews Arena on Homecoming weekend.
Despite Maine outshooting Northeastern by one attempt, the Huskies registered a season-best 35 shots on net to create their numerous scoring opportunities throughout the evening.
Ten different Huskies notched a point in the 5-2 throttling, also a season-high. Senior Kyle Kraemer notched his first powerplay goal since March 20, 2009 against UMass Lowell to continue an NU season-best three-game pointstreak while junior Steve Silva and rookies Drew Ellement and Garrett Vermeersch each extended their streaks to two games.
Sophomore Matt Lipinski made his way into the NU annals in his seventh-career game by netting Northeastern's final goal of the game in powerplay fashion.
The first 40 minutes of action was virtually deadlocked across the board. Both teams registered 15 and 10 shots, respectively, in the first and second periods and were pitted with a 1-1 stalemate heading into the third period, but the final stanza had a season-high four goals in store for the Huskies.
Maine's Brian Flynn tied the game up at 2-2 with 7:38 on the board of the third, but sophomore Alex Tuckerman's unassisted laser 56 seconds later was the jumpoff for Northeastern's victory.
Maine drew first blood when Mike Banwell redirected a blast from Kyle Beattie in front on NU netminder Chris Rawlings at 15:34 of the second for the 1-0 edge, but newcomer Robbie Vrolyk quickly erased the deficit with a beautiful one-time goal from the stick of Ellement at 17:49. Will O'Neill was hauled off for interference at 17:35, creating the extra-man advantage. Immediately, Ellement grabbed the puck at the top of the right circle and shoveled a quick dart to Vrolyk on the near post for his first-career powerplay marker.
Right before the second concluded, Vrolyk was called for obstruction interference at 19:36, giving the Black Bears the powerplay at the beginning of the third. Senior defenseman David Strathman had other thoughts as he hampered MU's attempt by breaking up a play low in Northeastern's zone. Strathman cleared the puck to junior Tyler McNeely in the slot who then redistributed to Strathman on the far post. The senior blue liner faked out front of the crease, coaxing Scott Darling to his knees to practically give Strathman the empty-netter at 1:12.
NU's second tally marked its first short-handed goal of the season and first since Wade MacLeod's tally against Massachusetts on March 13, 2009. It was Strathman's first goal since March 7, 2009 at Boston College.
Flynn locked it up 7:38 with a wrister over Rawlings glove after freshman Chris Student was sent away for intereference at 6:49, but Tuckerman's tenacity yielded the game-winning goal at 8:34. Tuckerman stole the puck at NU's blue line, dodged his way by one Maine defender and let loose a rifle of a wrist shot right in front of Flynn as it sailed past Darling for the unassisted goal.
"I thought (Alex) Tuckerman was our best player on the ice tonight," head coach Greg Cronin. "He took a lot of high percentage shots and that's what we're looking for. Tonight was a nice bounce-back victory for our team."
The Huskies piled on by taking advantage of a 5 x 3 opportunity offered at 11:13 of the third as NU was given 1:13 of a two-man edge.
Seven seconds into the 5 x 3, Vermeersch let a rocket go from the top-left point after a feed from Silva, but Darling made the initial block. Kraemer charged in from the slot, corralled the puck and lifted it in for NU's third 5 x 3 goal of the season.
As an added bonus, Lipinski cashed in on the second powerplay offering with a pinpoint wrist shot from the slot after junior Mike Hewkin dished out his third assist in four games at 13:10 for the 5-2 win.
Rawlings put forth a solid 34-save effort in cage of Northeastern while Darling blocked 30 attempts on the evening. The Huskies' three-power play goals are the most they've scored since hosting Bentley in the home opener on Oct. 16.
Northeastern closes out its three-game homestand with a Friday night tilt against Providence on Friday, Nov. 20 at 7 p.m. Maine returns to Alfond Arena to host Boston College for a pair starting the on Nov. 20, as well.