Saturday, February 6, 2010
MERRIMACK NOTCHES 3-1 WIN OVER UMASS LOWELL
Chris Barton and Ryan Flanigan notch third-period goals for Warriors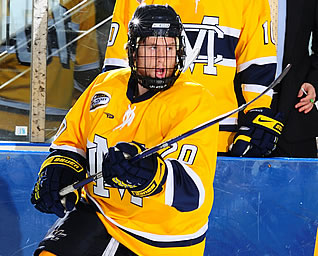 Ryan Flanigan picked up a goal for the Warriors
NORTH ANDOVER, MA - Chris Barton (Calgary, AB) and Ryan Flanigan (Rochester, NY) netted third-period goals in a sixty-second span, giving Merrimack the 3-1 victory over #18 UMass Lowell Saturday night in front of 2,473 fans at Lawler Arena.
Merrimack (10-15-0, 7-11-0 HEA) hits the road for a pair of big games at #17 Vermont next weekend, beginning Friday at the Gunderson Fieldhouse at 7 p.m. Lowell (14-12-2, 8-9-2 HEA) will host Boston College next Friday at 7 p.m. at the Tsongas Arena.
With the win, the Warriors improved to 10-2 at home and defeated the River Hawks at Lawler Arena for the first time since November 12, 2000, snapping a 13-game winless streak.
Barton took a feed from Stephane Da Costa (Paris, France) and wristed a shot from just outside the faceoff circle into the net for his 17th of the season, and ninth in seven games, at 3:30.
Sixty seconds later, Flanigan notched his first goal in almost a year with Da Costa also assisting on the tally. Flanigan went hard to the net and was stopped by Carter Hutton, but the puck went behind the net, and the sophomore hacked away at it as he wrapped around the goal and snuck it through the goaltender's pads for the big insurance marker.
The Warrior defense took over from there, killing all seven power plays, as Joe Cannata (Wakefield, MA), making his first start since January 22, turned aside 20 shots, including all 11 in the third.
After a scoreless first, the River Hawks got on the board first as David Vallorani tallied his ninth of the season 8:03 into the second, with Scott Campbell picking up the assist.
Jeff Velleca (Waterbury, CT) evened the score at 17:43 of the second on the power play, as his wrister beat a screened Hutton for his eighth of the season. Kyle Bigos (Upland, CA) started the play in his own zone, working the puck to Carter Madsen (Okotoks, AB) in the neutral zone. Madsen knocked to Brandon Brodhag (Brooklyn Park, MN), who left it for Velleca, and the sophomore buried it to tie the game at the end of two periods.
Merrimack's power play, ranked second in the country, was 1-for-4 on the evening.
Da Costa's two assists gives the freshman 32 points and three on the weekend on Merrimack's four goals. Adam Ross (Red Deer, AB), who blocked numerous shots all night, also picked up an assist, his sixth of the season.