Friday, November 27, 2009
PROVIDENCE COLLEGE DEFEATED AT DARTMOUTH, 4-2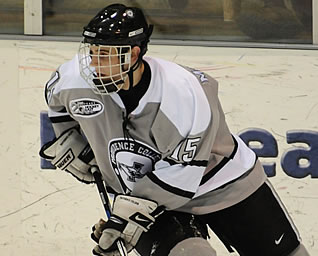 Kyle MacKinnon scored a goal for the Friars
HANOVER, N.H. - The Providence College men's hockey team was defeated at Dartmouth College, 4-2, on Friday, November 27 in a non-conference game played at the Thompson Arena in Hanover, N.H.
Neither team scored in the first period with PC holding a 15-13 edge in shots. In the second period, the Big Green started quickly and nearly scored as it hit the post twice in the opening 30 seconds. Dartmouth (2-6-0) took a 1-0 lead at 5:43 when Adam Estoclet slid a pass to the slot to Scott Fleming whose one-timer beat PC goalie Justin Gates (Cranston, R.I.). Providence (7-5-1) nearly scored the equalizer at 8:23 when senior Chris Eppich (Surrey, B.C.) skated in on a breakaway, but his shot was turned aside by Dartmouth's goalie Jody O'Neill. However, shortly thereafter, Eppich setup junior Kyle MacKinnon (Walnut, Calif.) who scored his fourth goal of the season from the right circle at 8:04 to tie the game, 1-1. The Big Green regained the lead (2-1) at 11:54 when Fleming scored his second goal of the night. Fleming skated in on a two-on-one rush and potted his fifth goal of the season from the right circle.
The Big Green increased its lead to 3-1 at 4:46 of the third period as Josh Gillam scored from in close for his first goal of the season. Just 1:40 later Matt Reber scored on a breakaway to give his team a 4-1 advantage. Eppich scored his third goal of the season to cut the lead to 4-2 at 16:20. Juniors Eric Baier (North Kingstown, R.I.) and Matt Germain (Rockland, Mass.) and assisted on the goal. PC then had a chance to cut the lead to one goal as freshman Tim Smith (Superior, Wis.) appeared to have an open net, but O'Neill made a sprawling save on Smith's attempt from in close with 1:36 left. PC then pulled Gates for an extra skater and had several chances to score, but were unable to draw an closer.
The Friars outshot the Big Green, 47-33, as O'Neill stopped 45 shots. Gates finished with 29 saves, including several point-blank stops.
The Friars are back in action on Friday, December 4 when play at Maine, while the Big Green travel to Harvard on Sunday, November 27.