UMASS LOWELL DEFEATS COLGATE, 5-3
Scott Campbell posts two goals and an assist for River Hawks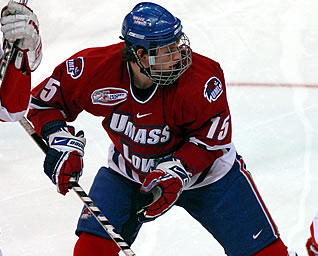 Scott Campbell had two goals and an assist for UML
LOWELL, Mass. - The UMass Lowell River Hawks tallied three goals in 2:55 in the third period to rally from behind and defeat the Colgate Red Raiders in non-conference play on Friday evening at the Tsongas Arena.
The win boosts the River Hawks to 2-1-0 on the season, while Colgate falls to 1-2-2 with the loss. UMass Lowell is now 6-0-0 in non-conference home openers in the Tsongas Arena.
The ice was broken at 4:18 into the first as Scott Campbell (Navan, Ont.) netted a power play goal, his second score of the season, on a rebound from David Vallorani's (Hamilton, Ont.) shot. Vallorani was setup by Jonathan Maniff (Revere, MA) who earned the secondary assist on the play.
The Red Raiders evened the score with a Christian Long (Cleveland Heights, OH) goal from Matt Firman (Fayetteville, NY) and Adam Corrin (Winnipeg, Man.) at 7:09 into the first.
Campbell struck again when Jeremy Dehner (Madison, WI) passed to Maniff for a good look down low. Maniff's shot was saved, but the puck kicked up to Campbell who spun around with the quick wrister that found the back of the net. The goal was Campbell's third of the season.
Colgate caught fire in the second period, scoring twice to take a 3-1 lead. Francois Brisebois (Montreal, Que.) earned an unassisted goal at 3:39 into the second, followed by a Robbie Bourdon (Ile Bizard, Que.) score assisted by Thomas Larkin (Cocquio Trevisago, Italy) at 14:53.
Nick Schaus (Buffalo, NY) tied the game up once more midway through the third period with a power play goal. Ryan Blair (Ashburn, VA) slid the puck to Campbell, who quickly shifted it to Schaus for a one-timer that seared past the netminder.
It was freshman forward Colin Wright (Burlington, Ont.) whose first collegiate goal gave UMass Lowell the lift it needed to overcome Colgate. He netted the game-winner with 6:50 remaining in regulation. Following Schaus' shot, the puck sat in the crease for just a moment before Wright dove towards the net to push in the go-ahead score.
Vallorani put the icing on the cake at 13:43, the River Hawks' third goal in under three minutes. Patrick Cey (Saskatoon, Sask.) set up Vallorani with a clear shot from 15 feet out to put UMass Lowell up 5-3.
Senior netminder Nevin Hamilton (Ashland, MA) stopped 27 shots on the night, earning his first victory of the year. The Red Raiders' Alex Evin (Castlegar, B.C.) made 30 saves while allowing five goals to slide to 1-1-1 this season. The River Hawks outshot the Red Raiders 35-30 on the night. UMass Lowell finished two-for-five on the power play and was perfect in three penalty kill opportunities.
The River Hawks have a quick turnaround with their Hockey East opener tomorrow against Northeastern at 5 p.m.