Friday, February 19, 2010
PROVIDENCE RALLIES FOR 5-4 WIN OVER BOSTON UNIVERSITY
Junior forward Kyle MacKinnon posts hat trick and assist for Friars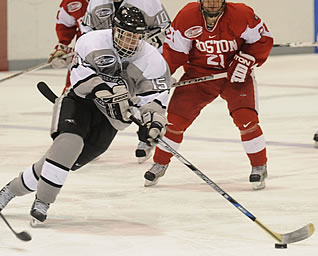 Kyle MacKinnon had four points for the Friars
PROVIDENCE, R.I. - Junior Kyle MacKinnon (Walnut, Calif.) recorded his first career hat trick as the Providence College men's hockey team rallied to defeat No. 19 Boston University, 5-4, Friday night at Schneider Arena. With the win, the Friars ended an eight-game winless streak and improved to 10-17-2, including a 5-14-2 mark in Hockey East. BU fell to 13-13-3 overall and 10-10-2 in league play.
Trailing 2-0 after one period, MacKinnon scored his first of the night at 2:14 of the second period as he converted on a rush down the right wing to cut the lead to 2-1. However, BU's Nick Bonino gave his team a 3-1 lead as he recorded his ninth goal of the season. MacKinnon responded at 5:50 as he was able to redirect a shot past BU goalie Kieran Milan to make the score, 3-2. Senior Mark Fayne and freshman Alex Velischek assisted on the goal. The Friars scored their first power-play goal of the night late in the second to even the game at 3-3. Velischek's shot from the point missed wide right, but it caromed off the boards towards the front of the net and sophomore Matt Bergland tapped the puck into the open side of the net at 19:26.
The Terriers also scored on the man advantage early in the third period to regain the lead (4-3). Kevin Shattenkirk fired a slap shot from the high point that took a deflection off a PC player and into the net just 1:37 into the period. The Friars responded with another power-play goal as MacKinnon completed his three-goal effort at 5:56 when he pounced on a rebound in front to tie the game at 4-4.
Freshman Aaron Jamnick then broke the deadlock with 5:25 remaining when he jumped on a rebound from in close to give PC the lead for good. It marked PC's third power-play goal of the night which is a season-high for the Friars.
In addition to MacKinnon's 10th, 11th and 12th goals, he also added an assist on Jamnick's game winner. The four points in one game also are a career high. In goal, sophomore Alex Beaudry made 24 saves, including two point-blank stops on shots by Zach Cohen and Chris Connolly in the last 35 seconds. Milan stopped 35 shots for BU.
The two teams will complete the two-game series tomorrow night at Agganis Arena in Boston, Mass.