Friday, February 26, 2010
KREIDER LIFTS BOSTON COLLEGE TO 2-1 OVERTIME WIN OVER MASSACHUSETTS
Freshman Chris Kreider nets game-winner 2:02 into overtime for Eagles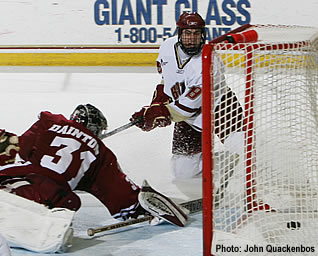 Freshman forward Chris Kreider redirects Pat Mullane's cross-ice pass past Massachusetts goalie Paul Dainton for the decisive overtime goal.
CHESTNUT HILL, Mass. - Freshman Chris Kreider scored at 2:02 of the overtime period to lift seventh-ranked Boston College to a 2-1 Hockey East victory over Massachusetts before 4,872 fans in Conte Forum.
Classmates - Steven Whitney and Pat Mullane - assisted on the game-winning goal, Kreider's 11th goal of the season and his eighth in the last nine games.
Freshman goaltender Parker Milner recorded a season-high 34 saves in 62:02 to earn his ninth victory in his 11th start.
Neither team scored in the first or third period. Boston College and Massachusetts traded second-period scores.
BC junior Joe Whitney redirected freshman Patrick Wey's pass past Massachusetts goaltender Paul Dainton (31 saves) just 18 seconds into the middle period.
UMass senior captain Brett Watson tied the game by redirecting a pass off the stick of Danny Hobbs for his first goal of the season at 17:41.
The Minutemen outshot the Eagles, 35-33, including a 15-9 edge in the second stanza.
Just two penalties were called in the contest, both against the host Eagles, who clinched home ice for the Hockey East Quarterfinals (March 12-14) with the league win.