BOSTON COLLEGE TOPS US UNDER-18 TEAM, 6-3
Cam Atkinson has goal and two assists for Eagles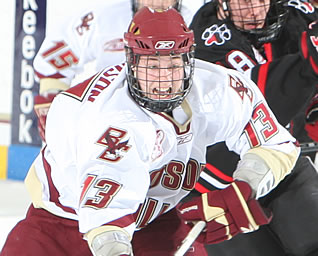 Cam Atkinson had a goal and two assists for BC
CHESTNUT HILL, Mass. - Freshman Chris Kreider scored twice and sophomore Cam Atkinson tallied three points to lead Boston College to a 6-3 exhibition victory over the U.S. Under-18 National Team before 2,709 fans at Conte Forum.
Defenseman Tommy Cross tallied one goal and one assist while Joe and Steven Whitney also scored one goal each for the victors.
Boston College scored two goals in each period, including consecutive shorthanded scores from Atkinson and Kreider halfway through the middle frame. Team USA tallied two second-period scores, and one goal in the final stanza.
BC outshot the visiting Under-18 National Team, 31-24, including a 12-7 edge in the third period.
Junior John Muse stopped all six first-period shots that he faced. Parker Milner tallied nine saves in the second period and Chris Venti totaled six saves in the final 20 minutes of play.
Joe Whitney got the host Eagles on the scoreboard just one minute, 39 seconds into the contest. Kreider doubled the BC lead with 20.9 seconds remaining in the opening stanza.
After USA forward Luke Moffatt halved the BC lead at 6:18 of the second, BC responded with consecutive goals while skating down one player to take a 4-1 lead.
Atkinson scored on a partial breakaway in a shorthanded situation at 9:08. Kreider gave BC a three-goal lead at 11:29, diving to poke a loose puck out of the defensive zone and racing past Team USA's defense for BC's second shorthanded score in 2:21.
Adam Clendening scored a power-play goal at 13:52 for the visitors and Austin Czarnik scored just less than four minutes into the third period to cut the BC lead to 4-3 with 16:01 remaining.
Cross gave BC a two-goal lead at 7:36. Steven Whitney concluded the scoring with a power-play goal at 18:27.
Next, Boston College begins the 2009-10 regular season with against Hockey East opponent Vermont on Sunday, Oct. 18 at 5 p.m. The game will be broadcast by ESPNU.