BOSTON COLLEGE FALLS TO ST. LAWRENCE, 5-2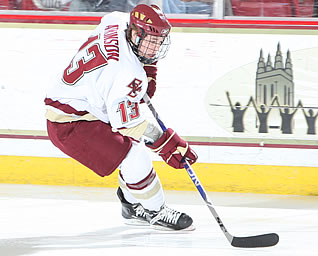 Cam Atkinson scored a goal for the Eagles
DENVER, Colo. - Brian Gibbons and Cam Atkinson each scored once to give Boston College an early two-goal lead before St. Lawrence scored five unanswered goals to earn a 5-2 victory over the fifth-ranked Eagles on New Year's Day at the Wells Fargo Denver Cup.
BC, which suffered its first loss in seven games, will face second-ranked Denver in the two-game showcase tournament on Saturday, Jan. 2 at 9 p.m. EST.
The teams were tied at 2-2 after two periods of play. St. Lawrence scored two even-strength goals early in the third period and netted an empty-net tally to secure the victory, snapping the Eagles' 11-game unbeaten streak (9-0-2) against the Saints dating back to Dec. 29, 1982.
Just four seconds after St. Lawrence was awarded a penalty shot that was saved by freshman goaltender Parker Milner, Alex Curran broke the tie at 4:02 of the third period, scoring off a faceoff in the Eagles' zone. Aaron Bogosian gave St. Lawrence a 4-2 lead at 5:49 and Nick Pitsikoulis scored into an empty net with 1:43 left in the game after BC had pulled freshman goaltender Milner in favor of an extra attacker.
Milner finished with 18 saves in his fifth start and first defeat. He falls to 4-1.
Gibbons opened the scoring late in the first period on his sixth goal of the season at 18:47. Senior Ben Smith tallied his 100th point and 50th assist on the score.
Atkinson lifted BC to a 2-0 lead on the power play with his ninth goal (in the last 11 games) at 11:55 of the second period. The score extended the Avon, Conn., resident's streak to six games during which he has registered six goals and eight points.
St. Lawrence responded with consecutive second-period scores just three minutes apart to the tie the score at two goals each. Travis Vermeulen (one goal, two assists) halved the Saints' margin at 14:18 and Jeff Caister tied the score at 17:18.
St. Lawrence goaltender Kain Tisi finished with 27 saves to earn the win. He improves to 3-2-0.
The Eagles outshot the Saints, 29-24.