BOSTON COLLEGE TAKES HOCKEY EAST TITLE WITH 7-6 OT WIN VS. MAINE
~BC senior forward Matt Lombardi scores hat trick to earn Tourney MVP honors~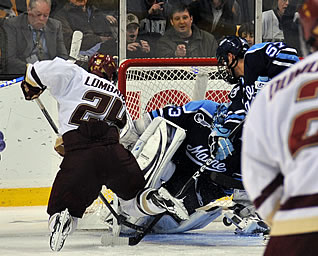 BC's Matt Lombardi completed the hat trick in OT
BOSTON -- Boston College senior forward Matt Lombardi (Milton, Mass.) finished off his first career hat trick with the overtime winner in Saturday night's Hockey East tournament championship game, skating the Eagles to their league record 9th title and fourth in the last six years, by a final score of 7-6 over a resilient University of Maine Black Bears squad.
VIDEO LINKS: Game Highlights - On-Ice Postgame: Including Awards and Interviews
AUDIO LINKS: Jerry York Audio (mp3) - Matt Lombardi and Jimmy Hayes Audio (mp3) - Tim Whitehead Audio (mp3) - Joey Diamond and Tanner House Audio (mp3)
The winning goal came when Lombardi shifted from his backhand to his forehand from behind the net to tuck the puck short-side by Maine goaltender Dave Wilson (Caledon East, Ont.) just 5:25 into the extra frame. Earlier, Lombardi appeared to set up the clinching score, when he corralled a pass in the corner and sent the puck right to the slot to Barry Almeida (Springfield, Mass.) who maneuvered the puck around Wilson to give the Eagles a 6-4 lead with just over five minutes to play in regulation.
But Maine calmly answered with a goal of its own less than a minute later, marking the third time in the game the Black Bears had accomplished just that. And with under 30 seconds left in regulation, the Black Bears recorded the equalizer when freshman Joey Diamond notched his second goal of the game by snapping a wrister high over the blocker of BC goaltender John Muse (East Falmouth, Mass.) Both goals came directly off key offensive zone faceoff wins by the Black Bears.
A lively first period proved indicative of things to come, as Boston College twice took the lead, only to be answered immediately each time. Maine's Gustav Nyquist (Malmo, Sweden) was credited with the first Maine score, giving him an NCAA-leading 60th point of his sophomore season. He later added an assist. Lombardi was credited with his first goal of the game at the 15:19 mark of the first when he jammed a rebound forward and it slid into the net alongside Maine defenseman Mark Nemec (Rouses Point, N.Y.) Diamond answered with his first 36 seconds later by redirecting a backhand attempt by defenseman Jeff Dimmen (Colorado Springs, Colo.) up and over Muse's blocker.
BC made it 3-2 early in the second on a power play snapshop from the point by Joe Whitney (Reading, Mass.) and Lombardi made it a two-goal lead three minutes later on a tough angle bank shot courtesy of a ricochet off of the back boards. Maine would get one back before the period ended but was unable to tie the score again until Diamond's marker in the closing seconds.
Maine's top-ranked power play finished 2-for-8 on the night, recording nearly half of their 32 shots with the man advantage. Muse finished with 26 saves, including eight during a furious 1:30 of 5-on-3 power play time for Maine in the second period. Wilson finished with 27 saves.
Lombardi was chosen as the Bill Flynn tournament Most Valuable Player and was joined on the All-Tournament team by Muse, Diamond and Nyquist. BC's Carl Sneep (Nisswa, Minn.) and Maine's Will O'Neill (Salem, Mass.) were chosen as the All-Tournament team defensemen.
Lombardi's hat trick was just the second in Hockey East championship game history, matching the feat accomplished by Boston University's Peter Marshall in a 9-4 win over BC in the 1986 title game. Tonight's 13 goals also matched the record for most combined goals in a Hockey East championship game, tying the 1986 total.
---
2010 Hockey East Championship
Boston College Post-game Quotes
Head Coach Jerry York
General Comments You never know what to expect, but tonight was full of surprises. You know, Matt Lombardi scored three goals including the game-winner in OT and I think that puts Matt at 10 career goals over four years. So sometimes the hero comes out of obscurity to become the MVP and a real difference-maker and I'm so excited for Matt, who has worked extremely hard for four years. To get rewarded like that is pretty special.
On Maine: I never would have thought the game would be a 7-6 type of game, especially coming off last night, which I thought we played really well defensively and it was a shutout victory. But Maine was dynamic, they were explosive on offense and I thought both teams were extremely resilient. We looked like we had Maine down and they came back, they looked like they had us on the ropes and we came back. I was very impressed with the job that Tim Whitehead did at the University of Maine. They were picked in eighth place in the standings after finishing eighth last year and then to come back this year and come within an eyelash of the National tournament and winning the Lamoriello Cup.
On the leadership on his team: Our seniors have had great success with the Lamoriello Cup during their four years, this is the third one they've won. Like I've said before, the leadership they've given us is really special. I think our captains (Captain Matt Price, Assistants Matt Lombardi and Ben Smith) and our defenseman Carl Sneep are special young guys. We've been blessed at BC to have a lot of good captains, but Matt Price is like a rockstar captain for us. He really is a very, very special player.
On the National tournament and what comes next: But I'm really excited. I've been losing my voice over the course of the weekend, but this really propels us into the National tournament. The Lamoriello Cup is certainly something we point toward, but the National tournament and National trophy is really what we aim for and we're going to go in there with guns blazing with these back-to-back wins.
On Matt Lombardi's three goals after not being a stereotypical goal-scorer during his career: For Matt to come up with three goals was the first time in my coaching career. Matt has been a great shut-down player for us on our shut down line. He kills penalties, blocks shots and the last 2-3 weeks he has been working with (Assistant Coach) Greg Brown just prior to practice, shooting pucks and it all paid off for him tonight. The winning goal was a gritty kind of a "one-yard touchdown run" to come right out and whack the puck from below the goal line. It was great to see that. We expect a great performance out of everybody, but that was really special.
Matt Lombardi
On game-winner and feeling of scoring a hat trick on such a big stage: We got the puck in and Matt Price chipped it low and I grabbed it and stuffed it quick on net and it just trickled in. It was a timely game to have a hat trick. It feels great to win the trophy and especially to share that with everybody on the team and my linemates in particular.
On atmosphere after Maine tied with under a minute in regulation: We re-grouped in the locker room, not a lot was said. Before we went out, Matt Price brought us up and we all knew what had to be done. He led the way with what he said in the locker room. We just wanted to keep playing our game and just because it was overtime we couldn't change what we were doing. I think we were playing great the first three periods so we just wanted to stay focused on that and not get too jittery or worry about losing the game, we just wanted to focus on doing the right things to win.
Jimmy Hayes
On winning the tournament: It feels great, unbelievable. Like we said, we have the best leaders I think in hockey right now. Some of the best leaders I've ever played with and Matty was talking about how hard it is to get to the top of the mountain. There's only room for one team at the top of the mountain and it's just unbelievable when you're up top there.
On atmosphere after Maine tied with under a minute in regulation: I think Matty summed it up pretty well. The captains came up and just told us to play a fearless game and not to be afraid to make mistakes. We just wanted to go into overtime and make sure we got pucks deep like Matty did.
---
2010 Hockey East Championship
Maine Post-game Quotes
Head Coach Tim Whitehead
Opening Statement... It was a great game. It was tough to come out on the downside of it, but we're proud of how our guys competed and the poise we showed under pressure down the stretch - not just in this game, but in the playoffs. Obviously, I'm disappointed in the result.
On the Maine fans in the building... They really gave our team a lift many times, both last night and tonight. At times, it felt like a home game. We were really inspired by the turnout by our Maine fans, and they gave us a lift. They were a big reason we were able to come back on several occasions tonight. The inspiration from our fans meant a lot to us.
On answering several BC goals very quickly... Anytime you can bounce back from a goal quickly, it's certainly a good sign. There certainly wasn't any quit in our team, and we're very proud of how our guys competed and how they fought right to the last whistle tonight.
On tonight's game being a microcosm of the Maine season... We knew we had the makings of something special this year, and we were very determined to get back up every time we got knocked down. I'm proud of the guys that they did early in the season, on and off the ice. Tanner did an unbelievable job as a captain, along with our seniors. They led by example even though they didn't have a letter on their shirt. Jeff (Diamond) came in as an assistant captain, but it was really a team effort. As a coaching staff, we were really impressed with how determined they were not to let things go. We just kept coming back and coming back, so it was a really enjoyable season to coach.
On being within one game and one goal of an NCAA berth... This is a very big building block. It's very tough to see that perspective right now, naturally, but I talked to the team about that after the game. The seniors really left a great legacy with how they finished, and there is no doubt there is a great core coming back. We're very excited. The tough part is that we really felt that if we were able to get by BC, we would have as good a shot as anybody to win the national tournament. That's a frustrating situation for us now, but not everyone can advance. It was a great team that we played, and we knew how tough it would be to play BC. It's bittersweet, but there is a lot to build on. We have a huge group back that we're really excited about. Most importantly, the culture of the team is back where we want it. They're doing things on and off the ice that we want our student-athletes to do. We're very proud of them.
Maine junior Tanner House
On Maine's late-season run... We can definitely build on this. Last year, we had a late spurt as well against BU, and I think we built up that this year. We made it that much further this year, so the guys definitely want to make it back. It stings really bad, so we want to be back here next year.
On the play of goaltender Dave Wilson... He's had an up-and-down career and battled really hard. He backed up (Ben) Bishop at first and then Scotty coming in as a freshman. He took that really well. He is always working hard, and we were confident in him coming into the playoffs. He stepped up huge for us. We're really proud of him and had no doubt in our minds that he was able to do that.
On Maine's playoff run... There was no quit. We found ways to win and battled back from a lot of deficits in the game three at home (against UML). We were down a goal and scored to tie it up, then we're down again and scored to tie it up, and won in OT. Tonight goes to show the way we battled through adversity, kept coming back, and were hanging around. The guys battled so hard for each other and wouldn't quit.
Maine freshman Joey Diamond
On tonight's game being a microcosm of the Maine season... We always found a way to come back and win games. We've done it many times, so we never got out of control. We kept our cool, and we knew down two goals with five minutes ... one shot that came from Spencer Abbott, and we knew right when that in, we knew we could get another one.
On the Maine power play... We weren't breaking out well and getting pucks in deep. We were stopping short at the blue line, but we just had to get pucks deep, grind it out in the corners, and we wound up doing that and were successful with it in the second period.
On Boston College's penalty kill... We knew we had to support each other. We knew they would be very aggressive. We watched video. We knew we'd have to work the puck down low and then get it up top, and we wound up working it down low, grinded it out in the corners, and then Gustav (Nyquist) made a nice pass to Tanner up top and (he) put it in.
PHOTO GALLERY