Friday, November 27, 2009
BOSTON COLLEGE HOLDS OFF CLARKSON, 6-5
Carl Sneep, Cam Atkinson and Paul Carey each post goal and assist for Eagles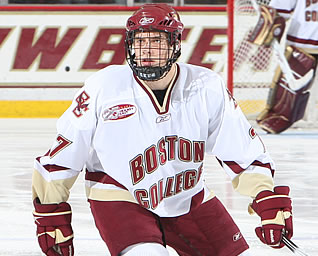 Carl Sneep had a goal and an assist for the Eagles
CHESTNUT HILL, Mass. - Twelve different Eagles tallied at least one point and the team matched its season high with four power-play goals as Boston College defeated Clarkson 6-5 in non-league action before 5,689 fans in Kelley Rink on Friday evening.
Cam Atkinson (1 goal, 1 assist), Paul Carey (1 goal, 1 assist), Brian Dumoulin (2 assists) and Carl Sneep (1 goal, 1 assist) each tallied two-point performances for the victors, who finished 4-for-9 on the power play.
Sneep scored the decisive goal while the Eagles were skating with a two-man advantage at 3:39 of the third period. The goal lifted BC to a three-goal edge - at 6-3.
Clarkson scored twice - at 12:31 and at 16:35 - to trim the lead to one goal - at 6-5 - and pulled goaltender Paul Karpowich (24 saves) while on the power play for the final 1:22, but failed to net the equalizer.
BC junior goaltender John Muse made 13 saves, including two in the game's final moments, to earn his 48th career victory in his 90th start.
BC led 2-1 after the first period and 5-3 after the second.
The team's traded the first four goals of the game with BC's Atkinson and Carey both scoring first-period power-play goals.
In the second period, Barry Almeida scored his first goal of the season at 4:48 and Ben Smith scored his ninth of the season - and 50th of his career - on the power play at 5:47 to give BC a 4-2 lead.
Clarkson senior Matt Beca (1 goal, 2 assists) trimmed the deficit to one goal - at 4-3 - before BC freshman Chris Kreider lifted the Eagles to a two-goal lead with 21.8 seconds left in the middle period.
Sophomore Mark Borowiecki (2 goals) and junior Scott Freeman (3 assists) paced Clarkson's offensive output.
Next, Boston College returns to league play at Massachusetts on Friday, Dec. 4.