Saturday, October 17, 2009
Da COSTA SCORES FIVE TIMES IN 6-3 WIN FOR MERRIMACK
Stephane Da Costa netted a natural hat trick in his second career game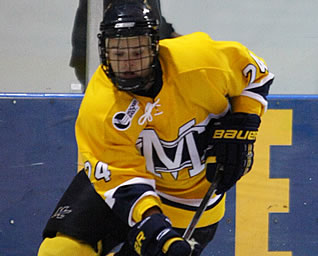 Stephane Da Costa scored five goals for the Warriors
NORTH ANDOVER, MA - In just his second collegiate game, Stephane Da Costa had a natural hat trick in the first period and netted five goals in all, leading Merrimack to a 6-3 victory over Army Saturday night at Lawler Arena.
The win, Merrimack's second in as many nights, evens the Warriors' record at 2-2 for the season, while Army falls to 0-3 on the year. Merrimack continues its four-game home stand, opening conference play Friday against Vermont at 7 p.m.
This marks the first time since Merrimack joined hockey East 21 years ago that a Warrior has scored five times in a game.
Da Costa opened the scoring at 3:36 of the first on the power play as he fired a shot from the low faceoff circle that beat Black Knight goaltender Jay Clark short side. Pat Bowen and Simon Demers picked up the assists on Da Costa's first career goal.
Just 2:26 later, Da Costa made it 2-0 as he wristed a shot through traffic and past Clark with John Heffernan getting his first career assist on the goal.
Then at 13:00 of the first, Da Costa became the first freshman in school history to earn a natural hat trick and the first Merrimack player to get a hat trick since October 29, 2005, as he stick-handled into the slot and fired one over the glove of Clark and into the net. Pat Kimball picked up the assist on the first Warrior hat trick at Lawler Arena since February 15, 2003.
"Stephane is definitely a special player who made special plays tonight," said head coach Mark Dennehy, who saw his team score six goals for the first time in his five years in North Andover. "Last night, he made some passes guys weren't ready for, but tonight they were on the same page. We're just excited that he's had the chance to live his dream."
Trailing 3-0 in the first, Army responded immediately, scoring twice in a 2:37 span, as Mike Hull executed a 2-on-1 shorthanded with Mike Santee, before Bryant Skadra beat Andrew Braithwaite at the 18:40 mark, and suddenly, Merrimack's lead was cut to one heading into the first intermission.
After a back-and-forth second period, Francois Ouimet upped Merrimack's lead with two minutes remaining in the period, as his wrist shot from a sharp angle beat Clark far side for the junior's first goal of the season. Joe Cucci earned the assist on Ouimet's 13th career marker.
Da Costa regained the three-goal lead on the power play as a slapper from Bowen was stopped by Clark, but it went right to Cucci, who dished it to Da Costa, who fired it into the open net for his fourth of the night and career at 1:29 of the third. It marked the first four-goal game by a Warrior since Alex Sikatchev had four against Colgate on November 23, 2001.
After Bill Day tallied Army's third goal of the night at 15:09 of the third, Da Costa answered right back, with his fifth of the evening with 45 seconds remaining in the game. Bowen and Cucci got the assists yet again, giving each of them a career-high three helpers.
Braithwaite finished with 22 saves as he picked up his first win of the season, and his first win since November 8, 2008. Clark, who was replaced by Ryan Leets after Da Costa's fourth goal, stopped 21 shots as Merrimack outshot Army 34-25.
Besides Da Costa, who had 11 shots on goal, two other Warriors picked up their first career points as Heffernan earned his first assist in his third career game, while Demers, who redshirted last season, picked up an assist in his third game and first at home.
The Warriors netted three power-play goals, all by Da Costa, going 3-for-7 on the man advantage, while killing off each of the four Black Knight man-advantages, an impressive feat, as Army scored four power-play goals in 12 chances last weekend.