Saturday, February 21, 2009
UMASS LOWELL SHUTS OUT VERMONT, 1-0
Paul Worthington scores game's only goal; Carter Hutton makes 21 saves for UML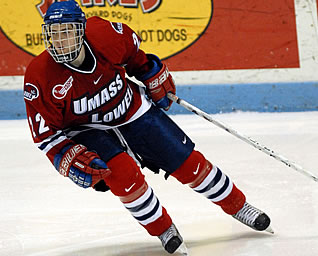 UML's Paul Worthington scored the game's only goal
BURLINGTON, Vt. - Junior Paul Worthington scored a shorthanded goal with 19 seconds left in the second period and junior Carter Hutton made 21 saves to lead UMass-Lowell to a 1-0 shutout of No. 6 Vermont in Hockey East action in front of a sellout crowd at Gutterson Fieldhouse on Saturday night. The Catamounts held the River Hawks to a season low 13 shots but dropped to 17-8-5 (12-7-4 HEA) with the loss. UML is 7-2-2 in its last 11 games and improved to 15-13-2 (12-9-2 HEA) with the victory.
OTHER LINKS: Blaise MacDonald Audio (mp3) - Kevin Sneddon Video - Rob Madore Video
The Catamounts were shutout for the first time this season and went 0-for-5 on the power play. Vermont is now 1 for its last 37 on the man advantage.
Worthington broke a scoreless tie when he skated down a loose puck in the Catamounts zone shorthanded with time winding down in the second period. He fired a shot from the bottom of the right circle with the puck on edge and it fluttered past Vermont goalie Rob Madore (13 saves) for the only goal of the game.
"I mean you hold a team to 13 shots, you have to win the hockey game," Vermont head coach Kevin Sneddon said. "It's unfortunate, the one goal they scored - be it a smart play by their forward to throw it to the net - Rob's going to make that save 99 times out of 100. So that's a tough way to lose a game on that particular goal, but I thought the game was lost on our power play, not just that play, but the fact that we didn't generate offense and didnít generate momentum."
"Obviously he put it where he wanted to but you know that is a save I have to make," Madore said of Worthington's goal. "The guys played very well all game; we were intense defensively, you know they really limited the opportunities they (Lowell) had and it's a save I need to make for us to be successful."
Vermont out shot UMass-Lowell 7-1 in the third period and 21-13 for the game but had its 11 game unbeaten streak at Gutterson Fieldhouse come to an end. The loss for the Catamounts was their first at home since Nov. 14 in a 5-3 defeat to Northeastern.
Elsewhere New Hampshire won 4-2 at Boston College to move into a tie for third place in Hockey East with the Catamounts with 28 points. Lowell (26 points) is two points out of the final home ice spot in sole possession of fifth place.
"I was really proud of our physical play," Sneddon added. "Our urgency on the defensive side of the puck, our back pressure, I mean we worked our tails off tonight and so did they. Again, it's unfortunate that it came down to that one shot and one goal."
Vermont returns to action next weekend with a two-game series at Maine on Friday and Saturday with both games starting at 7 p.m.
NOTES: Tonight's game marked the first time the Catamounts have been shutout since last year's Hockey East title game in a 4-0 loss to Boston College on March 22 - The shutout was the fifth of Carter Hutton's career - Justin Milo had a game high four shots - Vermont and Lowell finished the season series 1-1-1.