Friday, February 20, 2009
UMASS LOWELL, VERMONT SKATE TO 3-3 TIE
Michael Scheau scores in final minute to tie game for River Hawks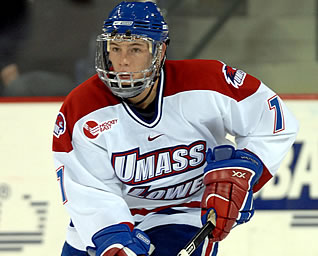 Maury Edwards assisted on the game-tying goal for UML
BURLINGTON, Vt. - UMass-Lowell freshman Michael Scheau scored his second goal of the game when he redirected into the net a blast by sophomore Maury Edwards from the point with 26 seconds remaining to give the River Hawks a 3-3 tie against the sixth-ranked Catamounts in Hockey East action in front of a sellout crowd at Gutterson Fieldhouse on Friday night.
OTHER LINKS: Blaise MacDonald Audio (mp3) - Kevin Sneddon Video - Wahsontiio Stacey Video
Vermont (17-7-5, 12-6-4 HEA) overcame a 2-1 deficit in the third period to take a 3-2 lead with 8:20 left when sophomore Chris Atkinson (Sparta, N.J.) scored on a deflection. Freshman Lance Herrington (Bow, N.H.) setup the goal with a blast from the point. However, the Catamounts couldn't hold off the River Hawks (14-13-2, 11-9-2 HEA), who tied the game late with an extra skater on the ice.
"We weren't in the shooting lane," Vermont head coach Kevin Sneddon said of the tying goal. "Bottom line, if you want to win in this league, you've got to be in shooting lanes and pay the price. Maury Edwards can probably shoot the puck harder than any human alive, and that was a great shot."
Sophomores Josh Burrows (Prairie Grove, Ill.) and Wahsontiio Stacey (Kahnawake, Quebec) each added goals for the Catamounts. Freshman Rob Madore (Venetia, Pa.) made 31 saves.
"I thought we had chances and you know our execution just wasn't great," Sneddon said. "Coming up the ice I thought we struggled a bit, part of that was due to their good back pressure. I just didn't think we were as clean and crisp offensively as we need to be. I mean we scored timely goals obviously, but I think we can be better and hope to be better tomorrow night from that perspective."
Burrows gave Vermont a 1-0 lead 8:50 into the opening period with a wrister from the high slot. Junior Brayden Irwin (Toronto, Ont.) and senior assistant captain Corey Carlson (Two Harbors, Minn.) both assisted.
Scheu scored his first of two goals with just 45 seconds left in the first and then sophomore Scott Campbell put the River Hawks in front 2-1 at 7:06 of the second with a power-play goal. With Lowell on its third consecutive power play in the period, Campbell fired the puck towards the slot and it redirected off of Vermont's Kyle Medvec into the net.
Trailing 2-1 in the final period, Stacey tied the score for the Catamounts on rebound at the bottom of the right circle for his seventh goal of the season. Medvec and junior Viktor Stalberg (Gothenburg, Sweden) both assisted.
"I was actually trying to get it into Dean (Strong) coming into the high slot, but I fanned on it and it went to (Kyle) Medvec," Stacey said. "Luckily enough no one took it and he took a shot, and I had a rebound. I stuffed it, it hit his pads, I got another rebound and I put it home."
Atkinson put Vermont ahead 3-2 at 11:40 of the third but Edwards setup Scheu with less than a minute remaining to tie the score.
UMass-Lowell out shot Vermont 34-25 and went 1-for-4 on the power play. Vermont had three power-play opportunities, all in the first period, but was held scoreless.
UVM is 8-0-3 in its last 11 games at home and hasn't lost at Gutterson Fieldhouse since Nov. 14 in a 5-3 loss to Hockey East leading Northeastern. The Huskies skated to a 2-2 tie against No. 1 Boston University on Friday night so the Catamounts remain four points out of first place and three points behind the Terriers for second.
Vermont and UMass-Lowell complete the regular season series on Saturday at 7:05 p.m. at Gutterson Fieldouse.
NOTES: The Catamounts are 2-0-5 in overtime this season ... Vermont is unbeaten (4-0-2) in its last six meetings with Lowell ... Lance Herrington's assist was the first point of his career ... Viktor Stalberg has at least one point in 18 of the last 19 games ... Vermont is 15-2-3 when scoring at least three goals this season ... Josh Burrows had a plus-2 rating and is a team best plus-17 on the season ... Check back to www.UVMathletics.com for postgame video of Chris Atkinson and Wahsontiio Stacey.