Saturday, January 3, 2009
UMASS LOWELL DOWNED BY UNION, 2-1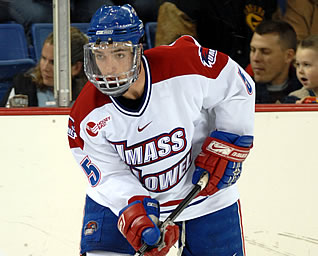 Nick Schaus picked up an assist for UMass Lowell
HOFFMAN ESTATES, Ill. (Jan. 3, 2009) - Matt Ferreria scored his third goal of the season, but Union College defeated UMass Lowell, 2-1, in the consolation game of the Shillelagh Tournament Saturday afternoon at the Sears Centre.
The Dutchmen snapped a three-game losing skid with the win and improve to 9-8-1. The River Hawks have lost five in a row and fall to 8-10-0.
Union built a 2-0 lead on goals from Stephane Boileau (Blainville, Que.) and Jason Walters (Renfrew, Ont.). Boileau opened the scoring at 5:40 of the first period with a breakaway down the right wing. The goal, his third of the season, was unassisted.
Walters made gave the Dutchmen a two-goal lead at 1:05 of the second period when he and Adam Presizniuk (Calgary, Alta.) executed a two-on-one passing play off a turnover at the blue line. Presizniuk fed Walters, who re-directed the puck into the net.
Ferreira netted the River Hawks lone goal at 17:50 of the second. The goal, his third of the year, came on UMass Lowell's third power play of the night. Michael Budd (Burlington, Ont.) and Nick Schaus (Buffalo, N.Y.) picked up the assists.
Corey Milan (Great Barrington, Mass.) made 30 saves to earn his ninth win of the year. He stopped 11 second period shots and 10 more in the third.
Carter Hutton (Thunder Bay, Ont.) had 21 saves for the River Hawks, but took the loss. Hutton has not allowed more than two goals in any start, but is 2-5-0 on the season.
The River Hawks out-shot the Dutchmen 31-23 for the game, and 10-5 in the third period. UML was 1-for-4 on the power play. Union was 0-for-2 on the man-advantage.
"I thought we got a much better hunt on the puck in the second period and the third as well," said UMass Lowell head coach Blaise MacDonald. "We generated a lot chances, but we haven't figured out the extra effort it takes to score goals.
"The positives we take out of this weekend are that there is a lot of room for improvement. We have an opportunity to do some self examination, find out who is playing well and who is not playing well. We have some depth. It's going to be a very competitive week in practice. We need everyone to be better."
UMass Lowell returns to the ice Saturday night at Providence. Union is next in action Friday night at Princeton.